Same time, different place – concurrent dates for 'Reifen' and 'Tire Cologne'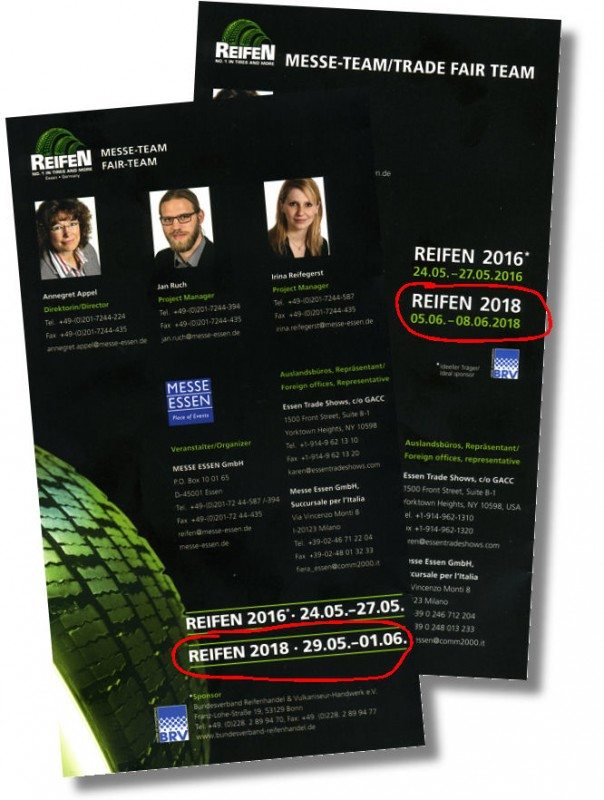 Anyone thinking about taking in a tyre show in Germany four years from now will need to schedule their itinerary very carefully. It's already been reported that current 'Reifen' show sponsor the BRV (the German Federal Association of the Tyre Trade and the Vulcanisers' Skilled Trade) will, come 2018, trade its long-term partner for a new exhibition some 40 miles from the Essen exhibition centre. But what's only now become clear is that Germany will not only host two tyre shows in the same general vicinity – both will also be held at exactly the same time.
Earlier in the year it was announced that the inaugural 'The Tire Cologne' will take place between 29 May and 1 June 2018, while at this year's show in Essen, promotional posters advertised Reifen 2018 as getting under way the following week, on 5 June. Since then, the date for Reifen has been brought forward. It would be easy to view this as an intentional move, however Reifen's organiser says the shift into late May wasn't made with The Tire Cologne in mind. In fact, Messe Essen claims it was the first to choose the week of 29 May.
"That was our original date for Reifen in that particular year, and Tire Cologne then also chose it," commented director of fairs and exhibitions, Annegret Appel. Explaining why the posters and flyers at Reifen 2014 stated otherwise and gave the dates for Reifen 2018 as 5 to 8 June, Appel told our German sister publication Neue Reifenzeitung that this was simply a mistake or oversight, and the incorrect dates on show material were simply overlooked during the hustle and bustle surrounding this year's show. This error has now been corrected and new flyers printed; these give the dates for Reifen 2016 as 24 to 27 May, and Reifen 2018 as 29 May to 1 June.