Tyre show showdown: High Noon in May 2018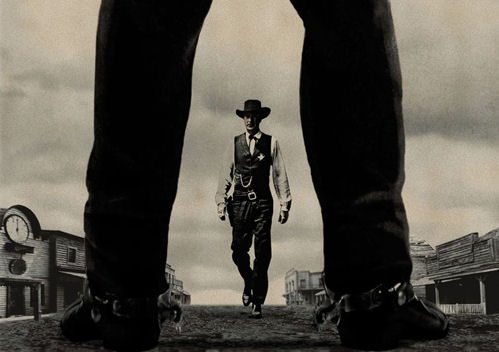 The largest and oldest continuously-held tyre trade fair in Europe is the Reifen show, held every two years in the German city of Essen. And while Reifen has existed for years in relative harmony alongside other regional exhibitions, such as Manchester-based Brityrex, at the start of 2014 a brand new tyre trade event was announced, and this appears to have gotten under the skin of Reifen organiser, Messe Essen. What sets this new show apart is that it will enjoy the support of Reifen's current main sponsor, and will take place only 45 miles away from Essen – at exactly the same time. Given this clash of dates it seems, to paraphrase a cliché from Western films, that the town isn't big enough for the two of them: A tyre show showdown looms on the horizon.
In early October, some nine months after going public with plans for a new tyre exhibition, an exclusive launch event was held for "The Tire Cologne" to give selected tyre industry representatives a sneak preview of what they can look forward to at the inaugural show in 2018. The event also served as an early effort from organiser Koelnmesse to lure exhibitors away from its established rival in Essen. We can expect further attempts as at some stage over the next three or so years, companies planning to exhibit at this major industry fixture – the biennial trade fair in Germany – will have to decide who to support. Indeed, some believe Messe Essen changed the date of Reifen 2018 from the week of 5 to 8 June to the days already occupied by its new rival (29 May to 1 June 2018) in order to force exhibitors to choose.
Not so, says Annegret Appel, director for fairs and exhibitions at Messe Essen. She claims the week of 29 May to 1 June was "our original date for Reifen in that particular year, and Tire Cologne then also chose it." Explaining why the posters and flyers at Reifen 2014 stated otherwise and gave the dates for Reifen 2018 as 5 to 8 June, Appel told our German sister publication Neue Reifenzeitung that this was an oversight, and the incorrect dates on show material were simply overlooked during the hustle and bustle surrounding this year's show. New flyers were later printed; these give the dates for Reifen 2018 as 29 May to 1 June.
The prospect of a tyre showdown is reason enough to listen to both organisers' arguments for their respective exhibitions. The editorial team at our German sister publication Neue Reifenzeitung thus spoke with management at Koelnmesse and Messe Essen about how each intends to win the industry over in the years prior to 2018.
Invitations to the October launch for The Tire Cologne were endorsed by Gerald Böse, president and chief executive officer of Koelnmesse GmbH, and Peter Hülzer, managing director of the BRV (the German tyre dealer organisation that, together with its predecessor, has supported the Reifen show throughout its half-century of existence, and will do so for the final time in 2016) and sent out to "selected decision makers", the industry's "leading representatives". According to Sarah Kraft, communications manager at Koelnmesse, the launch event aimed to "provide an impression of how we tick here." The show's Essen-based rivals view it more as a form of damage control.
In a letter sent out on 24 September, Messe Essen opined its rival planned the event in light of a "critical development," specifically a survey of Reifen 2014 exhibitors and visitors that suggests almost 70 per cent – including "major tyre manufacturers" – intend to remain loyal to Reifen come 2018. Messe Essen decline to name the tyre majors who have voiced their commitment, however Annegret Appel comments that Infinity gave a "spontaneous declaration of intention" during Reifen 2014. "We are certain that the industry will remain unified," she adds. "For decades now, our exhibitors have been highly satisfied with the Reifen show in Essen. We've written a success story together here."
Appel doesn't believe the Essen show could end up the loser in a showdown with The Tire Cologne. "The industry knows what it has in the Reifen show in Essen," she states, referring to the "ties that have developed" over many years between exhibitors, visitors and the show organiser. "We are in an excellent position for the future," the fairs and exhibitions director declares, adding that Messe Essen has known the tyre market for decades and understands its customers' needs. At any rate, Appel doesn't betray any anxiety when discussing Reifen post-2016, and refers to the new rival in sporting tones: "Competition invigorates business."
Sporting comments are all well and good, but the Reifen show's ongoing fitness will also be helped by the 'workout' the exhibition site in Essen is to undergo following approval from city authorities and Messe Essen's Supervisory Board in late October. Plans to renovate the site at a cost of €123 million were put on hold following the outcome of a town referendum held in January, however the green light has now has been given for a slimmed-down renovation, a project that Annette Heydorn, head of Messe Essen's Construction division, calls the "basic solution". Starting in spring 2016, up to €88.6 million will be spent on modernising the site's older exhibition halls. "The work will be carried out in a way that doesn't affect the holding of exhibitions," she says. Much, although not all, of this work will be completed before the doors open on Reifen 2018.
Modern facilities can't compensate alone for the presence of a new rival, however Annegret Appel says Messe Essen will offer prospective exhibitors an "anniversary package" to further sweeten the deal. The 30th edition of the Reifen show will take place in 2018, and to mark the occasion Messe Essen will roll out special deals for the 2016 and 2018 fairs before the end of this year. "It won't be a clearance sale, however," adds Appel to quell speculation about potential discounts for the coming events. Details of the special offer aren't yet known, however the main thrust is clear: The aim is to ensure existing exhibitor links to Reifen remain strong. "We've been heading in the same direction as the industry for so long that we won't make any heavy-handed moves or unthinkingly offer discounts that ultimately do more harm than good," she promises.
The competition in Cologne also intend to avoid such tactics, as Christoph Werner, Koelnmesse division manager responsible for The Tire Cologne, explains. "An exhibition must first and foremost offer exhibitors a benefit. The costs involved, such as stand rent, are of secondary importance." He doesn't view a ruinous price war as the way to convince potential exhibitors that "The Tire Cologne" should be their first choice.
Instead, Koelnmesse offers other arguments, including the modern exhibition halls in Cologne. According to initial planning, The Tire Cologne will take place in four halls with a total available exhibition space of around 70,000 square metres. "All halls are very compact, close by and – very important in regards to logistics – easy to access and set up," shares Ingo Riedeberger, Koelnmesse's project manager for The Tire Cologne.
Christoph Werner views the three and a half year wait for the show to start as both a challenge and an advantage. Nobody is interested in signing up now to a fair that won't take place until 2018, and in Werner's experience, concrete bookings are only taken one to two years before a show. Therefore, Koelnmesse intends to make the most of the available time and use it to become more intensively involved with the tyre sector. "We want to get to know the industry and its needs even better," comments Ingo Riedeberger.
In addition to a modern exhibition site, Koelnmesse believes its internationality will stand it in good stead. "Koelnmesse's marketing operation is linked via a dialogue platform with more than 100 international representatives and is constantly informed about discussions and activities. Therefore we know, for example, which companies in New Zealand are interested in The Tire Cologne," Riedeberger shares. Christoph Werner adds that Koelnmesse intends to first target tyre industry "heavyweights" – a reason why its October event was directed at "leading representatives."
Werner is well aware of the tasks awaiting him, however neither he nor Riedeberger express anxiety towards a showdown with Reifen 2018. "It doesn't frighten us. We're focusing on our strengths. At the end of the day our success in relocating exhibitions didn't come from nothing. We can do this." Werner doesn't even rule out the possibility that one show will be knocked out of the running before we reach 2018, a cocksure comment perhaps, but one backed by Riedeberger: "Even though we've admittedly received no solid bookings, there's been quite a few rather concrete expressions of intent. And the BRV didn't decide to become the ideal sponsor for The Tire Cologne without first securing the corresponding industry backing," he says. "For the purpose of this event we need to take a competitive risk, but I don't believe that there will be two exhibitions in the long term."
Of course, the organisers of Reifen are equally confident in the Essen show's future. Ultimately though, it will all come down to what the industry decides, and the hope is that we don't all suffer together as a result of this showdown, and find ourselves in half-filled exhibition halls when High Noon arrives on 29 May 2018.