Tag: S&H Tyres
The world's best-known kickboxing promoter Glory returned to Rotterdam Ahoy Saturday 9 December 2017 for an end-of-year event. Lassa Tyres, exclusively imported by S&H Tyres in the Benelux, was one of the sponsors.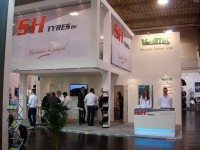 S&H Tyres was present at Reifen for the sixth time in 2016, with a large section of the stand designed to present the new V-Netik private label. V-Netik offers an extensive range of consumer and commercial tyre fitments.
Dubai-based Zafco has announced that it has extended its distributorship of the Zeetex tyre brand to a global scale after "the acquisition" of the role from Netherlands based S&H Tyres. Prior to this, the rights to Zeetex, which encompasses over 600 product units including tyres, batteries and lubricants, were jointly held between the two companies. The distribution change came following Zafco's participation at the SEMA (Specialty Equipment Market Association) Show in Las Vegas in November 2011, where the company showcased its Zeetex, exclusive brand.