Kumho introduces new products, diesel optimisation project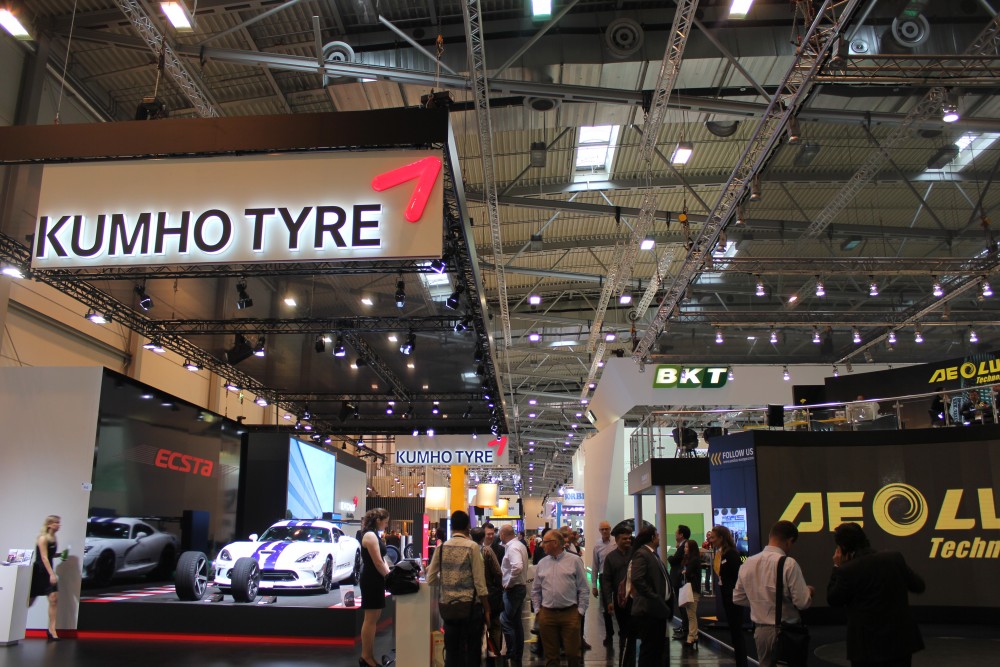 Kumho made Reifen 2016 the occasion of its new UHP winter tyre's world premiere, in addition to displaying its role in a project to optimise the fuel efficiency of existing diesel technology. The company's 300sqm stand in Hall 3 also featured the company's current portfolio of products for a wide variety of tyre segments, including electric and hybrid vehicles.
The WinterCraft WP71, with a size range targeting medium to large passenger cars, has V-shaped lateral grooves running from the centre to the shoulder area of its tread design, which provide enhanced water displacement and handling on wet roads. Kumho said the braking distance on such surfaces is 14 per cent shorter than those achieved by its predecessor. The new tyre will be available in certain markets in time for the next winter and in all major fitments from 16 to 19 inches.
Kumho's role in optimised city car concept
Kumho also exhibited its involvement in the launch of an environmentally-friendly concept city car, the 'Coop-Car 3 for free'. Based on a Kia Picanto and powered by 0.9-litre 3-cylinder, 2-stroke common-rail diesel engine capable of delivering a fuel consumption of just 2.5l/100km, the car is fitted with Kumho's KH27 Ecowing ES01 environmentally-friendly tyres chosen for their low rolling resistance and noise characteristics. In both categories the tyre was recognised with top marks in the March 2015 tyre test carried out by ADAC (Allgemeiner Deutscher Automobil-Club).
The working group behind the Coop was established by the consulting company TCU² and coordinated by the Friedberg-based Mittelhessen University of Applied Sciences. It investigated the benefits of a 2-stroke engine for modern passenger cars and how they could be combined with innovations in regard to engine management, charging, fuel injection, fuel and lubricants in order to achieve the aim of minimal NOx and CO2 emissions and low noise. A range of renowned industry names are also involved with the project, including Shell and Bosch.
The inclusion of '3 for free' in the Coop's name is a nod to the DKW 3=6 of 1953. This also featured a 3-cylinder, 2-stroke engine which DKW reasoned worked twice as hard as the equivalent four-stroke unit – hence the '3=6' nomenclature for their car and the '3 for free' claim for both that and the new Coop concept vehicle.