Continental extends TPMS Pro to Commercial vehicles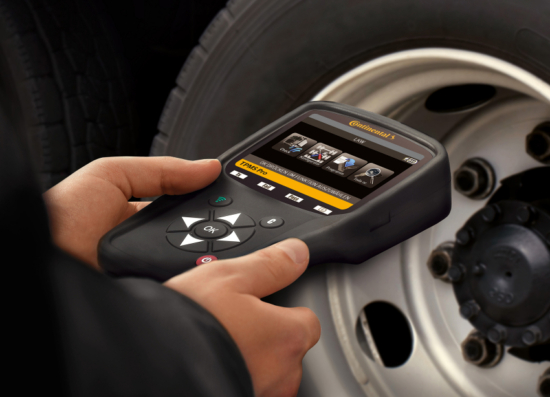 Passenger cars now come with TPMS as standard, and before long this feature will also be required by law in the commercial segment. The European Union's General Safety Regulation calls for newly homologated heavy commercial vehicle models such as buses and trucks, and their trailers, to be equipped with TPMS from July this year. Starting in 2024, all new vehicles must be equipped with TPMS. Continental is catering to this growth market by expanding its commercial vehicle servicing product range with TPMS Update Plus Transport, which turns its TPMS Pro device into a "comprehensive TPMS service tool for commercial vehicles."
The update is flashed to the TPMS Pro service unit. Commercial vehicle tyre specialists and fleet operators can then cover all necessary service steps, from reading and programming the sensors to creating the necessary documentation. The extensive database is updated regularly and covers all common European commercial vehicle manufacturers.
"The transportation industry is facing many changes in the coming years," comments Filip Kevilj, product manager for Diagnostics and Service Devices at Continental. "Continental is a partner with a great deal of experience in tyres and service equipment, and we aim to provide workshops with as much support as possible when they implement this transformation."
Always up to date
Thanks to the TPMS Pro testing and programming device, commercial vehicle specialists can now perform individual tyre service for commercial vehicles safely and efficiently. However, the TPMS Update Plus Transport database extension can do more than just activate and test TPMS sensors. "The service unit can store and manage up to twenty-six wheels per commercial vehicle and flexibly configure axle and tyre configuration at the same time, even with dual tyres," says Kevilj. Thanks to the latest RF (radio frequency) technology, all the sensor data for dual tyres can be acquired in one single operation.
TPMS Update Plus Transport comes with a one-year license that includes regular database updates for TPMS sensors, vehicle models, protocols and sensor teaching procedures. This ensures that workshops can always offer their customers a service based on the latest information.
VDO rebrand continues
Continental recently announced that it would market its VDO service units and devices under the Continental brand. With this change in brand identity, the company aims to strengthen the Continental brand's "technological competence and know-how" in the aftermarket. Continental stresses, however, that workshops can continue to rely on the premium quality" of its products – this is a characteristic that "will never change."