Continental introduces 19.5" tyres for urban buses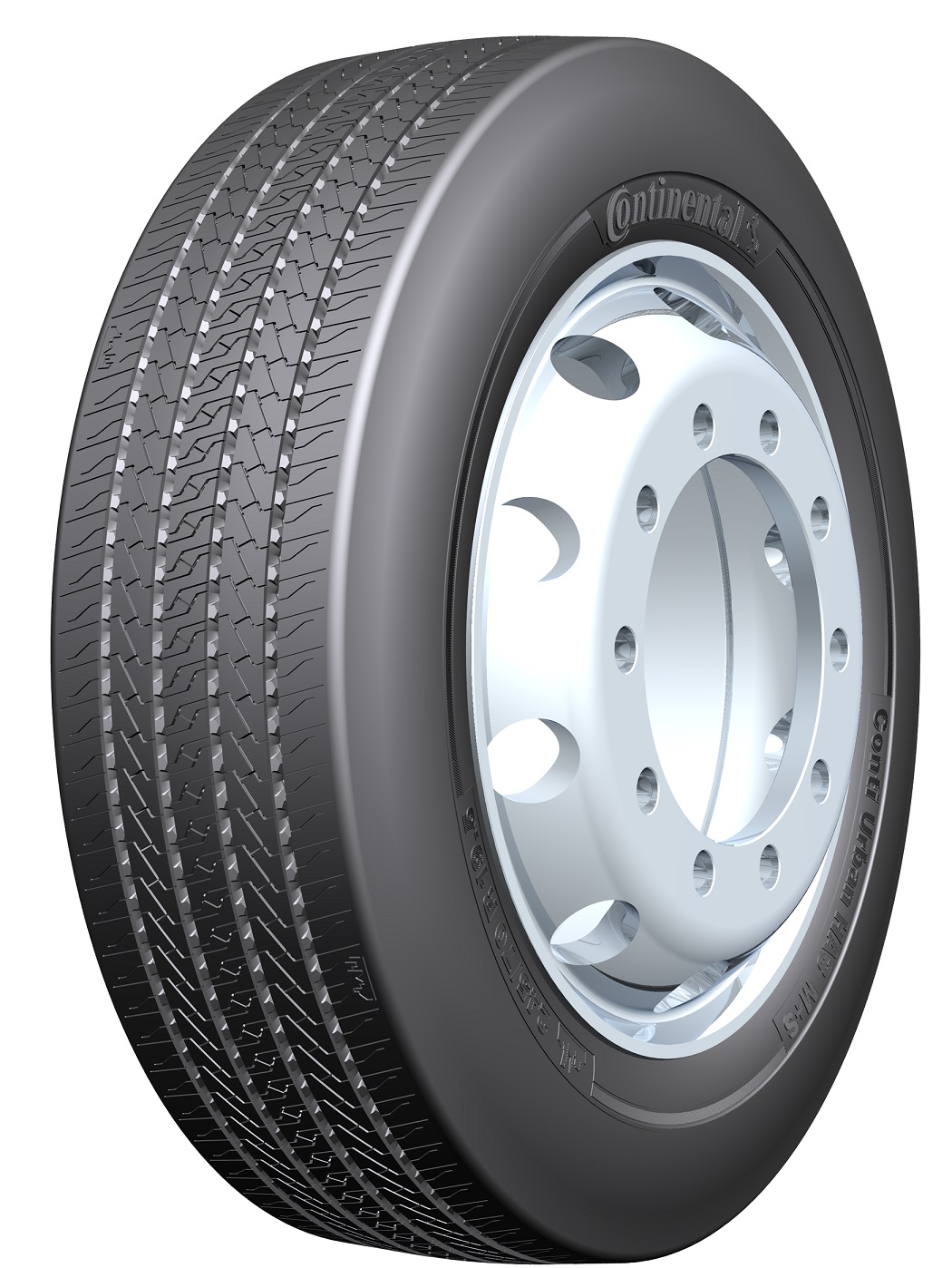 Continental has introduced a new 19.5" fitment for its urban bus tyre, the Conti Urban HA3, part of its third-generation commercial vehicle tyre range. Tyres for this application are placed under higher stress in the inner-city public transport segment than in any other area of application, Conti states. Stop/start operation coupled with frequent braking and accelerating, varying road surfaces and recurring contact with the kerb due to pulling up to and away from bus stops results in high expectations from urban bus tyres. Conti's latest fitment, 245/70R19.5", has been developed to help medium-sized urban buses take on these tasks.
The reinforced side walls of the Conti Urban HA3 provide a specially stiffened tyre contour, which can also withstand frequent kerbstone contacts at bus stops, which is unavoidable with urban bus services. The rubber compound used for the tread and the tread design increase the mileage of the bus tyre by up to 20 per cent compared with a standard regional tyre. The deep sipes also ensure optimum lane holding even in extremely wet conditions throughout the entire life of the tyre. The manufacturer adds that the Conti Urban HA3 245/70 R 19.5" combines superb handling and excellent grip, ensuring the comfort and safety of passengers.
The Conti HA3 can be used on all axles, as indicated by the A in the nomenclature "HA3". Like other tyres in the third-generation range, the carcass of the Conti Urban HA3 245/70R19.5" can be retreaded, extending the life of the tyre, which has a positive impact on its cost-effectiveness in the fleet. Regrooving indicators to mark the possible regrooving depth are integrated into the tread. The Conti Urban HA3 245/70 R 19.5" is labeled with the M+S symbol, which means that it is suitable for year-round use in many European regions.
The Conti Urban HA3 is available in these sizes:
| | | | | | |
| --- | --- | --- | --- | --- | --- |
| Tyre size | M+S | Load and speed index | Fuel efficiency | Wet grip | Rolling noise |
| 245/70 R 19.5 | Yes | 136/134 M | C | C | 70 dB (A) |
| 265/70 R 19.5 | Yes | 140/138 M | C | C | 70 dB (A) |
| 315/60 R 22.5 | Yes | 152/148 J (154/150 E) | C | B | 71 dB (A) |
| 275/70 R 22.5 | – | 150/145 J (152/148 E) | C | B | 70 dB (A) |
| 275/70 R 22.5 | Yes | 152/148 J (152/148 E) | D | B | 70 dB (A) |
| 305/70 R 22.5 | Yes | 152/148 K (154/150 E) | C | B | 70 dB (A) |