Conti to launch A-graded ContiEcoPlus HT3 trailer tyre at CV Show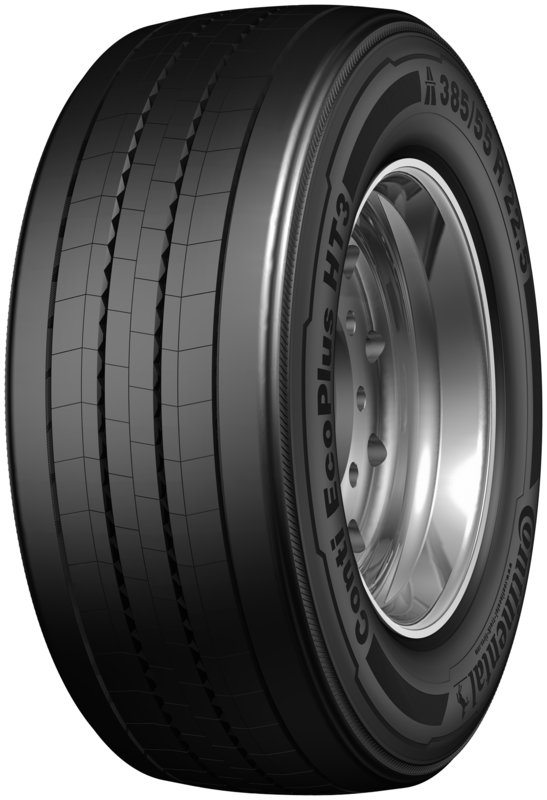 Following last year's roll out of its third generation coach and bus tyre range, Continental will turn its attention to goods vehicles at the CV Show 2014. Conti plans to showcase the first two products from its goods vehicles range: the ContiEcoPlus and the Conti Hybrid. The manufacturer has begun a new naming system for its TBR tyres, with the nomenclature designed to describe more clearly the application the product is intended for.
The ContiEcoPlus for example is designed to offer improved longevity, retreadability and "best-in-class fuel saving performance". The ContiEcoPlus HT3 trailer tyre is available now, offering an improvement of 26 per cent in rolling resistance over its predecessor, achieving an A-grade for fuel efficiency on the EU tyre label. A number of sizes for steer and drive axles, ContiEcoPlus HS3 and HD3, will follow, and are expected to be available from April.
The ContiHybrid is Conti's new regional range, with a rollout starting from the second half of 2014. Designed to bridge the gap between long-distance journeys and the stop-start style of town driving, engineers focussed on maximising mileage performance as a priority, while ensuring good fuel efficiency and retreadability. In 2014 Continental will launch the Conti Hybrid in 22.5 and 19.5 steer (Hybrid HS3), in 19.5 drive and trailer (Hybrid HD3 and HT3), and in 17.5 steer and drive (Hybrid LS3 and Hybrid LD3).
In addition to the tyre ranges, Conti will present case studies demonstrating its ContiPressureCheck tyre pressure management system (TPMS) and its role in reducing tyre breakdowns. Conti says over 90 per cent of all tyre failures are preceded by slow leaks that cause gradual loss of tyre pressure, which can lead to punctures and increased running costs, such as higher levels of rolling resistance and fuel consumption. Installed on a number of fleets throughout 2013,
For the times when breakdowns do occur, Conti will present ContiBreakdownService, which is available 24/7 with a 'drive-on time' guarantee of less than two and a half hours in the UK and Ireland. Supported by more than 300 service points and more than 700 mobile service vans across the UK and Ireland, the service also has the option of European breakdown cover across 37 countries.
Football promotion
Conti's football sponsorship includes partnership with England's national facility at St George's Park in Staffordshire, and visitors to its CV Show stand will have the opportunity to win a day-long experience there. The winner and three friends will join Conti at an exclusive event on 14 June 2014 during the World Cup in Brazil for a tour of St. George's Park, a coaching session including the ContiWarmUp programme with FA coaches, live screening of the World Cup games in the evening and overnight accommodation at the St George's Park Hilton hotel. In addition, Conti will be running a football trivia quiz, which offers the chance to win 2014 FIFA World Cup Brazil branded giveaways, and will have the official mascot of the World Cup, Fuleco, on the stand for photo opportunities.
Continental Tyres' sales and marketing director, Commercial, Arthur Gregg said: "With almost three quarters of European tyre volume sales coming from the goods sector alone, this year is naturally going to be a very busy, but very exciting time for the company.
"Purchase price is an important factor in the buying decision of all of our customers, but what is more critical is having tyres that help fleets lower their overall driving costs, as these savings can quite often be significantly higher. The range of services and products we will have on display at the show represent how we can help fleets achieve this, from offering the best quality tyres optimised for specific customer needs, to systems and solutions which efficiently manage and extend the life of those tyres, to the breakdown cover to get vehicles back on the move, should the worst happen."
Conti's team will be available to talk about their products and services at the CV Show 2014 at the NEC Birmingham on stand D70, hall five.