Aspiring to sustainable & future-proof tyres – Hankook's new SmartFlex series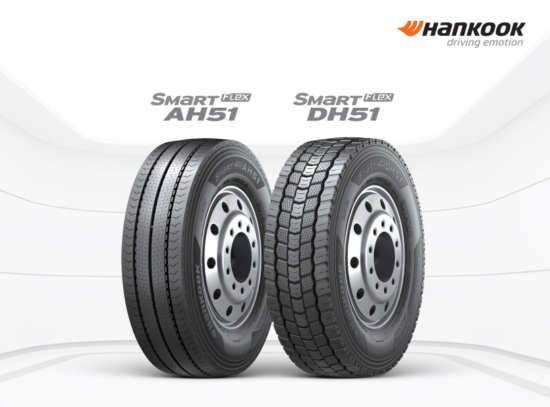 Hankook Tire has introduced a new generation of regional to long-distance truck tyres into its SmartFlex Series. It premiered the SmartFlex AH51 steer axle and SmartFlex DH51 drive axle tyres at the CV Show in Birmingham today, and reports that the first six dimensions will be available in selected European markets from November.
Successors to the Hankook SmartFlex AH31 and DH31, the new products respectively offer 15 and 20 per cent better mileage than the prior-generation tyres. Furthermore, when developing the AH51/DH51, Hankook succeeded in reducing rolling resistance by ten per cent. The tyre maker comments that when looking at CPK (cost per kilometre) indicators, both new SmartFlex tyres are "able to support economical fleet operations in an increasingly sustainable manner." Both the SmartFlex AH51 and DH51 are 3PMSF certified.
Sustainability a priority
Upon the new tyres' launch, Sanghoon Lee, president of Hankook Tire Europe, comments that "Hankook Premium truck and bus tyres have long been in the premium category globally and have therefore been used for some time now by many well-known and leading vehicle manufacturers as original equipment worldwide.
"As a company, we place a high value on the sustainability of our products, and therefore our newly developed smart treads fulfil our aspirations for ensuring sustainable and future-proof tyres, and of course also in conjunction with significantly increased customer benefits," Lee continues.
Higher lifetime performance
Whilst developing both tyres, the company's design engineers employed the Hankook SmartLife concept, which places a particular focus upon sustainability. The emphasis here is on the requirement for products to "always offer the highest possible performance from the first to the last millimetre of tread depth." Like all modern Hankook truck tyres, the SmartFlex AH51 and DH51 can be regrooved several times and are retreadable. Hankook states that by combining a SmartLife casing with the company's retreading, tyre life can increase by up to 250 per cent.
"As a premium tyre maker, the focus of our tyre development is always on premium quality and long service life. In addition, permanent operational safety and achieving the highest possible performance are also decisive criteria," explains Guy Heywood, marketing director truck and bus tyres at Hankook Tire Europe. "Intensive testing has shown that, compared to competitors in the premium category, both new SmartFlex products achieve significantly higher performance standards in the lifetime performance chapter, even when the tyre is two-thirds worn, for example in terms of braking distance on wet roads as well as grip and safety in a wide range of road conditions."
Compound solutions for greater fuel efficiency
One distinct feature of both new tyres that Hankook points out is their 'notch-tough' tread compounds. This refers to high-performance resins that improve resistance and durability by increasing the molecular weight of the polymers used, thus contributing to higher mileage performance overall.
The tyre maker says it designed the base compound of both patterns for efficiency, increasing the proportion of low-damping materials. By doing so it reduced principle viscoelastic power loss throughout the tread, and this in turn decreases energy loss and thus improves fuel efficiency. It freshly developed the sidewall compounds for this new generation of SmartFlex tyres, with the development team placing a strong emphasis on significantly increasing resistance to crack formation and material fatigue. "Thus, the overall resistance of the SmartLife carcasses used on AH51 and DH51 has been further enhanced compared to the predecessor treads," states Hankook.
Furthermore, Hankook says its IMS (Innovative Mixing System) process guarantees that carbon black particles and rubber molecules are distributed evenly within the compounds. Hankook also extended mixing times and lowered the mixing temperature which, together with IMS, significantly increases the bonding rate between the carbon black and rubber molecules. "As a result, SmartFlex tyres generate less heat during operation," shares the tyre maker.
SCCT technology
Hankook Tire uses its patented SCCT (Stiffness Control Contour Theory) design technology in SmartFlex products, and the manufacturer explains that SCCT "ensures that the internal pressure distribution is as evenly balanced as possible, depending on the application." It says an evenly balanced distribution means greater stability and less movement in the tyre casing during use, improving the SmartLife casing's durability and retreadability. The AH51/DH51's belt plies and the casings are made with high-strength steel cord materials. Together with the SCCT contour, this results in a consistent contact patch for even wear, as well as improved traction and braking performance.
Self-regenerating treads
The design team incorporated 3D sipes with self-regenerating tread features into the AH51 and DH51 treads, and these emerge once the tread pattern is between 40 per cent and 70 per cent worn. The job of these 'regenerating' grooves is to lock the tread blocks together when the tyre is rolling and thus provide higher overall tread stability, extending mileage over the entire service life. They also make the tyre more robust and less susceptible to poor road surfaces and other external influences. Once the tread is approximately 70 per cent worn, 'hidden' grooves appear. Hankook explains that these ensure continued high traction and grip, even in wet conditions, until the tread is completely worn away.
The wide tread blocks of the SmartFlex AH51, which can also be used as an all-position tyre, feature additional supports (T.W.E.S. – Tread Wear Equalised Stepper) in the outer grooves. Hankook Tire says these significantly increase tread stiffness in conjunction with the tyre's broad shoulder ribs. In particular, they facilitate even wear across the entire width of the tyre and thus further improve mileage and rolling resistance.
The SmartFlex DH51 has a wider contact patch than its predecessor, which increases traction while improving mileage and rolling resistance. The presence of sipes on the shoulder blocks, which are typically under stress on drive axle tyres, helps to reduce cracking even during peak loads. In addition, these support tread drainage to further increase traction performance.