Hankook bringing new solutions to CV Show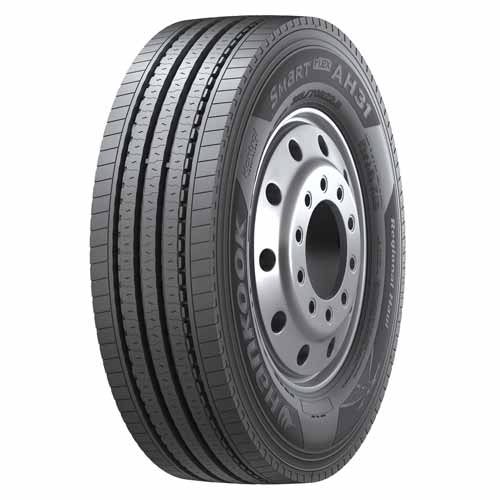 Hankook Tyre UK will once again exhibit at Britain's largest three-day commercial vehicle show. The products it plans to peacock at the Commercial Vehicle Show between 14 and 16 April include the SmartFlex AH31 – recently the recipient of an increased load index size designed specifically for the new Euro5 and Euro6 vehicles – and the TL02 trailer tyre, which has been adapted for use in the car transporter industry. Hankook will be located in Hall 5 of the National Exhibition Centre (NEC) in Birmingham, at stand 5F111.
The tyre maker says it will present its commercial tyre portfolio together with many new developments for various ranges. The SmartFlex AH31 line of all-season medium to long haul truck tyres has been increased with the addition of a size 295/80R22.5 fitment that comes with a load index of 154M, making it suitable for vehicles plated with a front axle weight capacity of 7,500 kilogrammes. This new tyre will be available from the second quarter of this year.
The trailer industry has taken to Hankook's TL02 trailer tyre in size 295/60R22.5. This particular tyre comes with a load index of 152J, for loads up to 7,100 kilogrammes. Hankook has also extended its Alphatread retreaded tyre range with the addition of the Alphatread R-DH05 in size 315/70R22.5. This was launched in January 2015.
"Here at Hankook we pride ourselves on ensuring we maintain very close relationships with our customers which enables us to understand the various needs they face within the industry," stated Jong Jin Park, managing director of Hankook Tyre UK. "This in turn allows us to develop innovative and tailored tyre solutions. The recognised high-quality of our products has not gone unnoticed, as some of the world's largest truck manufacturers including MAN and Mercedes-Benz have recently announced original equipment fitments. As of this year Hankook will be supplying its e-cube MAX, SmartFlex and SmartWork truck tyres for various MAN models. Our exceptionally popular Vantra LT van tyre can also be seen fitted as original equipment to the Mercedes-Benz V-Class and the successful AH11 (steer axle) and DH05+ (drive axle) tyres can also be seen on the Mercedes-Benz Atego Euro VI models."
In addition to displaying a wide range of commercial vehicle tyres, Hankook will also offer visitors the chance to win a pair of VIP tickets to the UEFA Europa League Final in Warsaw. Stand visitors can try their luck at a UEFA Europa League inspired game on the stand and gain a chance to win this prize.