Everton, Davanti Tyres providing school uniforms to socially deprived areas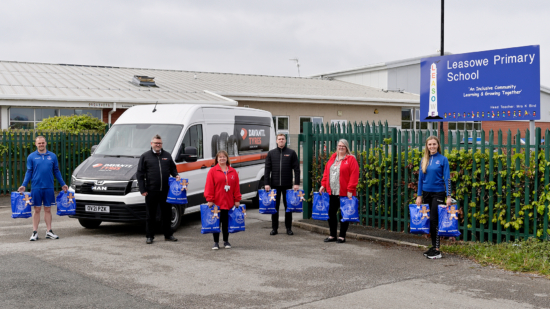 Everton in the Community and Davanti Tyres are distributing school uniforms to pupils from Liverpool's most socially deprived areas. The football club's official global tyre partner has donated £10,000 to support the distribution of more than 480 complete school uniforms. The uniforms will be given to children from the most disadvantaged wards across Merseyside, whose families have been hit hard financially by the long-term effects of the pandemic.
Often families in this region must balance already tight budgets by cost cutting on food and utilities to provide uniforms for their children. A child not having the correct uniform, or sometimes no uniform at all, can adversely affect attendance, punctuality levels, their attitude towards wanting to learn, and self-confidence. It can often be the cause of bullying too. Everton in the Community and Davanti state that they are committed to tackling inequality in education and ending this stigma.
Sarah Atherton, Everton in the Community neighbourhood manager, said: "The provision of school uniforms from Davanti will provide a life changing impact to the beneficiaries across Liverpool City Region. Covid-19 has proven to have some significant impacts on our families and being able to provide uniforms to those suffering from poverty will alleviate any schooling financial concerns.
"Allowing a young person to access education through the provision of a uniform has several personal development impacts, as well as education and attainment level boosts and boosting a young person's confidence and self-esteem. This is an exciting partnership which will create lasting impact to almost 500 families across Merseyside. I would also like to thank Morrisons supermarket for kindly offering us a discount on these uniforms, enabling us to support more children in need."
Chris Saunders, Davanti brand manager, added: "Here at Davanti Tyres, we are proud to lead the way in supporting this important initiative through our 'Make It Happen' campaign'. Everton in the Community has highlighted a significant issue facing children and families in the most disadvantaged areas of Liverpool. As a manufacturer with firm roots in the city region, we want to do what we can to ensure that bright young pupils are not held back or subjected to any disadvantage simply because they do not have the correct school uniform.
"Small changes can make a big difference and we hope that by working closely with Everton in the Community, we can help many children to realise their full potential."
Everton in the Community has worked with local authorities to identify the most deprived schools across Liverpool City Region and 240 school uniforms will be distributed to those in need during the current academic term to meet the immediate and urgent need and a further 240 will be given out to those starting school in September 2021. The football club's community wing believes this will support a significant improvement in learning outcomes and produce knock-on effects in raising schools' performance, in addition to removing one financial worry from cash-strapped families.
Davanti says its donation will also provide a much wider social impact to the local community. It identifies several forms of social return on investment of a child attending school more regularly; it can lead to a reduction in food poverty rates and fewer young people becoming NEET (not in education, employment, or training). Staying in education also increases employability status and continued access to the open provision to learn with support from Everton in the Community.
Davanti tyres are distributed across the world in more than 70 countries. It became the official tyre partner of Everton Football Club in 2017. By working with Everton in the Community, Davanti hopes to make a lasting social impact on the Liverpool City Region.