Safety award for Nokian Heavy Tyres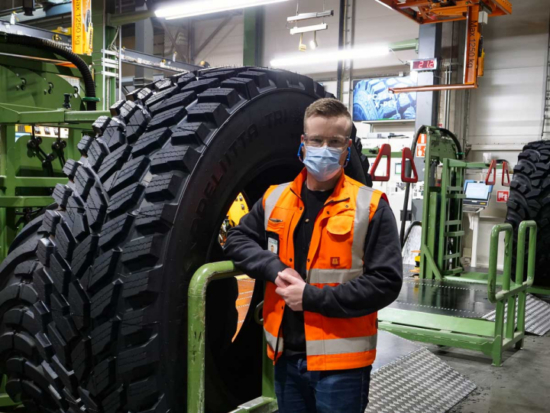 Trade association the Chemical Industry Federation of Finland has awarded Nokian Heavy Tyres Ltd during its annual Safety Awards ceremony, which took place yesterday. It honoured Nokian in the large companies category, acknowledging the tyre maker's senior management for their strong commitment to improving safety.
While Nokian Heavy Tyres had an accident frequency of 53 in 2016, today the number is zero. The tyre maker has now achieved two accident-free years.
"Our entire personnel took safety as their top priority. Cooperation within the personnel has been the key cornerstone of our success," comments Antti Viitasaari, safety manager at Nokian Heavy Tyres.
A proactive approach to safety
Nokian Heavy Tyres' initial emphasis was upon reactive industrial safety. Once the accident frequency rate dropped, the company switched its focus to a more proactive approach towards safety. For example, in 2021 it has spent a significant amount of time on site-specific risk assessments.
The tyre maker has developed its proactive safety approach by focusing on cooperation and developing its employees' safety skills and know-how. "This provides more tools and know-how for individual decision making. It also enables us to avoid disturbance, and increase our perseverance in case of any disturbances," Viitasaari emphasises.
Each year, all employees take part in a minimum of two days' training that includes key safety instruction. Many work processes have also been made safer. According to industrial safety representative Ari Niemelä, various hazards have been eliminated after assessing whether the tools or protective equipment in use are suitable for the purpose.
"Succeeding at safety has motivated our personnel to make improvements and more safety observations of their working environment. They have also become more inclined to report defects," says Niemelä.
Nokian Heavy Tyres says it has also succeeded in transferring its good safety culture to its subsidiary wheel manufacturing operation, Levypyörä Oy.
"Big thanks to our entire staff who have made the right choices in terms of safety. With a good team, developing an even safer work environment is a joy," says Manu Salmi, senior vice president of Nokian Heavy Tyres.