Tirebuyer.com and Tirescanner.com merge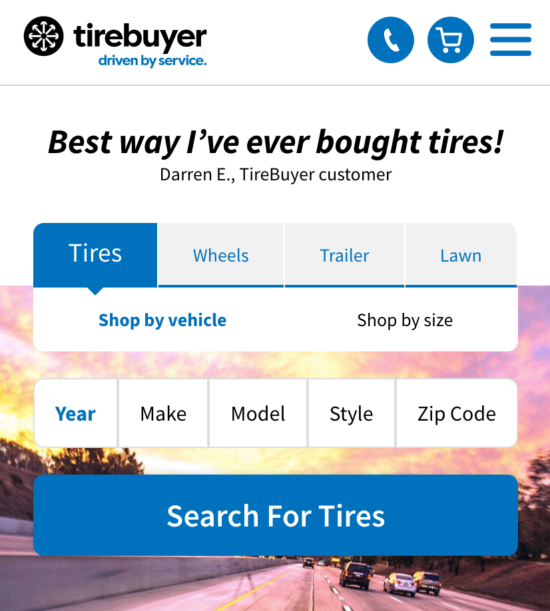 Online tyre retailers Tirebuyer and Tirescanner have merged to create a new Tirebuyer.com that will be led by president and CEO Michael Welch OBE, who formerly founded Blackcircles and then Tirescanner. ATD (American Tire Distributors), Tirebuyer's parent company, is the largest tyre distributor in the world. The new Tirebuyer will operate over 11,000 installer partner locations across the USA. According to the company, Tirebuyer sales day one are in the high eight-figure range. "We expect to climb sales to multiple nine figures over the coming years". There is even talk of hitting the billion-dollar turnover mark.
Asked what impact the merger will have on the European and UK tyre markets, Welch told Tyres & Accessories: "We will effectively open our Edinburgh office for Tirebuyer, for expertise in UX (user experience), design, data insights and analysis". Reflecting on the merger, he added: "As a merger this is the perfect match of scale and strategy in a new independent entity".
Mike Welch will be leading Tirebuyer's new strategy, which centres on "delivering unrivalled service levels to tyre buyers and opening up opportunities that grow real value for its manufacturers and retail partners." The goal is for the new business to build "a best-in-class approach to addressing the market shift for digital and service focused business models that are evolving quickly across all sectors including vehicle maintenance."
"By bringing together these two business models we have positioned ourselves to be at the front of this changing landscape. We are approaching a tipping point for online tyre retail in the US. After meeting with the ATD leadership team I was impressed by their big plans for the future looking market and could clearly see the synergy between their vision and mine," said Welch, adding:
"In this next chapter we will focus on creating value for all, establishing strategic partnerships across the industry alongside innovative customer solutions. I am very excited to lead the new TireBuyer and a very talented group of colleagues through this next phase of growth and opportunity."
"ATD has been on a journey of transformation to bring digital, data and technology solutions on behalf of the industry that help our customers and vendors, not only compete, but plan for the future of service, the solutions consumers will seek, and the ease required to provide it," said Stuart Schuette, president and CEO of American Tire Distributors. "In our position as a connector of the automotive aftermarket, we have the unique ability to support the creation of value for the industry. Michael will be instrumental in creating a best-in-class e-commerce platform and the future of online tyre buying."
Mike Welch founded BlackCircles.com in the 1990s and Tirescanner.com in 2008.