Bridgestone to offer customised retreads as part of fleet subscription model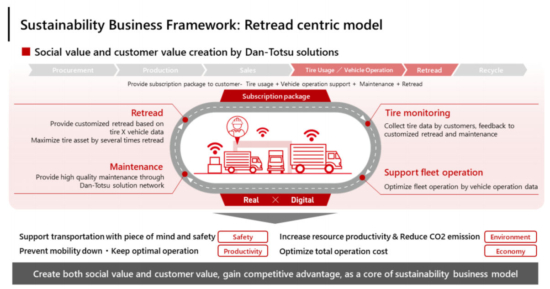 Retreading solutions lie at the heart of Bridgestone Corporation's new Sustainability Business Framework. Announcing details of the framework's "retread centric model", chief executive officer Shu Ishibashi shares that the tyre maker plans to utilise tyre monitoring technologies in order to offer customised retreads via a subscription model.
"Bridgestone will use tyre and mobility data to provide customised retreads tailored to our customers' usage conditions, and maintenance services that will allow use of tyres in optimal conditions," explains Ishibashi. "We will also combine 'digital', such as tyre monitoring, allowing visibility of tyre data like tyre pressure, and fleet operation support provided by Webfleet Solutions, to provide Dan-Totsu (class-leading) solutions for our customers."
Although Bridgestone is still developing this business model, the intention is to offer class-leading new commercial vehicle tyres, retreading and maintenance as a package subscription model with a flat monthly fee. By doing so, Ishibashi comments that Bridgestone's customers "can use tyres more safely, longer, and more cost-effectively."
According to Bridgestone's calculations, adopting such a model will approximately halve raw material use and CO2 emissions associated with these tyres. It will also reduce downtime from tyre-related issues.
Recycling business, new Solutions model
Looking ahead, Bridgestone is looking to establish a new recycling business that will convert used tyres into usable raw materials. Plans here are being implemented parallel to aims to develop a new business model for the Bridgestone Solutions business, which is responsible for providing product maintenance services and digital platforms for commercial fleets as well as agricultural, industrial, mining, aviation and construction sector customers. "This will be a long and challenging task, but we have already started our 'search' in R&D and business opportunities, including potential M&As," says Ishibashi. "We will realise this strategy through co-creation and innovation, in order to contribute to the realisation of SDGs (the UN's Sustainable Development Goals) and a sustainable society."