Victory for Continental in Tyre Reviews' 16" test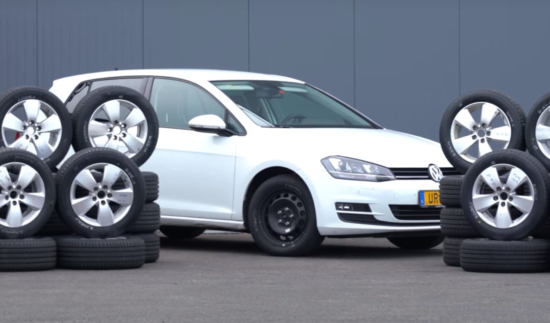 The world's top-selling tyre size, 205/55 R16, has been given the Tyre Reviews treatment. The site prodded and poked a dozen specimens to find out which ones deliver safety, comfort, efficiency and value – and which tyres don't. The results have been distilled into 17 minutes of highly informative video.
Testing for the 2020 Tyre Reviews Ultimate Summer Tyre Test took place at Goodyear's proving ground in the south of France. Tyre Reviews fitted the six brands of premium, five mid-range and one budget tyre brand to a VW Golf Mk7 TSI and evaluated them in a dozen criteria.
Test winner: Continental PremiumContact 6
Strong performance in the braking tests helped propel the Continental tyre into first place. Tyre Reviews praises the PremiumContact 6 for its "excellent dry grip with sporty handling" and short braking distances in the wet and dry. Shortcomings included low aquaplaning resistance, just average comfort and relatively high noise levels, as well as a high purchase price.
Highly recommended: Goodyear EfficientGrip Performance 2
Tyre Reviews found the EfficientGrip Performance 2 to be a "very well rounded tyre". Grip was excellent in both wet and dry conditions, and the Goodyear tyre was quiet, comfortable and well-priced. Indeed, were it not for slightly long braking distances in the wet and dry and low aquaplaning distance, the Goodyear may well have taken top honours in the test.
Recommended: Falken ZIEX ZE310 EcoRun
A podium place for Falken. Tyre Reviews reports "excellent, balanced results in the dry" as well as the shortest wet braking distances and good aquaplaning resistance. Noise levels were low and the ZIEX ZE310 EcoRun is well-priced. Its rolling resistance was, however, the highest in the test, and Tyre Reviews didn't find the Falken tyre particularly comfortable.
Recommended: Uniroyal Rainsport 5
The Rainsport lived up to its name by providing the best aquaplaning resistance and very short braking distances in the wet. Pricing and comfort were good, too, however, performance in dry conditions left a lot to be desired.
Recommended: Nokian WetProof
Tyre Reviews calls the WetProof a "well-priced, balanced tyre." Braking was good in the dry and handling excellent in the wet, and the tyre was comfortable. But wet braking was just average, as was rolling resistance, and noise levels were high.
Recommended: Bridgestone Turanza T005
The Bridgestone tyre performed well in the dry and aced the rolling resistance test. However, it was let down by long braking distances in the wet and low aquaplaning resistance.
Recommended: Michelin Primacy 4
Michelin isn't accustomed to finishing in the bottom half of a tyre test, but this is precisely where Tyre Reviews placed the Primacy 4. Tester Jonathan Benson liked the Primacy 4's high level of comfort and low noise as well as its very low rolling resistance and high aquaplaning resistance, but noted that the most expensive tyre in the test delivered relatively slow dry and wet handling laps.
Recommended: Maxxis Premitra HP5
Tyre Reviews considers the Premitra HP5 a perfect tyre for "those who enjoy driving enjoyment with a smaller wheel." The Maxxis tyre provided excellent handling in wet and dry conditions along with a sporty feel and high levels of grip. Aquaplaning resistance was good, too, as was price, but braking distances were long, while noise and rolling resistance were high.
Conditionally recommended: BFGoodrich Advantage
The Advantage was the quietest and most comfortable tyre tested, and it delivered low rolling resistance. But this comfort came at the cost of handling, with low grip in the dry and wet with understeer behaviour. Aquaplaning resistance was just average as well.
Conditionally recommended: Pirelli Cinturato P7 C2
Tyre Reviews thought the new P7 C2 has a lot going for it, describing the tyre as "a great update to the P7, with an excellent dry grip and sporty handling." If performance in the wet were a little better it would have been near the very top of the test, but this wasn't to be. Wet braking was long and handling just average. Rolling resistance was also high, and comfort average.
Not recommended: Hankook Ventus Prime 3 K125
Tyre Reviews' advice is to wait for the "much improved" upcoming replacement to the Prime 3. The Hankook tyre is well-priced and gives good grip in the dry as well as good levels of comfort, but braking distances are long, wet grip poor and rolling resistance high.
Not recommended: Goodride RP28
Jonathan Benson says that while the RP28 is "not the worst budget tyre ever tested", it finished the test a long way behind the 11th placed tyre – even though it wasn't much cheaper. Comfort levels were reasonable, but the Goodride tyre's braking distances were longest and its handling the slowest in both wet and dry conditions.