Pirelli, Hankook continue close rivalry in list of Leading Tyre Manufacturers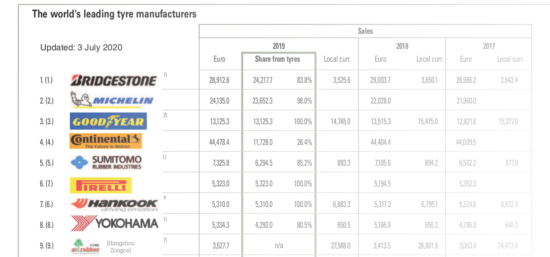 Michelin closes the gap to Bridgestone at the top of the table, while leading Chinese companies consolidate top-20 placements
Tyrepress has published its 2020 ranking of the world's top tyre manufacturers. Our ranking lists the top 20 tyre makers ordered by turnover from tyres in the previous calendar year. For example, Continental turned over nearly 45 billion euros in 2019, but 26.4 per cent of this was from its tyre divisions, making it the fourth largest tyre manufacturer in the world with 11.7 billion euros. The ranking presents a baseline for discussing the relative positions of the largest global players in tyre production. In 2019, we noted that Bridgestone had opened up a gap at the top of our ranking, around 2.65 billion euros ahead of second-placed Michelin in tyre turnover. This year, the French giant has reduced this gap to just over half a billion euros, reflecting its most recent acquisitions.
The other significant news from the top 10 is that Pirelli has retaken sixth place ahead of South Korea's Hankook. The two firms are comfortably the closest rivals at the top table of global tyre manufacturers, with less than 0.03 billion euros of turnover separating them in 2019. The latest exchange is the third time in three years that the two premium brand manufacturers, one a heritage European brand with a strong position in the high-value ultra high performance segment, the other often considered the newest addition to the list of multi-segment premium brands, have swapped sixth and seventh places.
Japan's Sumitomo Rubber Industries took its place in the top five tyre manufacturers – fifth place having previously belonged to Pirelli – in our 2017 ranking. It is somewhat anomalous within the top seven, without a recognised premium brand. However, the firm's strong manufacturing prowess, and the continuing premiumisation of the Falken brand via motorsport and high-level sponsorships – such as its position as new Premier League champions Liverpool FC's official tyre sponsor – have seen it join eighth-placed Yokohama as part of a well-established top eight with globally recognised brands.
ZC Rubber – formerly known as Hangzhou Zhongce – maintains ninth place as the highest-ranking China headquartered global manufacturer, led by its multi-segment Westlake brand. Taiwan's Cheng Shin Rubber, best known for the global Maxxis brand which has built a strong reputation in various specialist motorsport codes as well as recording some impressive independent tyre test results, rounds out the 2020 top ten.
Positions 10-20*
There are two major points of interest in the second half of our global top 20 this year. First is the continuing close rivalry between the top two India headquartered tyre makers. Apollo and MRF are in 15th and 16th place respectively, separated by just over 0.01 billion euros. Apollo's acquisition of the European Vredestein brand a decade ago saw it secure a foothold on the global stage, while MRF has continued to build on its strong domestic market position, with a motorsport range particularly present in Middle Eastern and Asian events.
Secondly, the ascent of the second and third-placed manufacturers headquartered in mainland China has continued. Linglong Tire has continued its rise, jumping ahead of the Indian rivals and gaining substantial ground on 13th-placed Cooper Tires. It increased its tyre sales revenues by 0.25 billion euros, making it the fastest riser in our rankings. Sailun Tires meanwhile moves up a place ahead of Korean number two, Kumho Tyre (18th). The manufacturer increased turnover over the previous year by nearly 0.20 billion euros, showing the impressive gains made by China's top three. Meanwhile, Chinese manufacturer Double Coin has fallen out of the top 20, meaning that South Korea now has three manufacturers in this list, as Nexen Tire rises to 20th.
Other players in this section include Giti (11th), which has remained above Toyo Tires (12th) by just over 0.03 billion euros. Findlay, Ohio's Cooper Tires, which has a particularly strong range in the growing SUV tyre segment in addition to ownership of the British Avon brand, maintains 13th position. Rounding out the top 20 is Finland's Nokian Tyres, historically strong in winter tyres, which rises one place to 19th by virtue of Double Coin's downward shift.
Bubbling under the top 20, we find such players as farm, specialist and industrial tyre specialists Titan and Trelleborg. The latter's recent reorganisation has boosted the importance of tyres within the Swedish headquartered firm. Several Chinese (Triangle, Guizhou Tyre, Aeolus, Prinx Chengshan, and Doublestar) and Indian brands (JK Tyre, CEAT, and BKT) are also present in our list of major global tyre manufacturers.
*[UPDATE (11/07/20): paragraphs 5 and 6 of this article have been modified to reflect new information about Linglong Tire's turnover.]