University testing shows Nokian Ground King 'lives up to its promises'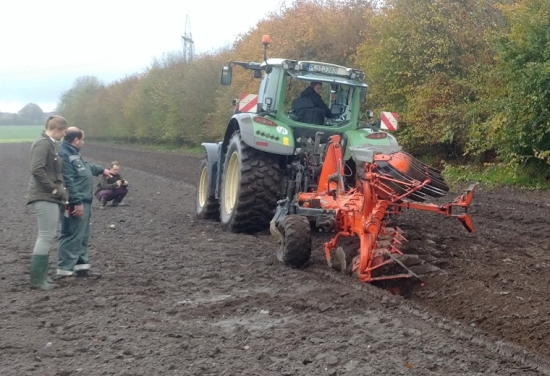 The demands placed upon tractor tyres are evolving. In addition to field work, the volume of transport tasks and time spent on the road has increased significantly in recent years. This trend presents a challenge for tyre designers as field and road applications are very different by nature. Nokian Tyres approached this challenge with a new kind of hybrid pattern technology that aims to offer the best of both worlds, combining a field-ready lug pattern with a block pattern to improve on-road properties. But does it work in practice? The Faculty of Agriculture, Department of Agricultural Engineering at Germany's Kiel University put the Nokian Ground King tyre through its paces to find out.
Test setup
For the long-term performance test, a Fendt 724 Vario tractor owned by agricultural contracting firm Blunk GmbH was fitted with pre-production versions of the Ground King tractor tyre. For reference, another identical Fendt was fitted with a premium brand of standard agricultural tyres. The tractors were employed in grassland operations and on-road transportation, with several measurements carried out to monitor performance. In-field work included mowing, tedding, harvesting and tillage. The tractors spent 62 per cent of the time in field applications and 38 per cent on the road throughout the test period.
Efficiency in field use
Measurements taken in deep tillage application tests showed that the Nokian Ground King had better power transfer to the ground compared with the reference tyre, with two per cent less wheel slip. Nokian Tyres attributes this improved working efficiency to the Hybrilug tread pattern, which it says gave a "good interlocking grip between the tyre profile and ground."
As field use took place on moist clay soil, no significant difference was seen between the Nokian and reference tyres' self-cleaning tread properties.
When driven on grass, the Ground King's pattern placed less strain upon the soil and facilitated more rapid grass regrowth, leading to 29 per cent higher yield expectations.
Service life and fuel economy
According to Nokian Tyres, the Kiel University team's results "clearly shows that the Nokian Ground King tyre definitely demonstrates less wear over the trial's total operational spectrum." The lug-patterned reference tyre lost more than third of its usable lug height, while the Ground King lost only a fifth of its lug height. This suggests a considerably longer service life than that of a typical agricultural tyre.
A clear advantage was also seen when it comes to fuel economy. During heavy cultivation work, the tractor shod with Ground King tyres used 1.5 litres less fuel per hour, some four per cent less than the reference. The difference was greater still in transport tasks where the saving of 2.4 litres per hour represented more than nine per cent fuel savings compared with those achieved with standard tyres. Total combined fuel consumption was calculated to be 11 per cent less for the Ground King.
Impact on ergonomics and working efficiency
Do the tyres have a positive effect on the efficiency of everyday work? The test report states: "All drivers, as well as company workshop staff, definitely evaluated the Nokian Ground King positively." The reasons for this are better driving comfort, lower noise and good handling. As contractor Blunk pointed out, "drivers' subjective impressions of the new tyres' ability to easily handle all jobs undertaken by the contractor was backed by everyone. This means we can operate more effectively on customer farms."
Summary
Nokian Tyres believes this testing, which was performed last year, clearly demonstrates that the Nokian Ground King "lives up to its promises." Tero Saari, Product Manager at Nokian Tyres, adds: "It's nice to see that independent test results are similar to ours. Efficient agriculture is good for everybody, so we are pleased to be the first to offer a solution to a known need."
Sizes and availability
A total of 14 Nokian Ground King tire sizes will be available from Nokian Tyres dealers in 2020, starting in April with four sizes: 650/65R42, 540/65R30, 650/65R38 and 540/65R28.