Sailun Europe appoints Gareth Passmore senior vice president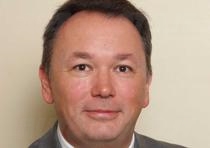 Sailun Group has appointed Gareth Passmore as senior vice president (PCR and TBR Tyres). The manufacturer states that his appointment is designed to strengthen the company's management team in Europe, aligned with its objective of growing its European market share. Passmore is making his return to Sailun having previously served as president of Sailun Jinyu International in 2016-17. Fluent in several languages, Passmore has previously held a number of international focused roles with Falken, Apollo, and Continental.
Passmore will, along with Courtland Michaels (responsible for speciality tyres), report directly to Sailun Group's European president, Chen Huang, and will work from the recently-expanded Sailun European Head Office in Frankfurt, Germany. The appointment is effective as of May 4th, 2020.
Chen Huang commented: "Gareth will be responsible for all of the operational, sales and marketing aspects of the PCR and TBR Tyre divisions of Sailun Europe, and we are delighted to welcome him to our Senior Management Team. We wish him every success for the future and to the continued growth and development of our European business."
Passmore added: "I am delighted to be joining Sailun at a very exciting time for the Group, the individual brands, its people and its partners. As exemplified by the investment in the sponsorship of both Valencia CF by Sailun, and of West Ham United by its sister brand, RoadX, there is a strategic desire to expand in Europe – I am excited by the potential future possibilities and opportunities."
Sailun added that the appointment of Passmore is "significant and prestigious" for the group. Passmore was previously sales director (export), Falken Tyre Europe GmbH, and was responsible of all sales and marketing activities for the Falken Brand across 13 European countries, spanning Western Europe and the former CIS Countries. Before that role he was responsible for the growth and development of the Apollo Tyre Group brands in Africa and Latin America. Passmore also spent 18 years in a variety of roles for Continental Tyres throughout North Africa, the near and Middle East and South Asia.