Bridgestone praises frontline fleet tyre workers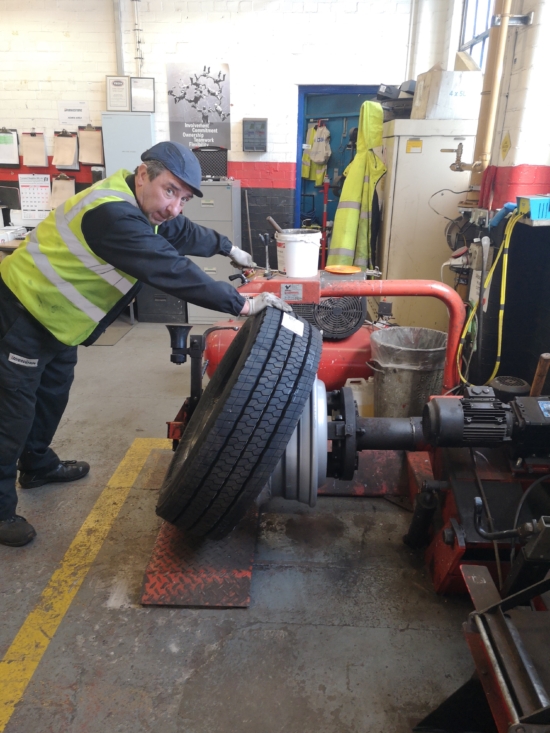 While much of the tyre industry has helped keep Britain rolling during the coronavirus lockdown, commercial vehicle technicians have played a particularly key role since they have serviced the fleets that have kept the blue lights flashing, the food deliveries moving and much more. In order to gain an inside perspective, Tyres & Accessories spoke with Bridgestone North Region Commercial Business Unit Director Greg Ward who, prior to his promotion into this role in October 2019, served as the company's commercial sales director, UK and Ireland, for 17 years.
Ward gave an overview of how Bridgestone tyres have kept going through the crisis, but ultimately gave credit to the frontline fleet workers that have very much been at the forefront of activities. And while Bridgestone are not the only largescale fleet player, the company's commercial team has grown significantly in recent years to the point that it now supplies a number of key fleet partnerships including the kind of fast-moving consumer goods (FMCG) operations that have proved so pivotal recently such as those working on behalf of supermarkets Ocado and Sainbury's as well as national scale Dairy producer Arla.
Keeping Britain rolling
In order to shed a little light on what it has been like for commercial vehicle tyre technicians, Bridgestone shared its experience via UK Public Service Vehicle (PSV) operations manager Justin Mason who reports on the work his team are doing. In many ways Mason's words exemplify the kind of challenges faced and overcome in the wider tyre business. Some have struggled with childcare issues. Others have had to look after elderly or vulnerable relatives. One or two have even had to self-isolate after showing symptoms of COVID-19. But is hasn't stopped these tyre technicians from pulling together as front-line workers to keep bus fleets out on the roads to keep Britain rolling:
"We currently have 124 tyre technicians operating in around 270 bus locations in every corner of the UK and Ireland. The technicians are responsible for the safety of 24,000 passenger carrying vehicles which equates to over 144,000 running wheels. They work on our customers' premises and are the face of the Bridgestone PSV business.
"Our technicians not only change tyres but supply a full cradle to grave service to our customers, covering all aspects of tyre husbandry – including inspecting every tyre on every vehicle within a contracted time period, interrogating the tyre inspection report to create a 'work to do' list and working with our customers to ensure the vehicles are available to work on. They minor repair tyres to BS159 standard and regroove tyres to extend their serviceable life.
"But the job doesn't stop there. The technicians will use our FleetBridge system to process all the tyres changes they have actioned, list and obtain customer signatures for damaged tyres with serviceable life and request that vehicles are inspected due to any possible mechanical faults such as misalignment.
"Ever since the onset of the coronavirus, they have all had to adjust their work patterns to best suit their individual domestic constraints and, at the same time, accommodate our customers' requirements.
"They have proceeded to carry out their work as to protect themselves in the field whilst continuing to deliver the high levels of service our customers have come to expect from Bridgestone."
Children and family concerns
Like many during this challenging lockdown period, some technicians have had to face complex family concerns, according to Justin Mason: "Some have had to deal with childcare issues with school closures, some have had to deal with elderly or vulnerable relatives and again this is being managed by our fantastic team with minimum fuss and continued dedicated professionalism.
"A number have had to self-isolate due to exhibiting the Coronavirus symptoms or have been classed in the 'at risk' category. The remaining team members have stepped up and covered additional garages to cover for their colleagues and keep our PSV business and the country mobile.
"The dedication of our technician team ensures that our healthcare and critical workers get to where they need to be each day and their role is fundamental to getting our countries over this difficult period. We are indebted to our Bridgestone front line workers."