Are truck tyre technicians key workers?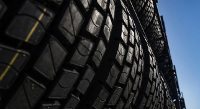 Today (Friday 20 March 2020) is the last day at school for most children after Prime Minister Boris Johnson announced that all schools in England will close in a statement given on Wednesday 18 March 2020. However, schools won't close entirely. Children of so-called key-workers will continue to go to school – something has led many parents to grapple with the question of what exactly a key worker is.
According to the BBC, key workers include:
Frontline health workers such as doctors and nurses
Some teachers and social workers
Workers in key public services including those essential to the justice system, religious staff and public service journalists
Local and national government workers deemed crucial to delivering essential public services
Workers involved in food production processing, distribution, sale and delivery
Public safety workers including police, armed forces personnel, firefighters and prison staff
Essential transport – air, water, road and rail workers
Utilities, communication and financial services staff, including postal workers and waste disposal workers
But the detailed official wording would seem to include Commercial Tyre Technicians managing fleets and possibly responding at the roadside to tyre emergencies (our thanks to NTDA chief executive Stefan Hay for drawing our attention to the following paragraph).
Under the "transport" heading, the government documentation says: "This includes those who will keep the air, water, road and rail passenger and freight transport modes operating during the COVID-19 response, including those working on transport systems through which supply chains pass." And, of course, truck drivers keep deliveries going, but tyre technicians keep the trucks rolling – making them key workers too.
However, having interacted with two different educational establishments on the subject, it is immediately apparent that individual schools are interpreting the key worker advice differently and many questions remain. For example, do one or both parents/care givers have to be key workers to qualify?
To learn more, you can read the full official government key worker details here:
https://www.gov.uk/government/publications/coronavirus-covid-19-maintaining-educational-provision/guidance-for-schools-colleges-and-local-authorities-on-maintaining-educational-provision