Goodyear develops Omnitrac range with new heavy duty truck tyres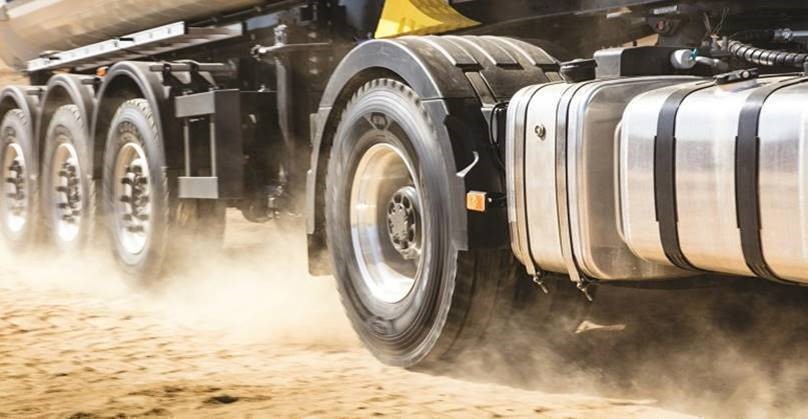 Development focuses on operational excellence on all kinds of terrain and in all weather conditions
Goodyear has launched an update to its Omnitrac mixed service truck tyre range, with six new Heavy Duty fitments for the drive and steer axles. The tyres are designed to operate under severe conditions, offering improved durability, efficiency, mileage and traction in all weather conditions.
Goodyear says the new tyres were developed for tippers and other heavy-duty trucks driving short distances on public roads, but predominately operating in challenging unpaved working environments, such as on construction sites and in mines and quarries.  Goodyear's Omnitrac guarantee covers accidental impact damage that renders a registered tyre unrepairable and unusable, and also includes 100% retread casing acceptance.
"Last year, we launched our new Omnitrac S and D tyres, which are specifically developed for vehicles that operate in mixed service applications and spend the majority of their time on roads.  The Goodyear Omnitrac Heavy Duty range covers trucks predominately operating on sites with severe terrain, but which also drive on-road for short distances.  Goodyear ORD is our established off-road range providing excellent traction in the most extreme conditions." said Maciej Szymanski, director marketing Europe for Commercial Business Unit at Goodyear.
He continues: "We now offer a full spectrum of innovative products covering all applications from on-road to very challenging working environments. The end-to-end offer is complimented with customisable smart solutions and the support of the reputable Truck Force network – which is an integral part of Goodyear Total Mobility, our tailored value proposition for fleets."
Omnitrac Heavy Duty features
The new Omnitrac Heavy Duty tyres are designed to cope with sharp stones, wet surfaces, muddy roads, steep slopes and pothole, as well as specific applications requiring high torque such as steer tyres on hydro-drive vehicles. They offer improved traction in severe mixed service applications combined with enhanced fuel efficiency and connectivity. Featuring DuraShield technology, they provide a balanced performance with a focus on robustness for long tread life in mixed service applications under tough operating conditions.  The latest technology includes an exclusive top belt for extra resistance to casing damage and corrosion, resulting in improved retreadability.
Compared to its predecessor the Omnitrac MSS II and MSD II, the new tyres provide enhanced performance in the areas of stone holding resistance, chipping and chunking resistance, connectivity and durability, while rolling resistance and fuel efficiency are maintained or improved in line with new developing legislation. The Three Peak Mountain Snowflake (3PMSF) marking means an improved level of winter performance and compliance with increasingly stringent winter tyre regulations.
Goodyear adds that its Omnitrac MST II 385/65R22.5 and 445/65R22.5 trailer tyres complement the new Heavy Duty tyres, offering high mileage and enhanced grip for on- and off-road applications with damage resistance and high stability.
Correct maintenance as well as precise, real-time monitoring of tyres is paramount in tough environments such as those experienced by mixed-service vehicles.  The performance of the new Omnitrac Heavy Duty range can be optimised even further to assure greater piece of mind for fleets – especially in remote locations and in severe conditions – with Goodyear TPMS.  Thanks to advanced telematics and Goodyear's unique algorithm, this mobility solution can constantly monitor the tyres and give instant warnings if tyre pressure or temperature fails to meet acceptable parameters. This can result in 15 per cent more working hours and 85 per cent fewer tyre-related incidents, according to the tyre manufacturer's internal testing (and depending on tyre maintenance), supporting operators in increasing uptime and decreasing breakdown costs.
All Omnitrac tyres are both regroovable and retreadable and have been developed according to the 'Multiple Life Concept' approach – allowing fleets to make the best use of their tyre assets and substantially reduce their costs per kilometre while reducing their carbon footprint.
In line with all recently introduced Goodyear truck tyres, Omnitrac Heavy Duty tyres features radio-frequency identification (RFID). Connectivity for tyre management and tracking systems is integrated via a chip in the tyre. The RFID sidewall symbol is a deterrent to thieves, as the tyres can be traced.