Kal Tire partners TRM in Mexico retreading plant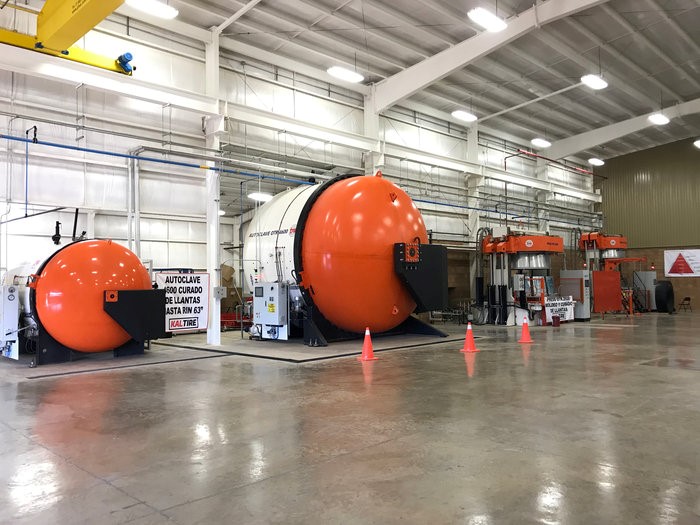 Retreading machinery manufacturer TRM reports that it has just delivered "the most modern OTR retread plant" to Kal Tire Mexico operation. The factory, located in the desert of Sonora, close to the biggest open-pit copper mine in Mexico and one of the largest mines in the world, was put in operation via the collaboration of Kal Tire's Mexican field team TRM's technical team.
TRM's installed "state of the art" machines including: a dedicated multipurpose working gate allows with its flexible tooling head to perform the three steps required for buffing and the final grooving; a full automated building machine with the exclusive contact calendar head; and two autoclaves and curing presses which complete the installation, giving Kal Tire the full process flexibility for tyre sizes up to 63 inches.
The new retread facility officially opened on 18 October 2019 and is strategically located as 30 per cent of Mexico's mines are in the state of Sonora. This location marks the sixth OTR retreading and repair facility run by Kal Tire, with the other facilities located in Canada, the UK, West Africa and Chile.
The Mexico plant is reportedly Kal Tire's first retread facility to use robotic buffing and building, which improves access to custom tread designs amongst other benefits. The robotic technology is being described as a pilot programme as Kal Tire begins automating retread operations around the world, so we can expect to see similar developments at other Kal Tire locations in the future.
The 3,000m2 plant will be supported by a team of 120 during construction phase and employ 40 people on-site who have been in training for nearly a year to achieve their certification as retread technicians.
Every year, Kal Tire retreads more than 10,000 tyres.
Kal Tire is Canada's largest independent tyre dealer and one of North America's largest commercial tyre dealers. Kal Tire's mining tyre Group is an international leader in mining tyre service and supply, servicing more than 150 mine sites across five continents.
TRM – Retreading Technology, based in the province of Trento (Italy), specializes in the design and manufacturing of machines and production lines for the retreading of Passenger, Truck, OTR and Aircraft tyres.