Goodyear launches higher mileage, winter compliant Kmax Gen-2 trailer tyre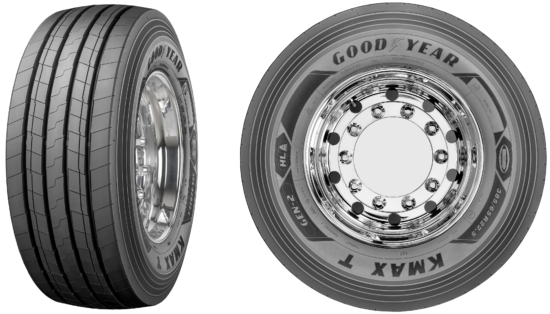 Goodyear's latest trailer tyre, the Kmax T Gen-2 has arrived, completing its second generation commercial vehicle tyre line-up. Designed for regional fleets, the range offers higher mileage, longer life, full winter tyre EU legislation compliance and RFID connectivity, Goodyear states. The new trailer tyre, which replaces the Kmax T, is the latest tyre product to enter Goodyear Total Mobility – a customisable group of fleet services. Total Mobility also includes smart fleet solutions and the support of an expert service network throughout Europe.
"The Kmax T Gen-2 range offers important benefits to inter-regional and regional fleets, in particular those operating under changing load levels or traveling to regions with varying weather conditions," said Maciej Szymanski, director marketing commercial tyres Europe at Goodyear. "Since the launch of this new range we see leading fleets updating their trailer policies to include the latest generation of 3PMSF homologated winter tyres. In addition, the range offers enhanced mileage, connectivity and optimal performance levels during the service life."
Goodyear says the range, comprising one 19.5" and four 22.5" rim sizes, is "one of the most comprehensive ranges of 3PMSF trailer tyres on the market." One 22.5" size, 385/65R22.5, is also a High Load version. All of the tyres meet legal requirements for performance on winter roads.
The new tread design has five, six, or seven ribs, depending on size. These increase damage and wear resistance for high mileage and long service life under severe conditions. It has deep sipes, which are still visible at 75 per cent worn. These help the tyre offer enhanced wet grip and all-weather performance. Intellimax Groove Technology features a teardrop-shaped bottom blade design to avoid groove cracking in high friction trailer and other demanding applications.
The tread compound is designed for cool running and high abrasion-resistance. This increases mileage and fuel efficiency. Its chemical formula and polymer network reduce rolling resistance, contributing to fuel economy and lower emissions. It also offers a high level of resistance against tread wear and lateral scrubbing.
The new trailer tyres are regroovable so fleets can further optimise their cost with Goodyear's TreadMax moldcure retreading process. This uses the same tread pattern and material as new products.
Connectivity to tyre management systems such as eJob and FleetOnlineSolutions is enabled by radio frequency identification (RFID) integrated in the tyres. RFID is also known as a deterrent to theft because these assets can be traced thanks to the information stored on the tag.