Reynolds Logistics signs new Goodyear Total Mobility five-year contract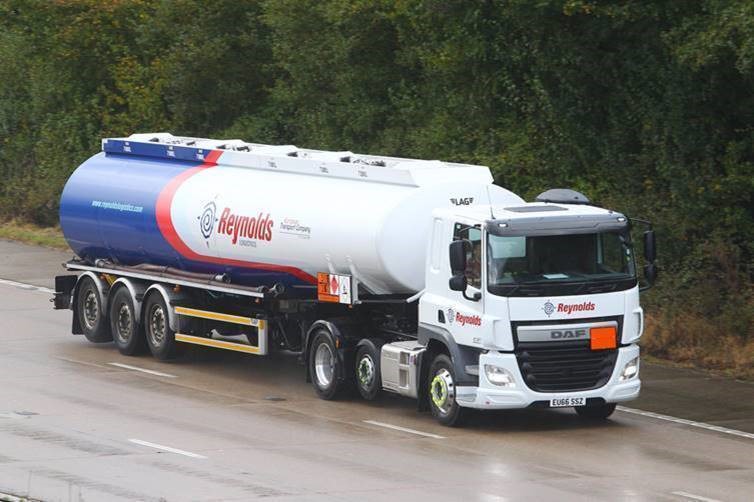 Goodyear Tyres has secured a new five-year partnership with Reynolds Logistics. The family-owned bulk logistics company specialises in the haulage of liquid products, distributing fuels and hazardous goods throughout the UK and Europe. Goodyear will supply the firm with its comprehensive Goodyear Total Mobility offering, including Kmax Gen-2 and Kmax T tyres for trucks, trailers and tankers in the Reynolds Logistics fleet.
Launched this year, the Goodyear Kmax Gen-2 range offers up to 25 per cent better all-weather capability, 15 per cent more damage resistance and five per cent higher fuel efficiency, according to internal testing. The Kmax Gen-2 also includes a radio frequency identification (RFID) tag embedded in the tyre to allow simple identification and connectivity to management and tracking systems. The Kmax T is designed for high mileage with high wearable rubber volume, paired with a tread compound promoting wet braking and low rolling resistance.
As part of the new partnership, Reynolds Logistics will also receive support from TruckForce, Goodyear's pan-European network, including preventive maintenance, replacement, regrooving, retreading and roadside assistance in its truck tyre lifecycle management programme. TruckForce has more than 2000 service network locations in 32 countries, providing 24/7 road assistance breakdown service. More than 96 per cent of incidents in the UK can be reached by TruckForce within 45 minutes, getting vehicles back on the road within 120 minutes, Goodyear research shows.
Andrew Reynolds CEO of Reynolds Logistics UK & ROI, comments: "Partnering with Goodyear will be a huge benefit for our fleet. In a business like ours, which hinges on transporting hazardous liquids and gases, the thought of a vehicle being stranded on the side of the road with a tyre-related problem is an unsettling one. We need to ensure that we have the best possible equipment, and with the provision of quality premium tyres and the support offered by TruckForce, we're confident that our fleet will meet the needs of our customers safely and effectively."
David Howe, general manager – commercial at Goodyear UK, comments: "We understand that tyre maintenance might not always be the primary concern of a busy fleet manager. Our hope for Reynolds Logistics though is that by equipping them with a premium product, helping to maintain their tyres and providing around-the-clock assistance – all as part of our complete Goodyear Total Mobility offering – we can play an important part in meeting those essential objectives: ensuring an efficient fleet and unparalleled customer satisfaction."