Omnitrac: Goodyear introduces new mixed service tyre range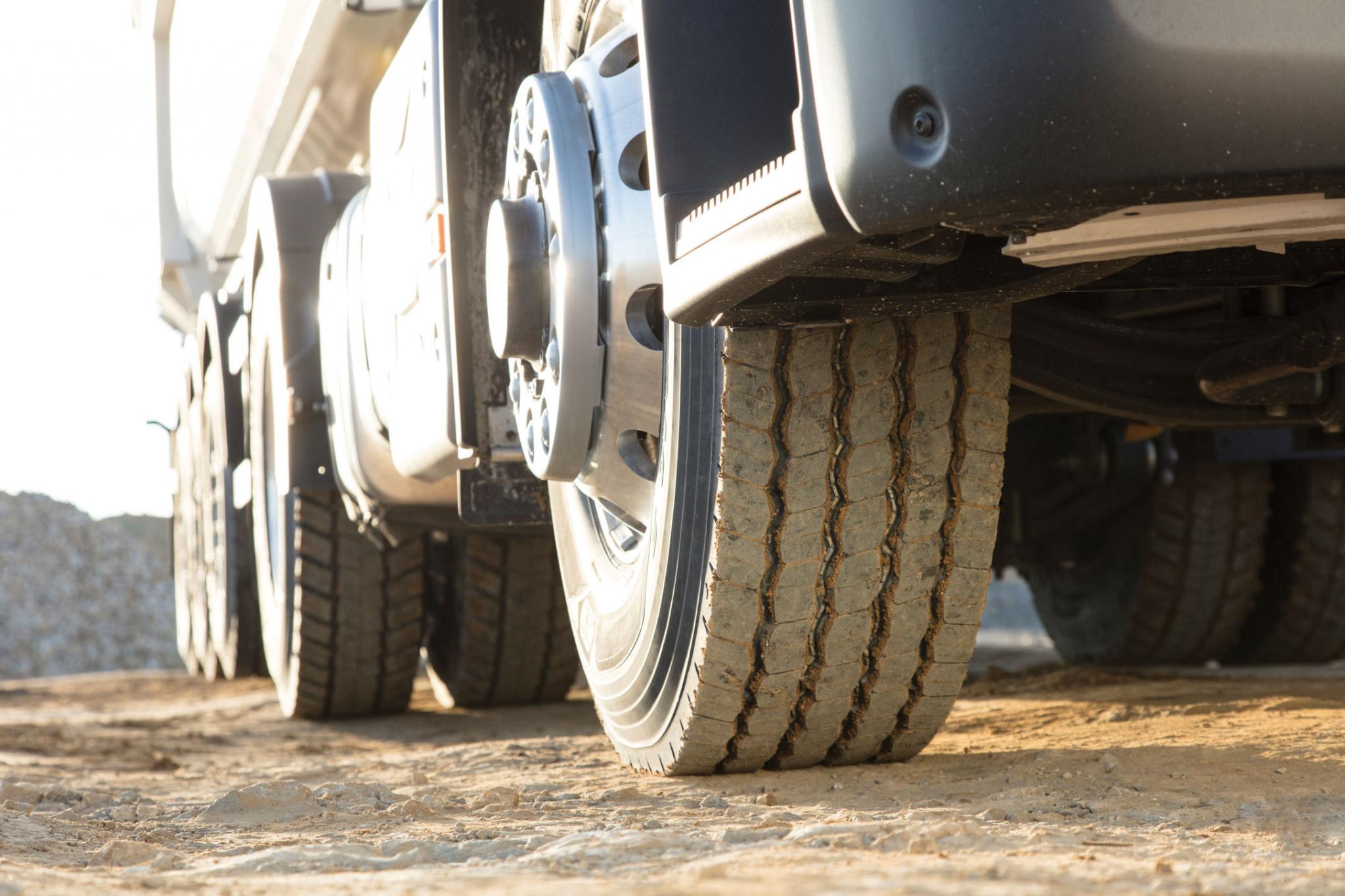 Goodyear is putting its money where its mouth is with its latest mixed service tyre range – it is so confident of the robustness of its Omnitrac drive and steer tyres that it is offering both with an accidental damage and retreading guarantee. The tyre maker additionally claims the Omnitrac provides longer service life than Goodyear's previous Goodyear MS II mixed service tyre range.
This robustness and longevity come through what Goodyear calls DuraShield technology. DuraShield is a non-metal top belt that isn't prone to the corrosion that can otherwise reduce tyre life and preclude casings from being retreaded.
Omnitrac was developed for vehicles operating in mixed service applications, such as tippers, cement mixers, concrete pumps and low loaders operating in construction as well as trucks in waste, recycling, timber and agricultural industries. Typically, these vehicles predominantly operate on roads but also traverse the difficult conditions of unpaved sites.
The range comes to market in early December together with TreadMax mould cure retreaded versions. Ten sizes are included in the Omnitrac new tyre launch range; six Omnitrac S steer tyres and four Omnitrac D drive tyres. One dimension is new to the mixed service industry – this 315/70R22.5 size covers the growing trend for the use of standard tractors in this market sector.
All Omnitrac sizes are 3PMSF compliant to facilitate year-round use even in markets with specific winter tyre regulations. A further Omnitrac feature is the integration of radio frequency identification (RFID), allowing simple identification and connectivity to tyre management and tracking systems (RFID is currently unavailable in the 'Omnitrac S 24, and all-position tyre for Middle East and African markets; all Omnitrac sizes sold in the UK and Europe come with RFID).
Now to the Goodyear 'Omnitrac guarantee' – Goodyear says this gives fleets extra peace of mind, covering accidental impact damage that renders a registered tyre unrepairable and unusable. It also offers a '100 per cent casing acceptance guarantee' in countries where Goodyear offers the Customers Own Casing model for retreaded tyres.
"Today's mixed service fleet operators are demanding tyres that offer both versatile on-road capability and greater resistance to the conditions encountered both on- and off-road," said Benjamin Willot, director marketing Commercial Tires Europe at Goodyear. "Our new Omnitrac tyres are a further development of our previous range and now feature DuraShield technology to make them even tougher and offer greater service life. We are so confident of the robustness of these tyres that we are guaranteeing them against accidental damage."
Omnitrac S
The Omnitrac S steer axle tyre is designed to cope with the conditions encountered in the construction industry and similar applications where a high proportion of highway use is experienced in addition to off-road use on sites. Goodyear says the tyre offers good on-road wear performance plus significantly high levels of resistance to tread damage and excellent retreadability thanks to the innovative DuraShield technology.
Omnitrac D
The new Omnitrac D drive axle tyre features a tread with three rows of directional siped blocks, which optimise performance on highways and in winter. Goodyear reports that the Omnitrac D provides good on-road wear performance, excellent traction on all surfaces throughout its life, longer service life and guaranteed retreadability. Thanks to DuraShield technology, casing durability and resistance to tread damage are significantly enhanced with a high level of chip/chunk resistance under torque including that from retarder operation.
Trailer tyres
Goodyear Omnitrac MST II 385/65R22.5 and 445/65R22.5 trailer tyres complement the new Omnitrac S and D tyres, offering high mileage and enhanced grip for on- and off-road applications. These tyres feature a wide tread and offer even wear and high mileage potential combined with excellent damage resistance and high stability.