Growing agri range: Goodyear tyres back on British soil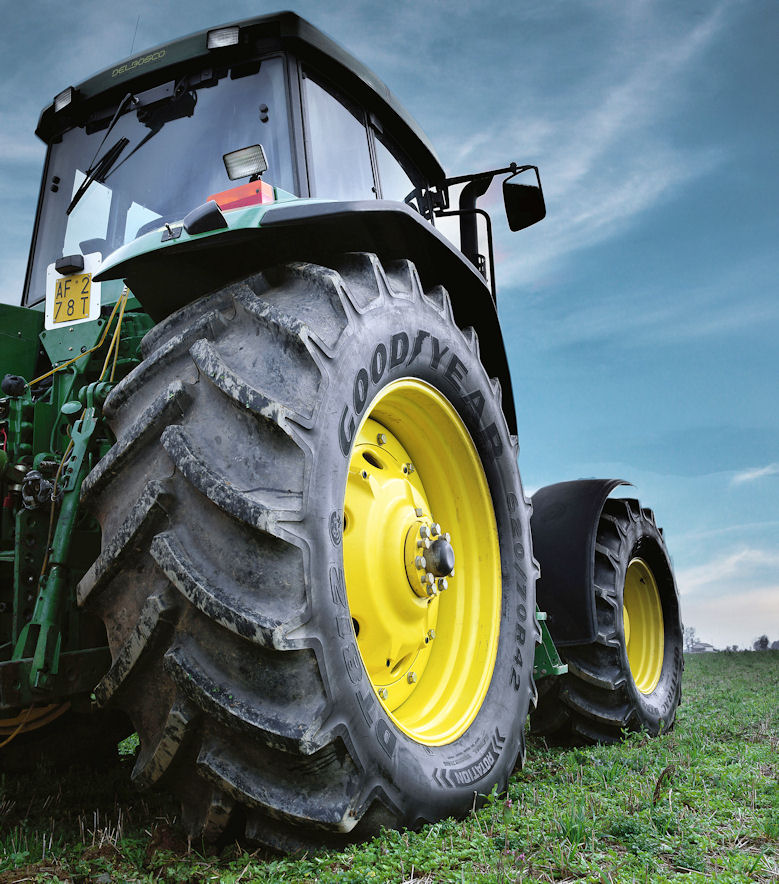 Grandad fitted Goodyear, your father fitted Goodyear, and now you can too, again: After being largely absent for five years, this year the Goodyear name returned to UK and European agricultural markets.
Titan International reintroduced Goodyear Farm Tires after acquiring the regional licence for the brand. Titan's initial focus is business with five key European markets – the UK, Italy, France, Germany and Spain – however, the company is also active elsewhere. It is now introducing 34 all-new Goodyear radial products, a range that covers around 65 per cent of volume requirements for Europe's tractor drive radial market.
The line-up includes 85, 70, 65 and XL Tractor Drive Radials, as well as specific designs for sprayers, harvesters and industrial applications. Plans are already in place to expand the Goodyear offering over the next 18 months.
Goodyear Farm Tires says it is "breathing fresh life" into some of the "most important and trusted" tread patterns in the Goodyear range. "We are hugely excited to be expanding the Goodyear Farm Tires range for the UK and mainland Europe and we are expecting a very positive reaction from the agricultural community," says Lindsay Hart, European tyre sales director for Titan International.
"The name Goodyear has been synonymous with agriculture for well over a century and it has been trusted for generations by the people at the heart of the farming industry," Hart continues. "Both Goodyear Farm Tires and Titan International have a long-established heritage, and with that comes a high degree of knowledge behind the products and trust from customers.
"We are also acutely aware of – and ready to meet – the increasing challenges facing the industry and are confident we have a range of products to suit all the needs of the farming community. Innovation, reliability and performance are so important for our customers and they are the principles which will be at the heart of how we drive Goodyear Farm Tires forward in the months and years to come."
Hart shares that Titan has built up a strong distribution network in the UK and major European countries, including France, Germany, Spain and the Netherlands. It will continue expanding this network moving forward.
Titan International has been manufacturing agricultural tyres under the Goodyear brand name for more than a decade; it reached an agreement to acquire Goodyear Tire & Rubber's North American agricultural tyre assets in 2005. The company announced its intention to take over Goodyear's agricultural business in Europe as well as in Latin America in 2010, however, its plans for Europe were placed on hold the following year due to strife surrounding the closure of Goodyear's factory in Amiens, France. Goodyear exited the agricultural tyre business in the EMEA region in 2014, and only a limited Goodyear agricultural product offering was available for Europe afterwards. The brand's eventual return to Europe as a full-portfolio player was secured by Titan's November 2015 purchase of the licence for the EMEA, Russia and CIS markets. Titan International has undertaken a significant investment in new plant equipment and moulds to manufacture tyres specifically for the European market since obtaining this license and began introducing all-new products this year. The official launch of the Goodyear Farm Tire coincides with the completion of phase one of this development programme.
Lindsay Hart adds: "Goodyear is a flagship brand in agriculture and there will be many customers who will be familiar with the products and the reliability, performance and durability they provide. We are excited about introducing them to our new Goodyear Farm Tires products and giving new customers the chance to start their own journey with such a trusted and well-respected brand."
European range coming to Agritechnica
The new Goodyear range for the UK and Europe will be presented at Goodyear Farm Tires' stand at the Agritechnica show in November (Hall 19/20, Stand A63).
Goodyear Farm Tires anticipates that much visitor attention will be focused upon the Optitrac, which is the mainstay of the Goodyear agricultural range and a "firm favourite with farmers who thrive on the premium performance offered on both road and field." Most Optitracs are capable at working of speeds up to 65 km/h and feature a wear-resistant tread compound to maximise tyre life.
LSW (Low Sidewall) products are also proving extremely popular amongst the farming community, says Goodyear Farm Tires. The stated benefits of these larger rim diameter, smaller sidewall tyres include improved floatation, reduced soil compaction and an ability to increase load by up to 40 per cent without affecting tyre pressure.
A hybrid of agricultural, industrial and turf tyre tread designs, the R-14 tyre will also be on display in Hannover. This, says Goodyear Farm Tires, represents the "perfect solution for multi-application tractors, providing outstanding results on concrete, soft soil and turf."
As well as showcasing its range, Goodyear Farm Tires will have experts on hand from Titan USA, including agricultural product manager Scott Sloan and tyre technology engineer Ryan Zink, to offer presentations and expert advice to any individual questions.