Algeria, & then the world: Iris Tyres brings 'competitive' range to market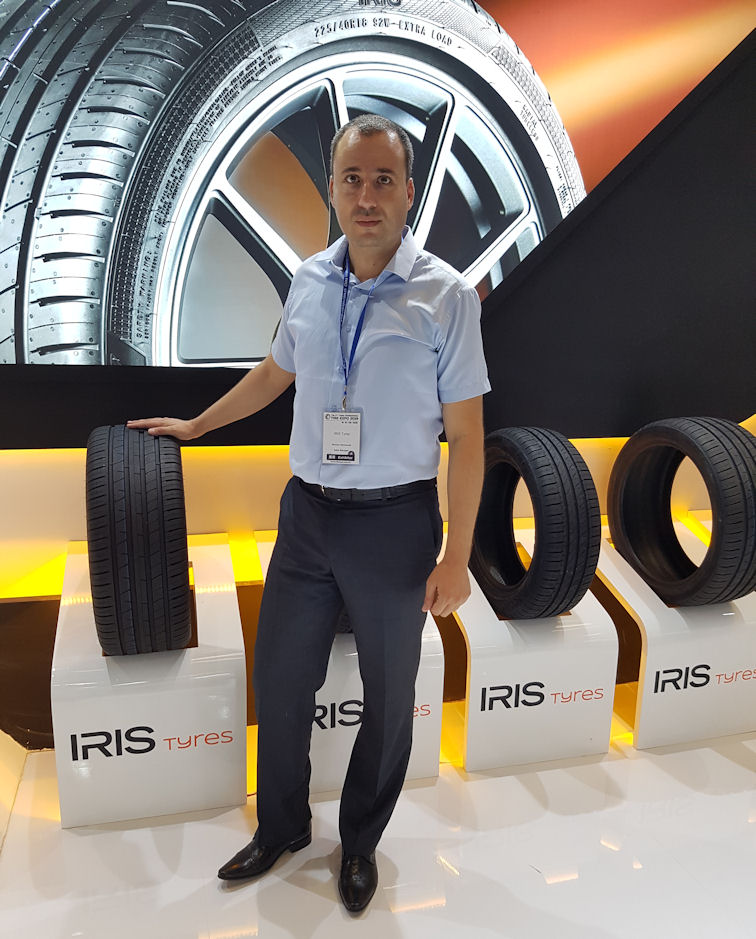 Algeria is once again a tyre-making country. Some six years after Michelin closed its plant in Algeria, Iris Tyres has brought the country back into the game with a new plant equipped with state-of-the-art machinery. The first products in an extensive range of tyres went on sale in July, and plans are in place to extend the product portfolio over the next couple of years.
Sales manager Hichem Hammoudi showed us the launch range, which Iris Tyres displayed at the CITExpo show in August. They're of particular interest as we'll likely see them in the UK and Europe before too long. The five models are:
Ecoris – This is the entry-level tyre in the Iris range. The focus is upon economy as well as traction in all weather conditions. The 21-size range centres mainly upon 13- to 15-inch rim diameters, with a single 16-inch fitment available.
Sefar – A touring tyre. The Sefar range includes 16 dimensions for 15- to 19-inch rim diameters.
Aures – The Aures range was developed for SUVs and includes nine sizes for 15- to 17-inch rim diameters.
Stormy – A nine-size van tyre range, available in 14- to 16-inch dimensions
Lane – This light truck line offers four sizes for 15- and 16-inch rim diameters.
These five models – 59 individual dimensions in total – are produced in a new facility in Setif, around 150 miles southeast of Algiers. The facility is kitted out with technology and production machinery from the USA and Europe, including automated handling systems based upon Cimcorp's 'Dream Factory' solution. Current annual capacity sits at around 2 million tyres, however Hammoudi shares that capacity should rise to 4.5 million tyres next year. In addition to the aforementioned products, this enlarged capacity will include 35 new tyre sizes, including a sixth tyre model. This is the Sport, a high-performance model for 18- to 21-inch rim diameters. Hammoudi says the Sport will arrive early 2020.
Looking further ahead, Iris Tyres intends to expand its production portfolio to include truck and bus radials, beginning in 2021.
Tier 3 quality, tier 1 prices
Hichem Hammoudi tells us that Algeria's domestic tyre market is Iris Tyres' first priority – exports will follow. The Algerian tyre market is dominated by imports, most of them from China. Yacine Guidoum – managing director of Iris Tyres' parent company, electronics and appliance group Iris – has previously commented that many of the approximately seven million tyres sold in Algeria each year are "generally of poor quality". Hammoudi estimates that Chinese tyres make up 80 per cent of the total, with tier 1 and tier 2 products each accounting for ten per cent.
Market domination by products from China means competing on price alone would be futile. Iris Tyres has instead decided to focus on the value/price ratio: Hammoudi says the Iris tyre brand offers the "best quality for price in Algeria", providing "tier one quality at a tier three price".
Iris Tyres is concentrating on the Algerian market this year, including negotiations with OEMs. Afterwards, its strategy will broaden to encompass export markets such as Europe. The tyre maker worked with European testing and certification bodies when developing its product range, such as Applus+ IDIADA and TÜV, and Iris tyres carry an E mark.
According to Hichem Hammoudi, Iris Tyres aims to export 30 to 40 per cent of its production further down the track. "We will come to Europe," he states. "We've been talking to potential distributors here at CITExpo, as well as at other trade fairs such as Automechanika Dubai and SEMA."
Positive feedback
The Iris tyre brand is new in the market, yet Hammoudi says feedback in Algeria has already been very positive. "our price level in Algeria is very good, we really can offer tier one quality at tier three prices. Our pricing is very aggressive." Pricing may differ somewhat in export markets; however, the sales manager is confident that Iris Tyres will still offer good value for money.