Pirelli confirms F1 2019 pre-season test details, compounds for first 4 grands prix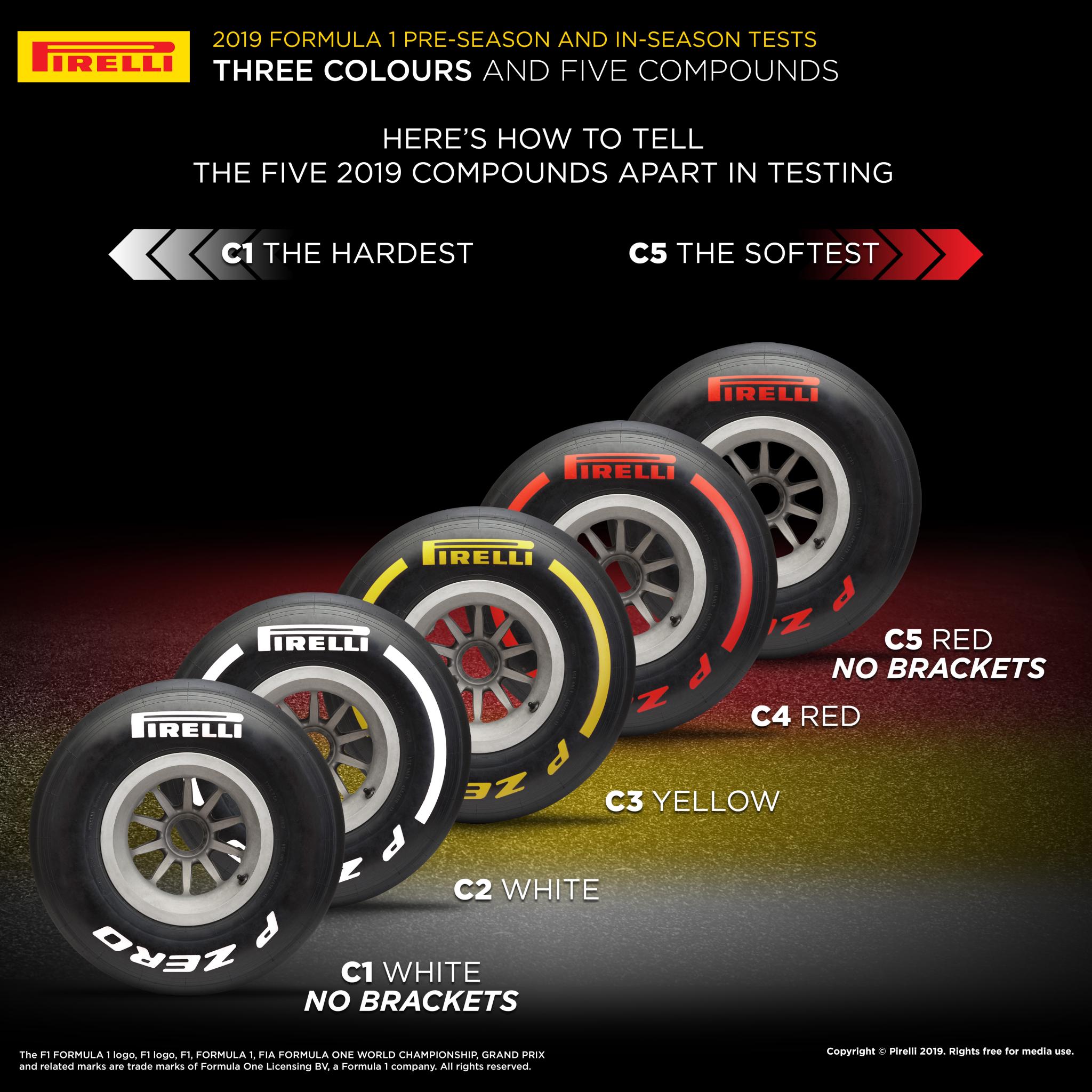 Pirelli has confirmed that all five of its slick P Zero Formula 1 compounds will be seen in testing this year. Only three colours will be used on the slick tyres' sidewalls to help spectators distinguish between the compounds this season – white plus Pirelli's corporate yellow and red, in order of increasing softness. At each grand prix, the hardest compound tyre will have white sidewalls, the medium yellow, and the softest red. At testing, in which all five compounds will be available, the series' official tyre supplier, which has signed up for another four-year term at the pinnacle of motorsport, will produce its hardest (C1) and softest (C5) compounds without stripes on the sidewalls.
Mario Isola, head of F1 and car racing, said: "Normally we will only see three colours at every race, so we're only using three colours at the tests as well. But we want to make sure that people can tell the compounds apart. As a result, the very hardest and softest tires won't be marked with stripes: only the colours will vary. This will be the case for the in-season tests as well."
Pirelli has previously used five sidewall colours, which were designated to each of the five P Zero slick compounds. In 2019, five compounds will be employed, but the colour used to distinguish them will depend on how relatively hard that compound is. For example, at the Australian Grand Prix, the C3 compound will have a yellow sidewall, as it is the medium option. In the next meeting in Bahrain, the C3 compound will have a red sidewall, as it will be the softest compound used.
First compound selections
Pirelli announced its compound selections for the first four grands prix of 2019 – Australia, Bahrain, China, and Azerbaijan. Pirelli will supply its C2, C3 and C4 compounds at the Australian Grand Prix (March 15-17), Chinese Grand Prix (April12-14) and Azerbaijan Grand Prix (April 26-28). Teams will use the C1, C2 and C3 at the Bahrain Grand Prix (March 29-31).
The tyre rules confirmed for the new Formula 1 season are:
Each driver must save one set of the softest of the three nominated compounds for Q3. This set will then be returned for those who qualify in the top 10, but the remaining drivers will keep it for the race.
Each driver must have both race sets (the hard, white sidewall, and medium, yellow sidewall compounds) available for the grand prix.
Teams are free to choose the remaining 10 sets, making 13 sets in total for the weekend.
Selections for long-haul events have to be made 14 weeks in advance; for European races the deadline is eight weeks in advance.