Pirelli 'investigating' failed tyres after dramatic Silverstone British Grand Prix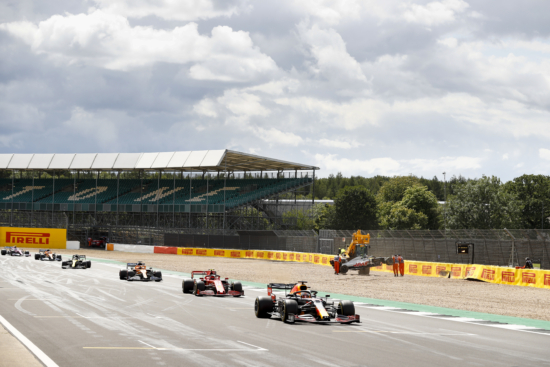 Lewis Hamilton's seventh win at Silverstone's British Grand Prix came in dramatic circumstances after a last-lap tyre failure. The Mercedes driver was able to limp home with Max Verstappen's Red Bull bearing down on him in a denouement filled with more tension than the rest of the race combined. Hamilton's team-mate Valtteri Bottas had suffered a tyre failure with two laps to go, preventing a predictable and regulation 1-2 finish for the team, and leaving the Finn without a point despite his team's domination of the weekend.
Tyre supplier Pirelli is conducting a full examination on what led to the tyres' failure – McLaren's Carlos Sainz also experienced final lap tyre issues. Initial assessments point to the lengthy stints completed on the P Zero White (C1 compound) tyre, and debris on the track after two early crashes. Tyre strategy was largely dictated by the second crash on lap 12, as many drivers opted to change early to the harder tyre during the safety car period begun. This meant the tyres had to last up to 40 laps, a longer stint than normal. Verstappen's late charge was potentially hampered – but also partially enabled – by a switch to used P Zero Red (C3) tyres for the final two laps, as he successfully chased the fastest lap bonus point; though of course it is not known whether he may have experienced similar issues to Hamilton had he stayed out on the worn P Zero White.
'Valuable information for next weekend'
Mario Isola – head of F1 and car racing at Pirelli said: "We'll of course be investigating exactly what happened to the tyres on the two Mercedes cars as well as that on the McLaren of Carlos Sainz in the final two laps of the race. What we already know for sure is that the tyres involved in these failures were extremely well-used, with nearly 40 laps of running; albeit some behind the safety car. The race was very much influenced by the safety car, with the second one prompting a pit stop for nearly everyone, leading to a very long second stint. After a complete analysis we will be able to understand fully what happened, which will obviously be very valuable information for next weekend."
Pirelli will return to Silverstone with a slightly altered compound range for the 70th Anniversary Grand Prix next weekend. The C1 compound used on the P Zero White tyres that failed during the British Grand Prix had already been ruled out for the second part of Silverstone's 2020 grand prix double-header.