Pirelli unveiled as BAC Mono OE tyre partner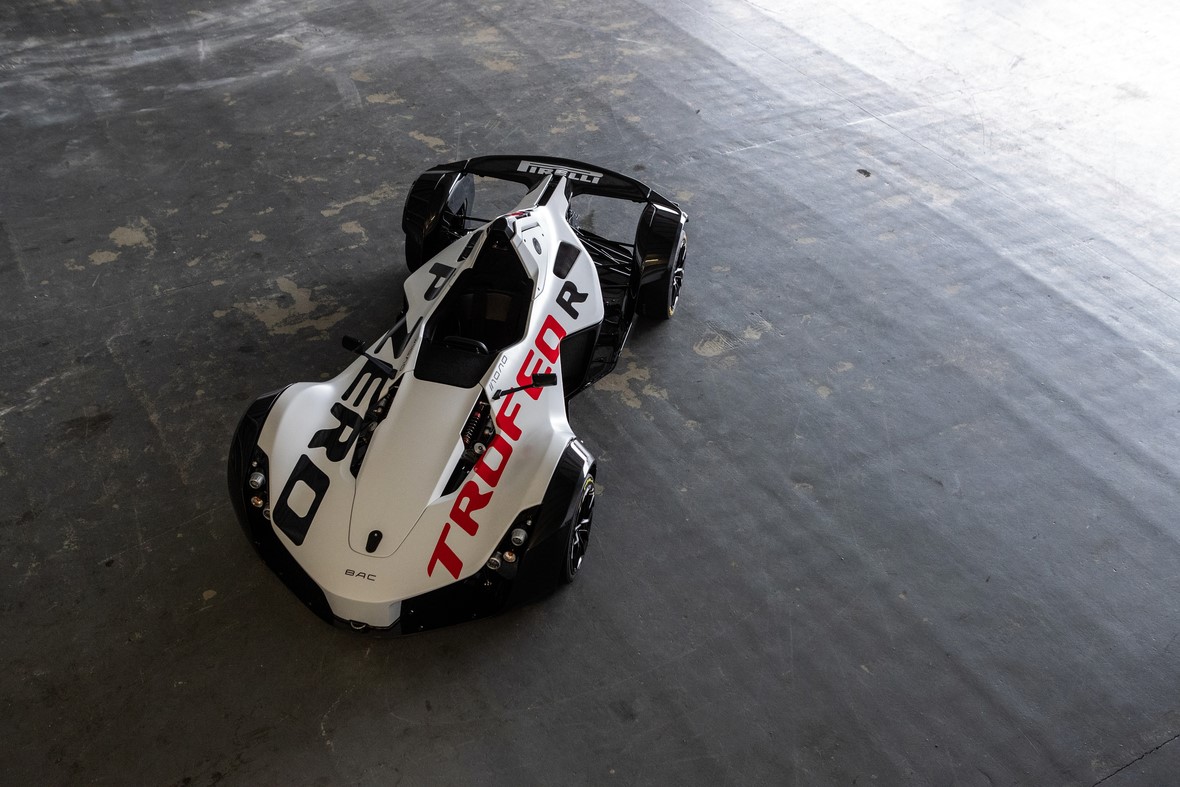 The Briggs Automotive Company (BAC) and Pirelli have announced a new original equipment agreement at Autosport International. Pirelli's head of car racing, Mario Isola, Pirelli UK motorsport manager Jonathan Wells, and BAC co-founders Neill and Ian Briggs jointly introduced the arrangement, which means the British manufacturer's Mono will run on the P Zero Trofeo R.
Pirelli has worked with BAC through an 18-month development process to produce a range of three tyre combinations for the Mono, which its manufacturer claims to be the world's only road-legal, single-seater supercar. The P Zero Trofeo R is homologated for the Mono in sizes 205/45-17 (front) and 255/40-17 (rear). Slick and wet options are also available in sizes 200/600-17 (front) and 245/620-17 (rear) for track driving.
All three tyre types have undergone extensive testing on both the road and track in a wide variety of conditions to produce the ideal overall package. They were all designed and constructed for Mono to ensure the ultimate driving experience on both the road and track. The P Zero Trofeo R is Pirelli's road-legal motorsport tyre, designed to react with precision and provides high levels of grip in all conditions, utilising cutting-edge technology and bespoke compounds.
Pirelli's tyres were made bespoke for BAC as part of the 'perfect fit' strategy, where Pirelli works in partnership with manufacturers to create tyres that are purpose-made for each model, enhancing its characteristics and delivering the best performance, handling and safety. These tyres carry special markings on the sidewalls, denoting that the tyre has been developed specifically for the BAC Mono.
The Mono represents a unique proposition as both a supercar and, indeed, a challenge for Pirelli. Such an ultra-high-performance, ultra-lightweight model, with a power-to-weight ratio of 525bhp per tonne, required unrivalled technological and engineering excellence to produce the perfect range of tyres.
Mario Isola, Pirelli's head of car racing said: "We've been able to use many of the lessons from motorsport when it comes to developing the perfect tyre for this race car for the road. We were able to adapt the Trofeo R to meet the needs of the BAC Mono in just 18 months, whereas the process for original equipment homologation usually takes around three years. We hope this tyre will give BAC customers the perfect platform to make the most of their Mono; a taste of Formula 1 that can be enjoyed both on the road and the track."
Neill Briggs, BAC co-founder added: "It's been great working with Pirelli, the service and support has been fantastic. We're confident we've got a tyre that will allow owners to extract the full potential from the one-of-a-kind Mono supercar."
(l-r) Pirelli head of car racing Mario Isola, Pirelli UK motorsport manager Jonathan Wells, and BAC co-founders Ian and Neill Briggs