Pirelli previews F1 opener, 2019 Australian grand prix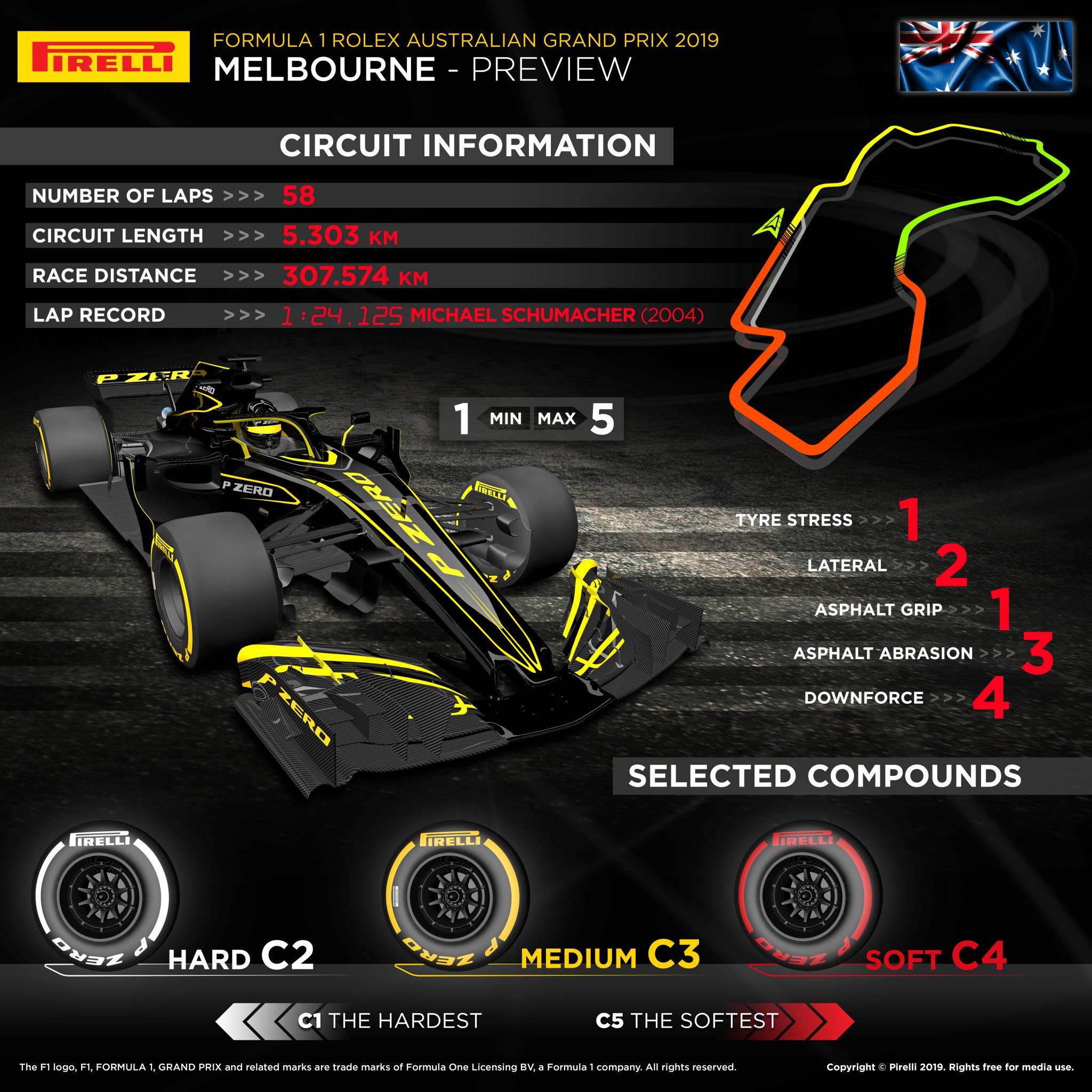 Pirelli travels to Albert Parks' "slightly unusual" street circuit for the Formula 1 2019 season curtain-raiser in Melbourne, Australia this weekend.
The exclusive tyre supplier nominated its C2, C3, and C4 compounds as the hard, medium, and soft tyres, saying that the track has a more flowing rhythm that also takes in some reasonably quick corners than stop-and-go street circuits, like Monaco or Singapore. Having said that, some of the trappings of street circuits will be observed; the track will be particularly green and slippery at the start of the weekend, with bumps adding to the lack of grip. Pirelli also anticipates that drivers will still need to work hard to get enough heat into their tyres, especially as traction will be crucial to make use of the short straights.
In 2018, a one-stop strategy was the winning choice last year – used by the majority of drivers – and although degradation rates will only be clear after free practice, Pirelli states this is likely to be the case again. An appearance by the safety car is a likely in Melbourne, which also affects strategy – it is also one reason why pole position is less crucial in Australia than at other races. The driver first in qualifying has only won once in the last five years. The weather is often unpredictable too. Forecasts so far suggest it will be cloudy but dry.
Mario Isola, Pirelli's head of F1 and car racing, states: "Our C2, C3, and C4 hard, medium and soft nominations this year are roughly equivalent to the 2018 medium, soft and ultrasoft compounds. This should allow drivers to push hard from the start to the finish of each stint.
"After a very productive test in Barcelona, we feel satisfied that the 2019 tyre range is on course to meet our objectives of combining performance with durability. Of course, there are still a number of aspects – such as degradation over the length of a stint – that will only be revealed after free practice in Australia. One other important consideration in Australia will be seeing how the new aero rules work, and if this leads to more overtaking – which is difficult to establish during testing."