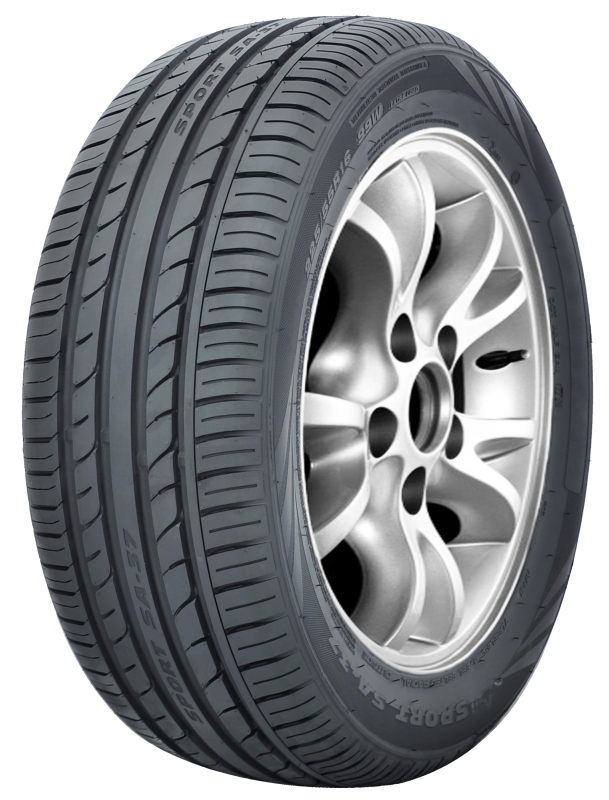 Goodride SA37
Grouptyre's extensive range of exclusive "margin brand" products include car tyres by Goodride, Constancy, and Rapid, in addition to Landsail and Evergreen. These competitively priced products come with dealer support packages, access to exclusive dealer promotions, point of sale material, and merchandise as part of their customer support.
Goodride is a flagship brand produced by Hangzhou Zhongce, China's largest tyre manufacturer. It has an extensive product range covering all sectors of the market. The SA37, for example, is an asymmetric ultra-high performance tyre, with a silica tech compound to enhance grip and reduce braking distances. A strong central rib guarantees excellent handling on both wet and dry surfaces.
Goodride's SA07 offers a comprehensive range of tyres with speed ratings from V to Z, and a compound that promotes low rolling resistance. They also come with wheel rim protection and improved handling and cornering. Another asymmetric tread is the SA05, which is designed for increased traction and stability at high speeds on a wide range of cars.
Constancy also offers a continually expanding range of products designed to meet drivers' needs at an affordable price. The LY566, Constancy's ultra-high performance tyre, has a strong central rib for improved driving stability, a big shoulder tread blocks to improve performance at high speeds, and a tread designed to reduce noise and enhance grip on wet surfaces. Another tyre covering rims up to 17", Constancy's LY688 features improved water drainage and reduced heat generation.  For small to medium sized cars, the brand also offers the LY166.
Rapid tyres have been produced for more than 30 years, and offer a range of products at competitive price-points. The P309 is designed for the average passenger car for use in urban environments. Its symmetric tread pattern is specifically designed for straight line stability and good traction and braking in all weather conditions. Its P609 is designed for high performance vehicles for use in urban environments. Its asymmetric pattern increases the contact area on the outside of the tyre offering improved handling through cornering even at high speed.
Distributing car tyres from 43 distribution points with more than 450 delivery vehicles, Grouptyre's 10 regional wholesalers boast a stockholding of around 1.5 million tyres. Gary Oliver, chairman of the board of directors, adds: "The range of exclusive brands offered by Grouptyre is second to none and the quality of these imported brands is excellent.  We have some great exclusive products available to our customers, and there are some great tyre labelling scores for these tyres, which gives the retailer additional confidence when selling them and feedback from our customers is phenomenal."
Category: Product News, UK News