World Cup champion teams up with BKT for charity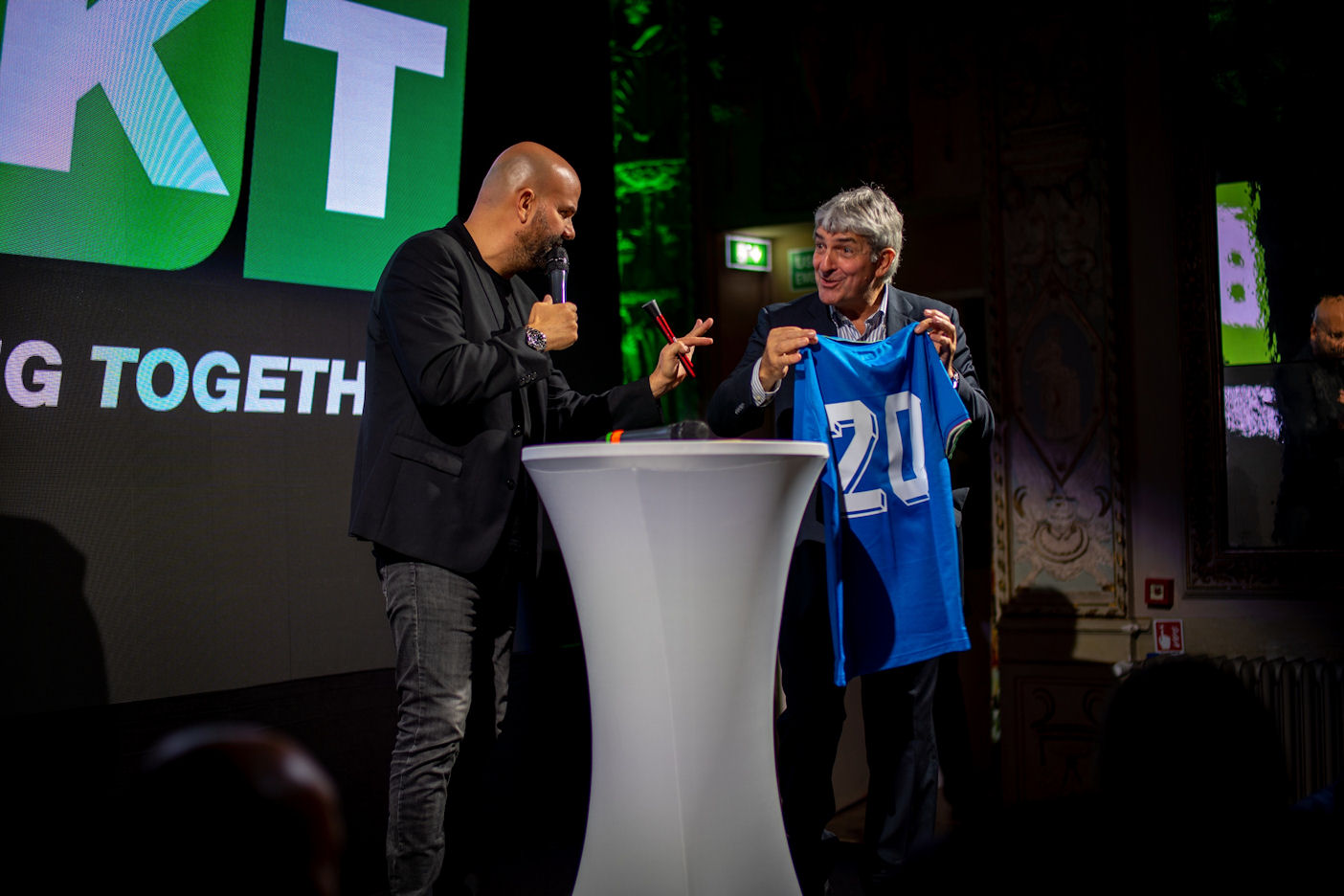 Ever since signing up as sponsor to Italy's Serie B and the Coupe de la Ligue in France earlier this year, football has become not just a means of promoting the BKT brand name. The off-highway tyre specialist has also integrated the beautiful game into its charitable activities.
On 9 November, Paolo Rossi – the player who propelled Italy to World Cup victory in 1982 with his Golden Boot-earning six tournament goals – was a guest of honour at a gala solidarity dinner organised by BKT in Bologna. For the occasion, he donated three Italy team shirts bearing the number 20 (Rossi's Italy shirt number between 1981-87 and, coincidentally, the number of goals he scored for the national team) and the 82 World Cup logo for auction. A total of 15,000 euros was raised during the evening; these funds were donated to Parada Italia, an association that offers aid to children living on the streets of Bucharest, Romania.
"We have decided to support Parada Italia side by side with Paolo Rossi right because in the field of solidarity, team play is what counts most – just as you cannot win a World Cup alone," stated Lucia Salmaso, chief executive officer of BKT Europe. "We are extraordinarily glad that we have had the opportunity to give our contribution."
Pablito, as Rossi is affectionally called in Italy, sees many parallels between himself and BKT: "We are both soccer enthusiasts supporting this sport with all our strength. We are both also linked to earth: BKT by specialising in agriculture, and me, since I have a farming business stretching over 80 hectares like a true green lung, where excellent wine and oil originate from. Last but not least, we are top teammates in terms of social sensitivity. I am definitively glad and proud for taking the proceeds of such generosity to this volunteer organisation in Romania, which I have been supporting personally for years, and which does a great and admirable job."
In addition to attending the gala dinner, Rossi attended the EIMA agricultural show earlier this month and met with fans at the BKT stand. His appearance supported the tyre maker's football-themed EIMA presence, which included performances from Iya Traoré, who returned with the much-loved freestyle skills previously enjoyed by visitors to Agritechnica 2017. EIMA attendees also gained the chance to experience the thrills of entering a football pitch courtesy of the authentic tunnel with cubicles that BKT erected.