'A very good all-round option' – UK launch for GT Radial 4Seasons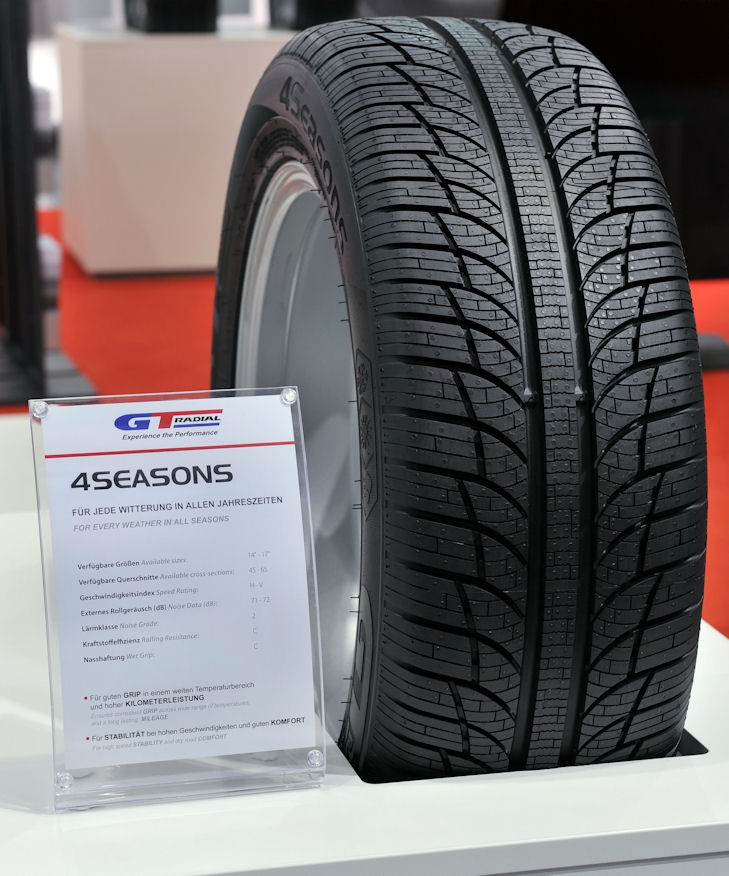 To meet growing market demand, this year an all-season product joins the GT Radial portfolio. The GT Radial 4Seasons will go on sale in the UK this September, and Giti Tire says initial response to the newcomer has been very positive.
Exclusively distributed by Micheldever (as are all GT Radial and Runway tyres), the 4Seasons will be available at launch in 22 sizes for 14- to 17-inch rim diameters and in T through V speed-rated versions. Brian McDermott, European PCR sales & marketing director at Giti Tire, tells us that UK pre-orders for the range have been "strong in all parts of the country."
The GT Radial 4Seasons was developed at Giti Tire's European R&D Centre in Hannover, Germany and tested in various European locations. Featuring a newly developed full-silica blend tread compound, the tyre is 3PMSF 'snowflake' marked for approved fitment in markets with laws governing winter tyre use. Design features include a wide centre rib and relatively stiff shoulders for fast steering reaction and cornering stability. The presence of two wide tread grooves provide rapid water displacement to minimise aquaplaning and reduce braking distances on wet surfaces, while smaller grooves of differing depths enhance grip on snow and ice-covered roads.
According to McDermott, the fruit of the European R&D Centre's labours can be seen in third-party testing. When measured against an unnamed "leading European premium brand all-season tyre" the GT Radial 4Seasons delivered comparable snow braking and traction, wet handling and dry handling performance. And then there's the icing on the cake: "The GT Radial tyre was the clear winner in mileage. We've worked hard to give the 4Seasons high mileage potential." A particular mileage focus was ensuring that the tyre's ca
pabilities remain over its lifetime.
As for EU tyre label results, the GT Radial 4Seasons has been awarded a C for both rolling resistance and wet grip, and two noise bars. "This is a very respectable result for a mid-range all-season tyre," comments McDermott.
The PCR sales & marketing director considers that the GT Radial 4Seasons "represents a very good all-round option" in a market segment where he expects further growth to occur, yet one or two gaps exist in the launch range. McDermott notes that Giti Tire is already working to fill these: "The 22 sizes give us about 70 per cent market coverage with the 4Seasons," he explains. "We've identified SUV as a particularly important part of the all-season market, and the range has room to grow here. Currently the range only has three specific SUV sizes, so SUV is the prime target for the range's expansion."
Dealer training for the new all-season range will accompany the 4Seasons' rollout. GT Radial customer training events in the north of the UK, in the Midlands and in the south will be held in September together with Micheldever; McDermott says all dealers will be invited to these three events.
The GT Radial 4Seasons was unveiled at German trade fair The Tire Cologne in May, and it was joined on the Giti Tire show stand by another all-season tyre that we hadn't seen before – the GitiAllSeason AS1. Brian McDermott says we won't be seeing this Giti-branded tyre in 2018. "The product we presented was a pre-production prototype. Volume production will begin next year ahead of its European launch, and the tyre will also come to the UK. It will sit slightly above the GT Radial product in the market."
Year-round sales a plus for dealers
The UK is Giti Tire's fifth largest all-season market in Europe, behind Germany, Italy, France and the Netherlands, however it hasn't been and isn't a significant winter tyre market for the manufacturer. While Micheldever distributes most of the GT Radial winter range that suits the UK market – the WinterPro 2, WinterPro HP and, for vans, the MaxMiler WT2 Cargo, and although Micheldever's orders for GT Radial winter products has grown year-on-year, McDermott doesn't believe the UK will become a winter tyre market.
"Winters have been mild since 2009/10 and interest in winter tyres hasn't gained momentum. Dealers are reluctant to commit to winter stock as they're concerned unsold stock at the end of the season will remain on the shelf for another year. There is no such problem with all-season, you can sell it at all times of the year." Micheldever's increased GT Radial winter sales, incidentally, reflect growth in the Micheldever/Protyre retail network – around 40 new outlets have been added over the past 12 months.