T.T.I. futureproofing with continued growth, new products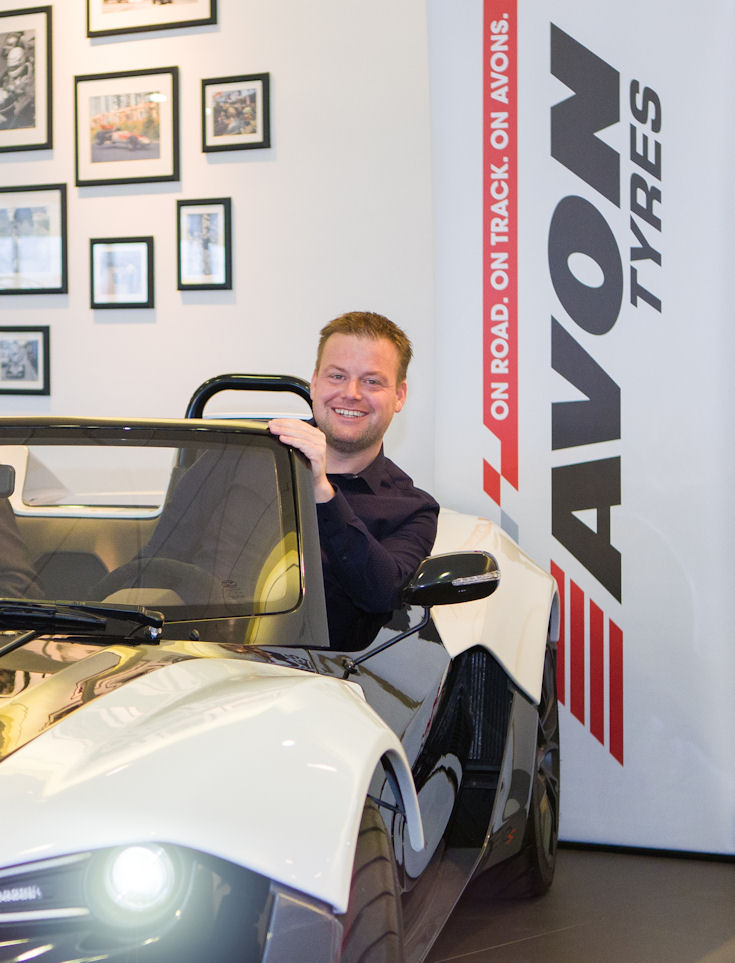 As far as years go, 2017 was a special one for Tyre Trading International (T.T.I.). Early on in the piece it delivered growth through the acquisition of Van Aalderen Twen-Tyre, it then witnessed expansion with Reifen Kraftwerk and was rounded off by organisational restructuring following the sale of the company's Motoria business. T.T.I.'s owner Peter-Alexander van 't Hof sees last year's changes as a "big step" for the wholesaler, and 2018 is also looking to be a red-letter year.
"Selling Motoria has changed our whole organisational structure," he says. "It has become more tyre-focused again." Motoria belonged to T.T.I. since 2013 and had been merged with the wholesaler's existing motorcycle tyre business to form a company supplying both two-wheel parts and tyres. It was a profitable business for T.T.I. "But Motoria needed to grow to stay successful, and we had to decide how this would happen," comments van 't Hof. This difficult decision became easier when T.T.I. was approached by venture capitalist Torqx Capital Partners.
With an ambition to create a European motorcycle spare parts (and tyre) company, Torqx purchased Netherland-based wholesaler Hoco Parts in the second half of 2017 and then expressed interest in Motoria as its second acquisition. The offer it made, shares van 't Hof, was very close to the price he had in mind.
Post-Motoria, the focus for Peter-Alexander van 't Hof is on customer proximity and customer margins. To realise the first of these, T.T.I. has crossed the border into Germany. The wholesaler has acted as exclusive distributor for the Sailun brand in northern Germany (as well as Benelux) for four years now, shipping Sailun tyres from its warehouse in Numansdorp, south of Rotterdam, to customers in the half of the country north of Frankfurt am Main. This sizeable area covers several populous regions, including three of Germany's four largest cities, and the tyres currently need to travel up to 500 miles on some of Europe's most congested motorways to reach their destinations. The population and geography of the north German market easily justified setting up a distribution warehouse closer to customers.
"We wanted a better presence with Sailun and held discussions with the company regarding northern Germany, and they said we need to be in the market if we want to be successful long-term," says van 't Hof. He responded quickly – after signing an agreement in April 2017, he established Reifen Kraftwerk GmbH and began looking for a suitable warehouse site. After some searching a building was located in Nettetal, just over the border from Venlo, the past and present home to several tyre wholesalers' warehouses. When we spoke with Peter-Alexander, Reifen Kraftwerk was in the process of applying for tyre storage permits and aiming to be ready with a full warehouse in Nettetal in April or May.
The German face of Reifen Kraftwerk is Oliver Wirtz. He is in charge of sales, and Peter-Alexander van 't Hof reveals that Wirtz was also instrumental in giving the company its own distinctive flavour: "We considered a couple of options when looking for a business name, and while speaking with Oliver his love of German band Kraftwerk came to light." The pioneer of electronic music thus lent its name to the new German tyre wholesaler, a fitting moniker for a firm located near to and distributing its products along the Autobahn.
Going offline for better margins
A physical presence in the German market makes it easier for van 't Hof to achieve his second focus, too. T.T.I. wants to give its customers the chance to earn good margins, something currently not possible when selling premium tyres or any brand with a high internet presence. In addition to distributing Sailun in Benelux and northern Germany, the wholesaler also serves as distributor for Falken in the Netherlands. Both are brands with a high internet presence, and Peter-Alexander notes that his customers can find earning a "proper margin" challenging. He points as example to a large, pan-European e-tailer. "It gets tyres from Falken for the same price as we do. If I take my margin and my customer takes a margin, these combined will be more than what it needs to do business. What can we do? Either we sell cheap and accept lower margins or else we lose a sale. In the end, this is not only harmful to the tyre dealer – it also reflects badly upon the tyre's brand reputation."
When setting up Reifen Kraftwerk, van t' Hof and his team saw a need for a brand that isn't highly internet-driven and could help T.T.I.'s customers make a good profit margin. The wholesaler first looked at a relatively new tyre brand but couldn't finalise a deal with the brand's owners, and by a happy coincidence Peter-Alexander was then approached by Avon Tyres.
Ubiquitous in the UK by virtue of its long history, the Avon brand remains a niche product across the Channel. Cooper Tire & Rubber Company Europe intends to change this; along with a new organisational structure and general manager, Jaap van Wessum, the company also has a new plan for the Avon brand. "Jaap was looking for a distributor for Avon. The Cooper brand is already distributed here by Inter-Sprint, and the company didn't want to put all its eggs in the one basket. He knew what we aim to achieve with Sailun and believed us the right choice for distributing Avon in Benelux and northern Germany."
Avon is the biggest circuit and rally tyre supplier in the world, and the brand's sporting pedigree appealed to Peter-Alexander – it fits well with how T.T.I. positions Sailun and Falken. The plan is, however, to sell Avon very differently to these other brands. "We'll do Avon business in the old-fashioned way and stay away from the internet so that people can make a profit," states van 't Hof. He concedes this method of establishing a brand "is much slower than just dumping it on the internet" yet considers it a much more sustainable business model. Each Avon dealer will sell the tyres exclusively for a particular area. The first dealers had already joined the programme when we spoke with Peter-Alexander in March, stocks were in the T.T.I. warehouse in the Netherlands and customers had begun buying, and sales were expected to begin in Belgium and Germany in April.
Sales of this relatively unknown brand in Europe will be driven by a new Avon marketing strategy that centres around the slogan 'on road, on track, on Avons' and plays up the brand's British heritage, including its past and present OE supply to marques such as Rolls Royce, TVR, Caterham and Lotus. Ex-Vredestein man Michael Kramer, now marketing director at Cooper Tire Europe, is responsible for restyling the Avon brand. As for T.T.I.'s own promotional plans, van 't Hof shares: "Avon has a long history, and this is a big plus; you need stories if you want people to pay attention."
Consolidation is inevitable
The Avon range is being distributed in regions where T.T.I. is already present, and the same applies to Reifen Kraftwerk, which will service an established customer base. But Peter-Alexander says he'd consider exploring uncharted territory and
replicate the Reifen Kraftwerk concept in other geographies. Indeed, T.T.I. may need to do so to remain in the game.
Some consolidation has already taken place in the European tyre wholesale scene and van 't Hof is also watching Bain Capital and European Fintyre Distribution's activities with interest. For T.T.I., the prospect of intensified consolidation in future means that if the company wants to remain independent, it will have to open outfits similar to Reifen Kraftwerk in other markets. "Consolidation will occur within European tyre wholesale in the coming years," Peter-Alexander comments. "We now have 1,000 wholesalers in Europe, and this needs to reduce to 100 firms who act as true industry partners. I think there are too many players in the market and that the market is too unstructured. A certain form of concentration is inevitable."
By replicating the Reifen Kraftwerk model elsewhere, van 't Hof believes he can create a network that offers tyre manufacturers added value. The alternative is to partner with someone else, however his preferred option is clear: "For now, I choose to go my own way with Reifen Kraftwerk, and indeed it wouldn't be illogical to look at the next step as soon as it is up and running."
Last but not least: Prior to our departure from T.T.I. in Numansdorp, Peter-Alexander drew our attention to the vacant site adjacent to the wholesaler's 2016-opened offices. There was nothing much to see at the time of our visit, but soon a new warehouse – the third phase in T.T.I.'s construction project at the site – will be erected there. This should be completed by August. stephen.goodchild@tyrepress.com