Tire Cologne organiser upbeat about debut show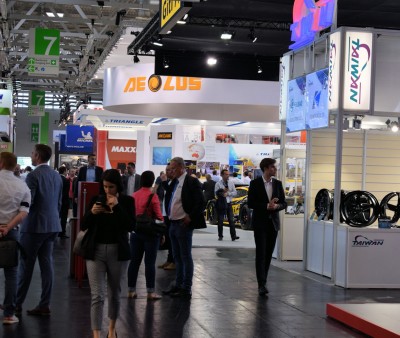 Many consider it successor to the Reifen tyre fair, therefore comparisons are inevitable. For this reason, the organiser of The Tire Cologne may be nervous about visitor and exhibitor numbers. But should this be the case, Koelnmesse isn't showing it.
According to figures released by the organiser today, more than 16,000 visitors attended The Tire Cologne during the four show days between 29 May and 1 June, a headcount roughly 20 per cent below that taken at the final edition of Reifen in 2016. The visitor count at the Essen show came close to the 20,000 mark.
It's far too early to determine whether lower visitor numbers were an anomaly or a sign of things to come, and whatever Koelnmesse thinks about this in private, its official line is that the inaugural The Tire Cologne was a triumph. "The Tire Cologne successfully mastered the 'tyre change' to Cologne. The performance was optimal: visitor quality, event concept, new orientation and the generous hall offering of the Cologne location convinced exhibitors and visitors," summarised Katharina C. Hamma, chief operating officer of Koelnmesse.
The 16,000+ trade visitors came from 113 countries in total, with around 60 per cent of visitors travelling to Cologne from abroad. Koelnmesse considers this an "outstanding key indicator for a premiere event." The organiser adds that exhibitors "especially emphasised the high level of visitor quality."
A gross exhibition space of 65,700 square metres was occupied by 533 exhibiting companies and another 70 brands. These included 364 exhibitors from abroad, 68 per cent of the total. Reifen 2016 attracted 675 exhibitors.
According to a survey quoted by Koelnmesse, more than 80 percent of trade visitors were highly satisfied with The Tire Cologne's exhibition offering, and more than 90 per cent would recommend a visit to the event to their business acquaintances. Another factor to gain positive comment was the clear structure in the air-conditioned exhibition halls. "These positive assessments encourage us to develop more conceptual ideas that strengthen the industry for future challenges," comments Hamma.
The next The Tire Cologne takes place between 9 and 12 June 2020.