Weather Control A005: Bridgestone boasts 'A' wet grip for new all-season tyre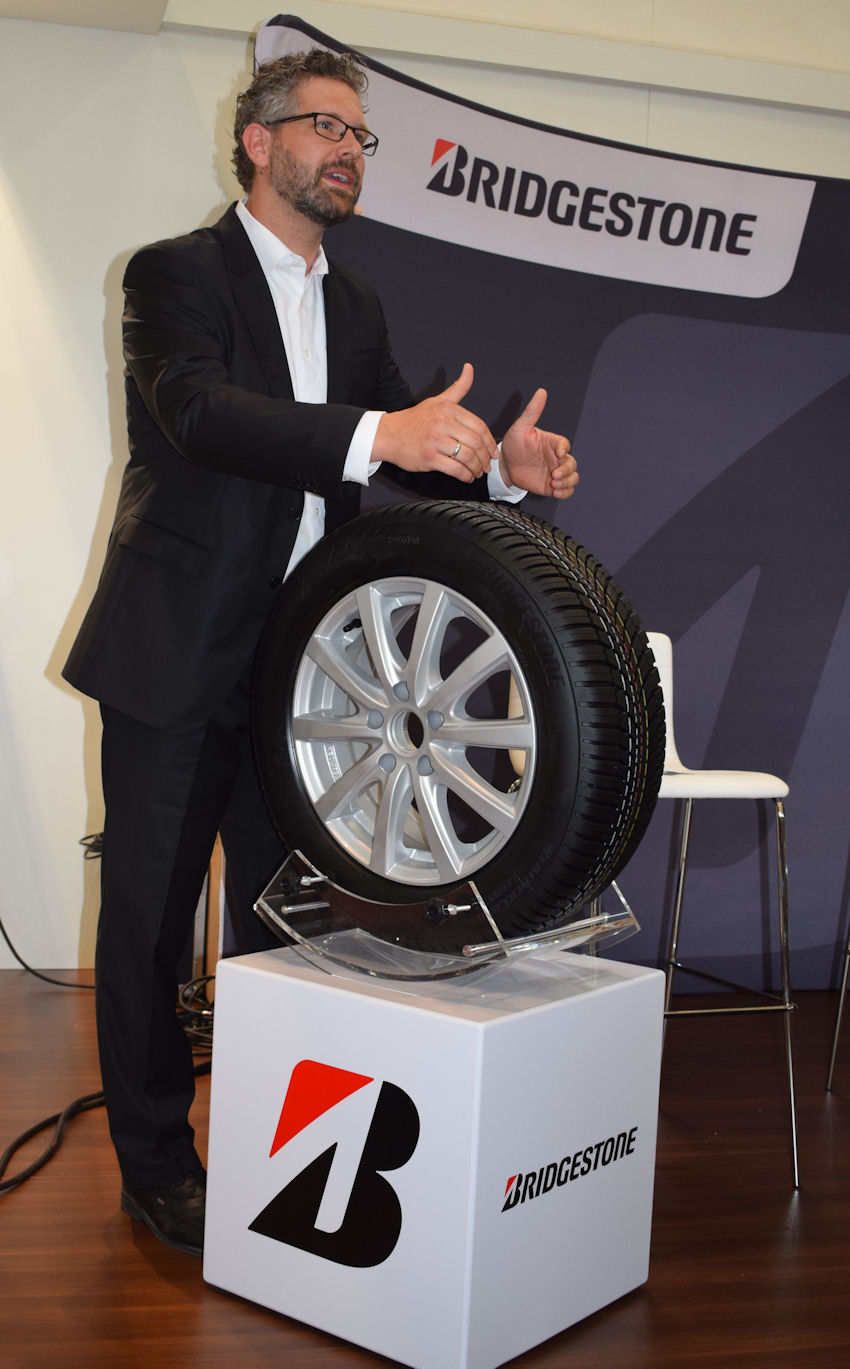 With the introduction of its newest all-season tyre, Bridgestone claims a segment first. Every dimension in the Weather Control A005 range has achieved an EU label rating of 'A' for wet grip – and the tyre maker is quick to add that this is something none of its rivals have managed to-date.
And the new tyre doesn't only tick the wet grip box. Sebastian Grimm, who is senior product manager for Bridgestone Europe's Central Region, shares that the Weather Control A005 also offers "superior wear life." Specifically, its mileage potential is comparable to that delivered by the Bridgestone Turanza T001 summer tyre. "This is quite remarkable," Grimm comments, adding that developing an all-season tyre with the grip and wear characteristics of a summer segment class leader "required some serious engineering."
This serious engineering was performed by the team at the Bridgestone Technical Centre in Italy. Drawing upon feedback gleaned from more than 15,000 end-consumers, solutions adopted for the Weather Control A005 include a v-shaped tread pattern – a configuration Grimm notes is a "good design for all-season tyres." While the v-shaped tread improves snow grip, individual tread blocks in the tread centre contain z-shaped sipes, a pattern that offers greater lateral stiffness. In the shoulder area the tread grooves are designed to evacuate water quickly from the contact patch.
The compound chosen for the Weather Control A005 has a high silica content and uses Bridgestone's Nano Pro-Tech technology. Underneath, the tyre's casing has been designed for optimised contact pressure distribution.
Each of these individual features are brought together to make a European-made touring tyre that, in the words of Thorsten Classen, director of consumer products within Bridgestone Europe's Central Region, offers "drivers peace of mind in daily challenging situations, including rain and occasional snow." Speaking at the Weather Control A005 launch in Germany last week, he commented that all-season rubber such as the new Bridgestone tyre "really make sense" in urban environments and regions that aren't overly mountainous. After proffering the standard caveat that summer and winter tyres remain the best choice in their respective season, Classen adopts a more real-world tone and concedes that consumers who don't face long and hard winters will find the Weather Control A005 a perfectly acceptable winter tyre alternative.
The figures used in Classen's presentation mainly referred to Germany, yet while these don't relate directly to us it was interesting to note that the northern and western parts of the country – an area with a climate similar to large swathes of the UK – has become all-season territory. According to the director of consumer products, all-season tyres account for almost 30 per cent of the market in these parts of the country (the figure for Germany as a whole is 16 per cent, with sales growing 73 per cent over the past four years). While their popularity can be in part explained by German regulations governing choice of tyre in winter conditions (British motorists aren't burdened with such requirements), growth of the all-season segment there has come mainly at the expense of summer tyres, and UK market figures suggest we can expect healthy all-season segment growth here, too.
Following the launch of the Bridgestone Weather Control A005 in late May, a total of 68 sizes for 15- to 20-inch rims – including four van fitments with DriveGuard run-flat technology – will be introduced this year. The range's rollout will continue in 2019, with a total of 78 sizes for 15- to 20-inch rims available (including eight DriveGuard dimensions). Bridgestone says these sizes will cover 95 per cent of overall demand and 94 per cent of demand for 17-inch and larger rim sizes. Main sizes carry a 'C' label rating for rolling resistance.