Michelin EvoBib coming to Lamma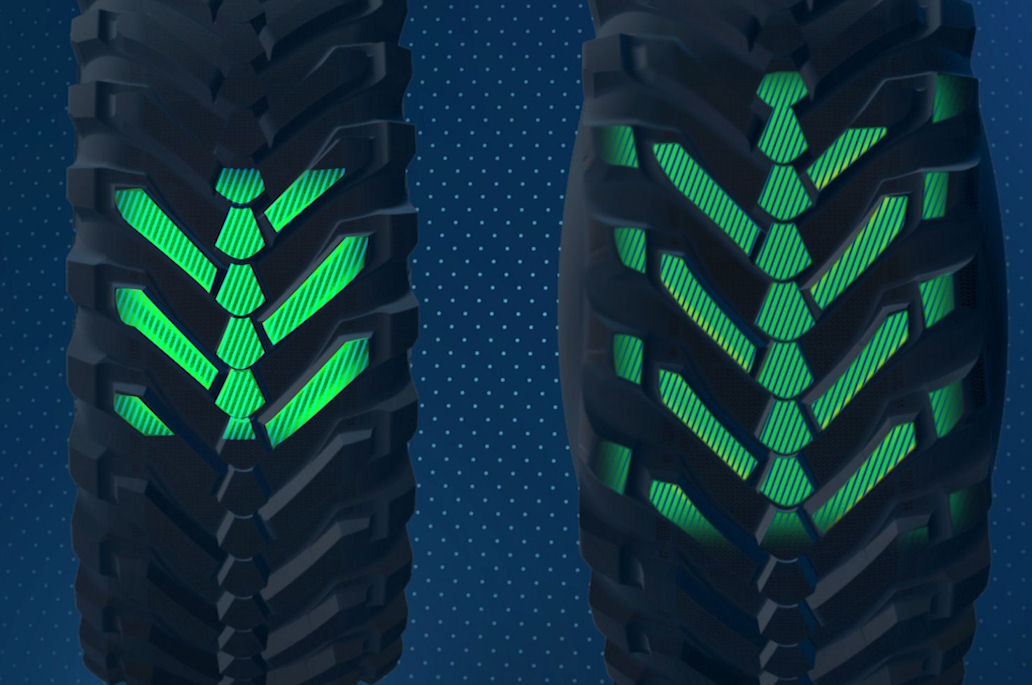 In addition to the X Tweel SSL, another Michelin innovation will make its UK debut at the Lamma show. This is the '2 in 1' tyre, the Michelin EvoBib.
Available from January in the rear size VF 710/70 R 42 and front size VF 600/70 R 30, EvoBib is the first tyre designed and manufactured with CTIS, or central tyre inflation systems, in mind. The tyre can change its contact patch to suit the terrain as its construction incorporates a 'hinge effect' design that allows the tread pattern to widen as the shoulder blocks rotate down until they make contact with the ground at pressures of less than 17.4 psi or 1.2 bar. Thanks to this mechanism, the surface area of the contact patch both widens and elongates; according to LeClerc, who is customer experience manager for Michelin's global agricultural tyres business unit, EvoBib can operate in the field at pressures as low as 8.7 psi/0.6 bar and at these low pressures the contact patch can grow by more than 20 per cent in total. A larger contact patch area results in a more evenly distributed load, reduced soil compaction and substantially improved traction. Internal testing conducted by Michelin indicates that the bigger footprint facilitates a 20 to 50 per cent increase in traction, a saving equal to around 20 HP on a 300 HP tractor.
The hinge design is possible thanks to two key elements in the EvoBib casing – a new belt in the tread area/summit and a new structure in the tyre's radial plies and casing. At high pressures required for on-road use, the tread pattern is carried by a top belt. This belt is composed of several overlapped bracing plies that ensure a uniform contact patch to improve road performance characteristics, such as wear, comfort and fuel consumption. This belt also has a controlled stiffness gradient which helps with the hinge effect. At low pressure, the shoulder elements are deployed thanks to the hinge effect made possible by the patented casing design. Specifically, a complex arrangement of several textile plies at the edges of the tread area allow the shoulder blocks to rotate at low pressures, adding to the load bearing tread area.
For more, see the agricultural feature in the January 2018 edition of Tyres & Accessories magazine.