Michelin AxioBib 2 making an appearance at LAMMA 2017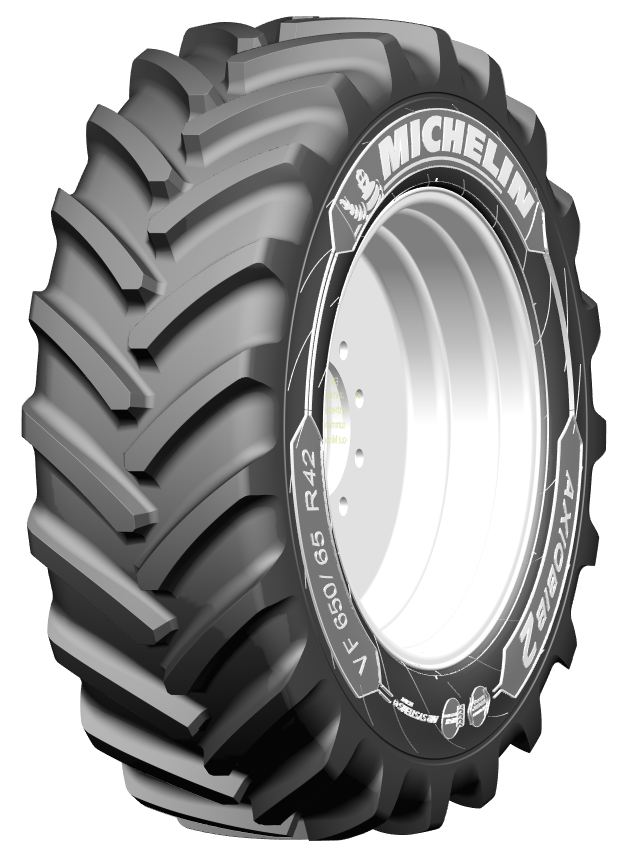 The all-new Michelin AxioBib 2 tyre range will debut in the UK at LAMMA 2017 in January, a month ahead of its planned international debut. The new tyre range will initially be available in two Very High Flexion dimensions, VF 650/65 R42 and VF 540/65 R30, and has been designed to meet rising demand for tyres that can accommodate large loads at lower pressures. AxioBib 2 tyres can be viewed throughout the LAMMA Show at the East of England Showground on 18 and 19 January 2017, on Michelin stand G33.
Designed for 160hp to 320hp tractors, AxioBib 2 enables Michelin to offer its patented Ultraflex technology tyre for all high-horsepower tractors – bridging the gap between the XeoBib (120hp – 180hp) and AxioBib (300+hp) ranges.
"AxioBib 2 stands out for its VF rating and 650mm section width, which we expect will make it a firm favourite for ploughing. Farmers also tell us they prefer a 42-inch rim over 38-inch variants, meaning this tyre should hit the sweet-spot for many," says Gordon Brookes, Michelin's customer engineering support manager.
Compared with the corresponding MultiBib size, the VF 650/65 R42 AxioBib 2 can carry an extra 2,450 kilogrammes at 65 km/h, a desirable trait given the increasing weight of new farm machinery; the tyre can operate at up to a maximum speed of 70 km/h. The AxioBib 2's ability to carry heavier loads on a standard wheel rim is indicated on the tyre's sidewall by Narrow Rim Option (NRO) markings.