UK debut for Michelin Tweel at Lamma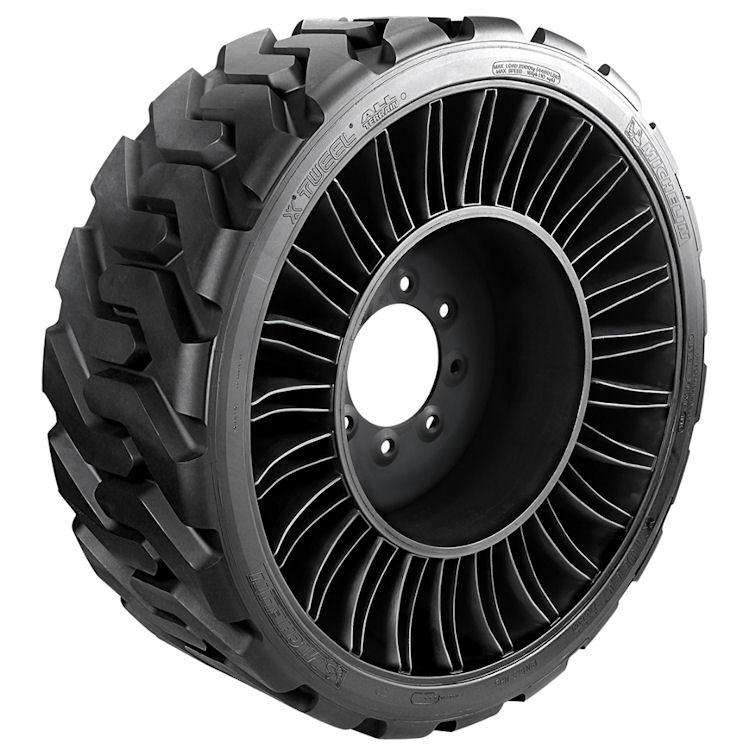 Michelin's X Tweel SSL airless tyre and wheel combination will make its UK public debut at Lamma 2018 later this month. The skid steer loader fitment is the first Tweel model to arrive this side of the Atlantic. It comes to market in January and will be available in two versions – the All Terrain (AT), which features a deep, open tread for off-road applications and use on varying surfaces, and the Hard Surface Traction (HST), with its smooth tread featuring a 100 per cent contact patch, for frequent use on hard surfaces such as asphalt or concrete.
Michelin anticipates that both versions will prove popular within the UK farming sector and see use on applications ranging from scraping yards and clearing slurry to moving bedding and animal feed. Commenting on the launch, Gordon Brookes, customer engineering support manager for Michelin's agricultural division, says: "We are very excited to be introducing the X Tweel SSL. This is a proven product which has transformed the way skid steer tyres are specified across North America. Its introduction into the European market means users in the agricultural and construction markets can benefit from the X Tweel SSL's excellent performance – and without any risk of a flat tyre."
The product performs like a pneumatic tyre, but without the risk and costly downtime associated with penetrations and impact damage. It can increase productivity because its outstanding stability enables a skid steer to work rapidly with more comfort for the operator, reducing driver fatigue as a result.
The X Tweel SSL delivers a consistent footprint with strong wear life and there's very little maintenance involved, as the fitment is easy to mount and doesn't require air pressure checks. Its deep open tread is designed for easy cleaning and excellent traction, and a buried layer of undertread allows the core to be repeatedly retreaded. High strength, poly-resin spokes provide high carrying capacity, reduce vibrations, absorb impacts and prolong the product's working life.
The X Tweel range is manufactured in the USA at Michelin's plant in Piedmont, South Carolina, which began operating in November 2014. The Tweel concept was developed by the Michelin Americas Research Company in North Carolina.