Michelin EvoBib – '2 in 1' technology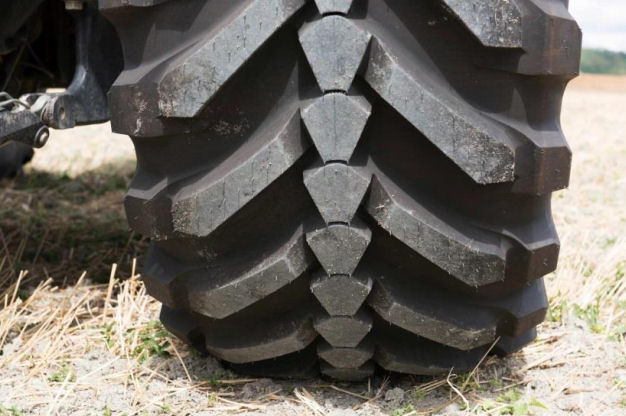 The tyre described as a "game changer" when awarded a SIMA Innovation Gold Medal last November has now been launched at the Paris agribusiness fair. This game changing product is the Michelin EvoBib, a '2 in 1 tyre' containing patented tread pattern and casing technology that enables the tyre's shape and profile to change according to inflation pressure.
Michelin designed the EvoBib to have two contact patch sizes, one for field use and the other for operation on the road. This duality is achieved by incorporating a 'hinge effect' into the tyre's construction.
The hinge design allows the tread pattern to widen as the shoulder blocks rotate down to make contact with the ground at pressures of less than 17.4 psi or 1.2 bar. Thanks to this mechanism, the surface area of the contact patch is widened and elongated, growing by more than 20 per cent in total. Greater contact patch area results in a more evenly distributed load, reduced soil compaction and substantially improved traction. Internal testing conducted by Michelin indicates that the difference in tractive capacity in the field is around 20 HP on a 300 HP tractor, an amount that represents a 20 to 50 per cent increase in traction. "The useful power generally observed in the fields is 160 HP for a given engine power at 300 HP. This allows the farmer to use nine blades on his plough instead of eight – equivalent to one day less work to plough an area of 160 hectares, for example," writes the tyre maker.
At pressures above 29.0 psi or 2.0 bar, the EvoBib transforms so that only the central top belt comes in contact with the road. This top belt is made up of several overlapped bracing plies; Michelin says these ensure a uniform contact patch that improves wear, comfort and fuel consumption during road use. The belt also has a controlled stiffness gradient which helps with the 'hinge' effect.
The Michelin EvoBib is available in a VF 710/70 R 42 rear size and VF 600/70 R 30 front fitment.                                    sg