A "complete solution" for agricultural users: Michelin launches Zen@Terra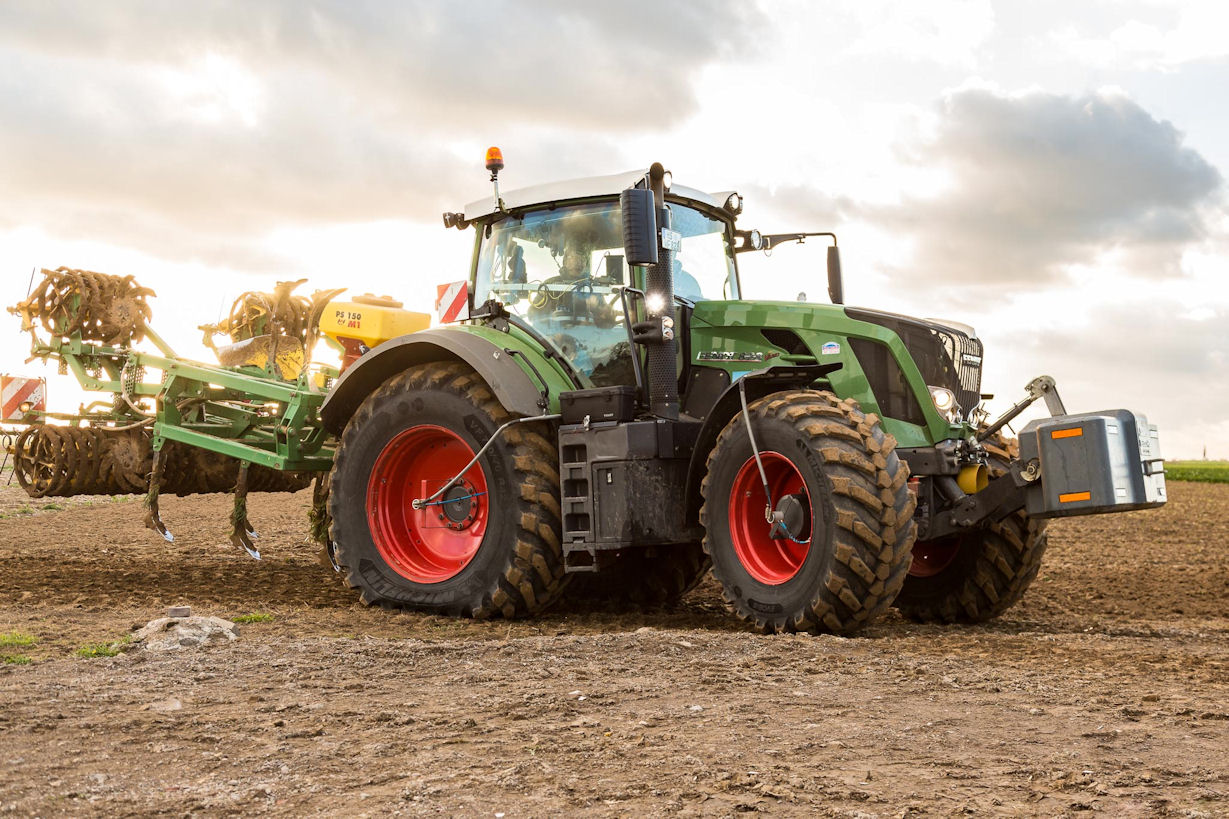 We first heard of Zen@Terra at the Agritechnica 2017 show, when Michelin announced its acquisition of tyre pressure control systems companies PTG and Téléflow and outlined the benefits of bringing the two firms into the Michelin fold. Zen@Terra, a combination of Michelin EvoBib tyres with adaptive design technology and a central tyre inflation system (CTIS) from PTG and Téléflow, has been developed over a three-year period and was undergoing testing by European farmers ahead of its market launch. Testing is now complete, and Michelin has announced the introduction of a solution that marks its transition from tyre manufacturer to full provider of technical solutions.
Michelin is offering Zen@Terra as a "complete solution" that enables users to adjust their tractor tyres' air pressure while on the go to match requirements, be it low pressure for traversing fields or higher pressure for on-road use. The company anticipates its user-friendly, automatic system will satisfy growing demand for solutions that improve agricultural productivity while also protecting soil from compaction.
Travelling to and between fields often involves prolonged periods of on-road use: Michelin comments that, on average, operators of high-performance tractors in Europe spend 70 per cent of their time in the field and 30 per cent on the road. For this reason, many seek a tyre pressure that offers a compromise between efficient on-road and soil-friendly field use. Although aware of the impact tyre pressure can have on soil quality, a single pressure is often used to avoid lengthy changes in tyre pressure – often up to have an hour – every time a tractor leaves or enters a field.
This is where Michelin's complete solution comes into its own. With just two clicks, tyre pressure can be controlled while in motion and adjusted according to application and surface.
Michelin Zen@Terra is a combination of four elements:
Michelin EvoBib: The 2-in-1 tyre containing patented tread pattern and casing technology that enables the tyre's shape and profile to change according to inflation pressure.
A CTIS from PTG that can increase or reduce pressure while a tractor is moving.
A 'smart pressure control unit' (SPCU) that saves each individual tyre pressure value for all applications and machines within an agricultural operation. These values can be activated with just two clicks.
Michelin customer service. Every customer receives a range of equipment tailored to their individual requirements, and customer service will assist in the system's commissioning and answer queries arising from day-to-day use.
The four main components of the CTIS system are rotary unions and valves, supplying inflation from the air brake system (or additional air compressor) via pneumatic and software control units all driven from the screen control in the cab. The Zen@Terra system can be used with bar axle tractors (a fully integrated technique with rotary valves), with flange-axle tractors and with non-driven trailer axles.
The global rollout of Zen@Terra begins this month, with the solution initially available through agricultural machinery dealer networks in France, Germany, Belgium, Austria, Luxembourg, Netherlands and Switzerland.