Lamma: UK launch for Vredestein Traxion Optimall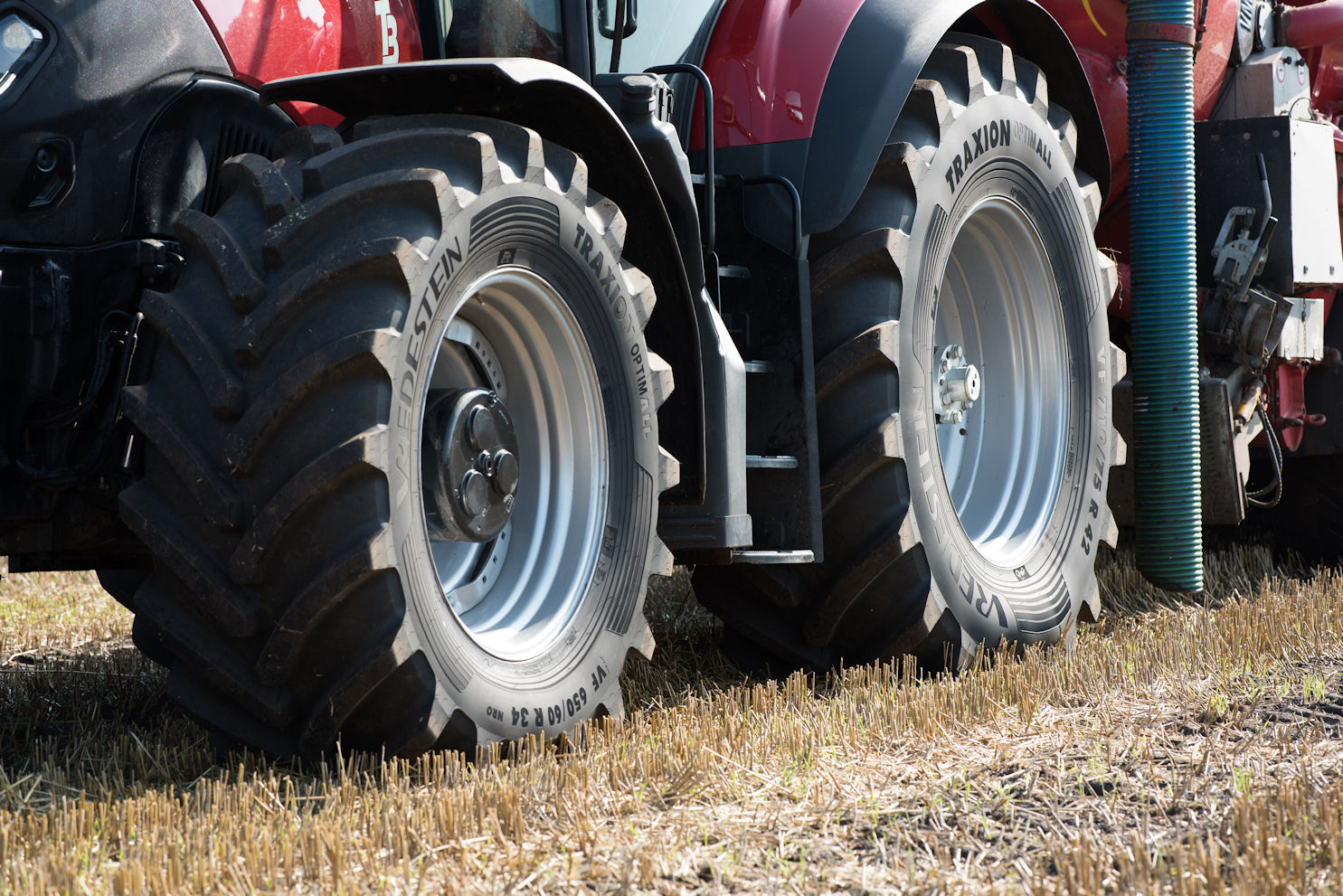 Another UK debut taking place at Lamma is the Vredestein Traxion Optimall, Apollo Vredestein's next generation VF (Very High Flexion) tyre for the top tractor segment.
The manufacturer claims the Traxion Optimall is the only VF tyre to allow a lower inflation pressure in the field, ensuring (up to) 15 per cent larger footprint compared to VF and 25 per cent compared to IF (Increased Flexion) tyres currently on the market. As a result, it says the Optimall offers"unparalleled traction, ensuring fuel efficiency and productivity durability."
Prior to its launch, the Traxion Optimall underwent intensive testing by both Vredestein and non-profit agricultural industry organisation the DLG (German Agricultural Society). What DLG found is that when fitted with Traxion Optimall tyres, the 410hp tractor experienced 5.5 per cent less slippage when carrying out tillage activities than the same tractor fitted with IF tyres. The performance gap between the Vredestein tyre and the competitor VF tyre was admittedly smaller, however DLG calculated that using the Traxion Optimall would result in a 1.7 per cent cost advantage over the competitor VF tyre and a cost advantage of approximately seven per cent over the IF tyre.
F+ technology
The Traxion Optimall makes full use of Vredestein's F+ technology, combining very high flexibility with exceptional stability. The highly flexible sidewall consists of a focused flexing point. Boerkamp explains that a high-tech rubber compound in the shoulder area supports the casing at low pressure for extreme deflection.
F+ Technology offers a high degree of stability through the presence of a bead stabiliser. A rigid upper bead zone supports the stability of the Traxion Optimall, even at low pressure. The result is ten per cent higher radial stiffness compared to other VF tyres, ensuring safe handling during heavy road transport.
The Traxion Optimall incorporates the Traxion tread concept, a design already seen in the Traxion+ and TraxionXXL. Its high rubber content compound is said to ensure 30 per cent better wear resistance and, therefore, a 30 per cent longer lifespan.
For more, see the agricultural tyre feature in the January issue of Tyres & Accessories magazine.