Lamborghini seals wet, dry British GT victories on Pirelli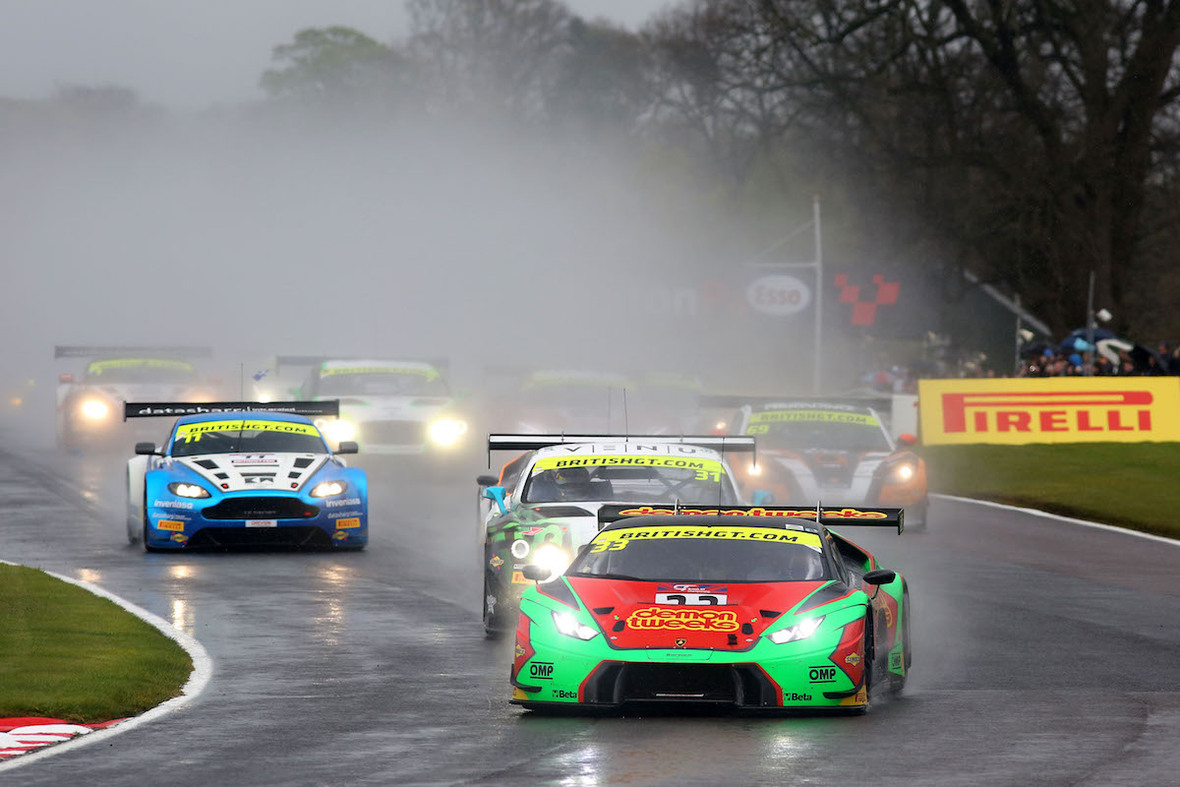 The Pirelli supported 2017 British GT Championship got underway at Oulton Park with two one-hour sprint races on Easter Monday, with a double victory for the #33 Lamborghini Huracan GT3 of Jon Minshaw and Phil Keen claimed in wet and the dry conditions. In GT4 the wins were shared by the McLaren 570S driven by Adam Balon and Adam Mackay and the Ginetta G55 of Alex Reed and David Pittard.
Qualifying was held on Saturday in dry conditions, and new record times were set in both categories. Using the new P Zero DHD tyre that was making its British GT debut, Bentley driver Seb Morris posted the best lap of 1:32.993, six-tenths of a second faster than his pole winning effort at the same circuit in 2016. The GT4 mark was lowered by a similar amount by Ginetta racer Mike Simpson on the P Zero DH tyre.
There was a wet start to racing on Monday, but Minshaw displayed great confidence on the Cinturato WH rain tyre to build a big lead before the mandatory mid-race pitstop. Remaining on the same tyres on a drying track, Keen extended the Lamborghini's lead over the sister Barwell Motorsport car of Liam Griffin and Sam Tordoff, while reigning champions Derek Johnston and Jonny Adam came through from 11th on the grid to finish third.
In race two the track was dry with all cars on the P Zero slick tyres but the #33 Lamborghini was still unbeatable, with Keen taking the lead at the start and making enough of an advantage for the team to serve a 10-second success penalty at its pitstop and still send Minshaw back into the lead on fresh tyres. Johnston and Adam finished second with their TF Sport Aston Martin Vantage GT3 team-mates Mark Farmer and Jon Barnes third.
Callum MacLeod set a new race lap record for GT3 in the second race in his Bentley with a 1m34.624s, 0.18s faster than the previous best set last year.
Jonathan Wells, Pirelli UK motorsport manager, said: "All in all it was a very interesting weekend that has given a chance for us to use every single type of tyre that we brought here. Although we didn't get to use the new DHD GT3 tyre as much as we would have liked, it showed very good peak performance with another lap record in qualifying and fantastic pace and consistency in the dry second race. The Cinturato WH was used extensively over the weekend and that showed a great combination of wet-weather performance and low degradation on the drying track."