SUVs the largest car segment in Europe in 2016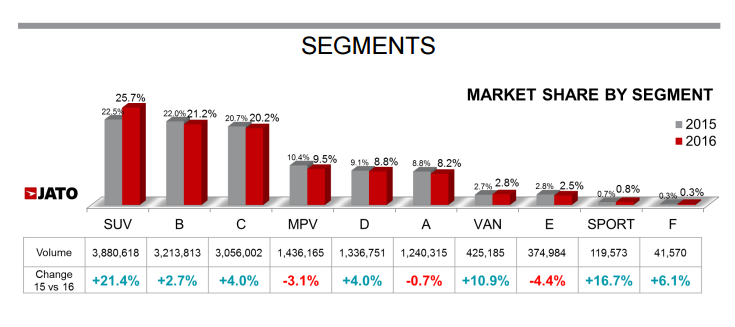 1 in 4 cars sold in Europe were SUVs
The European car industry boomed in 2016 – with new car registrations for the year totalling 15.14 million units, a 6.5 per cent increase when compared to 2015. This is the second highest volume seen since 2007 when total registrations exceeded 16 million units. In addition, the results also demonstrate that the SUV take-up trend continues to boom. In fact, the switch to SUVs was the clearest car sector trend in 2016. To be precise, the European SUV sector grew 21.4 per cent last year, increasing from 3.2 million units registered in 2015 to 3.9 million last year. In contrast, the traditional segments grew by just 2.2 per cent – 10 times slower!
Overall more than a quarter of total registrations (25.6 per cent) were for SUVs, an increase in market share of 3.1 percentage points when compared to 2015. In contrast, MPVs – for example – lost 0.9 percentage points, with its market share falling to 9.5 per cent.
When you look at the break-down by carmaker you can see that FCA, Daimler, Renault-Nissan and Tata Group all increased their market share, thanks to their wider SUV ranges and the increase in sales seen in Southern European markets.
Indeed the SUV growth data continues a trend we have seen before, including at the closing months of 2016. Not only did this reveal that the automotive industry continued to thrive in November, despite the continuing questions over the Brexit referendum and the future of the EU knocking consumer confidence, but in the segment ranking, SUVs continued to perform well in November, 316,278 SUVs were registered, which was a 16.1 per cent increase on the same month last year. The SUV segment continued to increase its hold on the market – posting the highest market share gain of any segment and meaning it accounted for 26.7 per cent. Comparing November to the 2016 shows that Europe's penchant for SUVs clearly slowed at the tail end of 2016, but there is no doubt that there is strong growth here nonetheless. It is also worth remember that what is SUVs' gain came at the cost of segments such the MPV, A, and E segments which all posted declines in registrations compared to November 2015.
"2016 was a great year for the industry, with the second highest volume of registrations since 2007. European car registrations have shown good momentum, with 27 out of 29 markets in Europe recording positive growth last year, and 14 of those markets posting double-digit increases. I believe car makers are now better prepared to face the challenging times ahead," said Felipe Munoz, Jato Dynamics' Global Automotive Analyst.