EMEA launch for Goodyear RM-4B+ range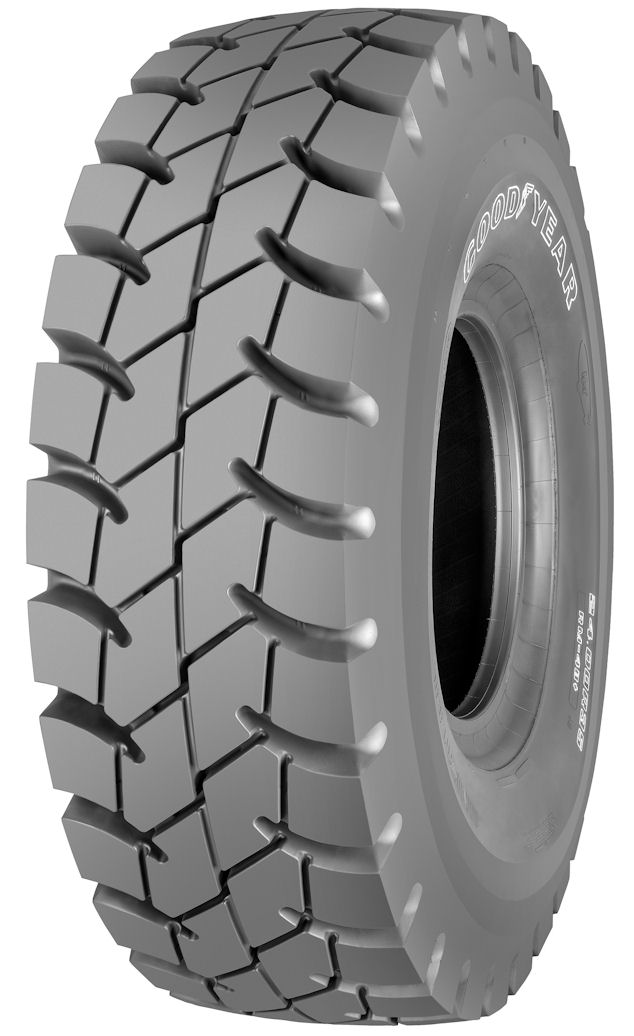 In September, Goodyear Tire & Rubber introduced a 63-inch version of its RM-4B+ OTR tyre. Upon launching this 53/80R63 ultra-large haulage mining product, Eric Matson, Goodyear's global field engineering manager (OTR), opined that the new size will become a "must-have for mining operations around the world." This new 63-inch RM-4B+, along with five smaller siblings – three new releases and two already on the market in North America – are now available in Europe, the Middle East and Africa.
The RM-4B+ range Goodyear is offering in its EMEA region is suited for use in severe conditions, including on terrain such as rock and aggregates as well as on hard improved surfaces. The Goodyear RM-4B+ range features 170-level tread depth and optimal tread zone stiffness for excellent wear performance. The CycleMax tread rubber compound ensures cool running and is enhanced by tread lug blading for additional heat resistance. Heat resistance is also a benefit of the centreline channel, which gives added lateral traction. Other tread features include interlocking blading for high stability and angled main grooves for forward and lateral traction. Particularly important for severe operating conditions are the extra thick sidewalls, which are designed to provide excellent protection against friction and impact.
"Our new RM-4B+ OTR tyres feature our latest technologies in materials, design, construction and manufacturing. Thanks to this they provide high performance in all areas resulting in a high number of operating hours and therefore reduced costs per hour to our customers," said Octavian Velcan, managing director of OTR tyres at Goodyear Europe, Middle East and Africa.
The Goodyear RM-4B+ OTR range for rigid dump trucks now available in the EMEA region includes the following sizes:
18.00R33 – (new)
21.00R35 – (new)
24.00R35 – (new)
40.00R57
46/90R57
53/80R63 – (new)
All tyres in the range are tubeless radials, with the 18.00R33 size having a *** rating and a load capacity of up to 12.150 kilogrammes. The 21.00R35, 24.00R35, 40.00R57 and 46/90R37 tyres are ** rated, with maximum load capacities ranging from 14,500 to 63,000 kilogrammes.