Michelin previews CrossClimate+ at Paris Motor Show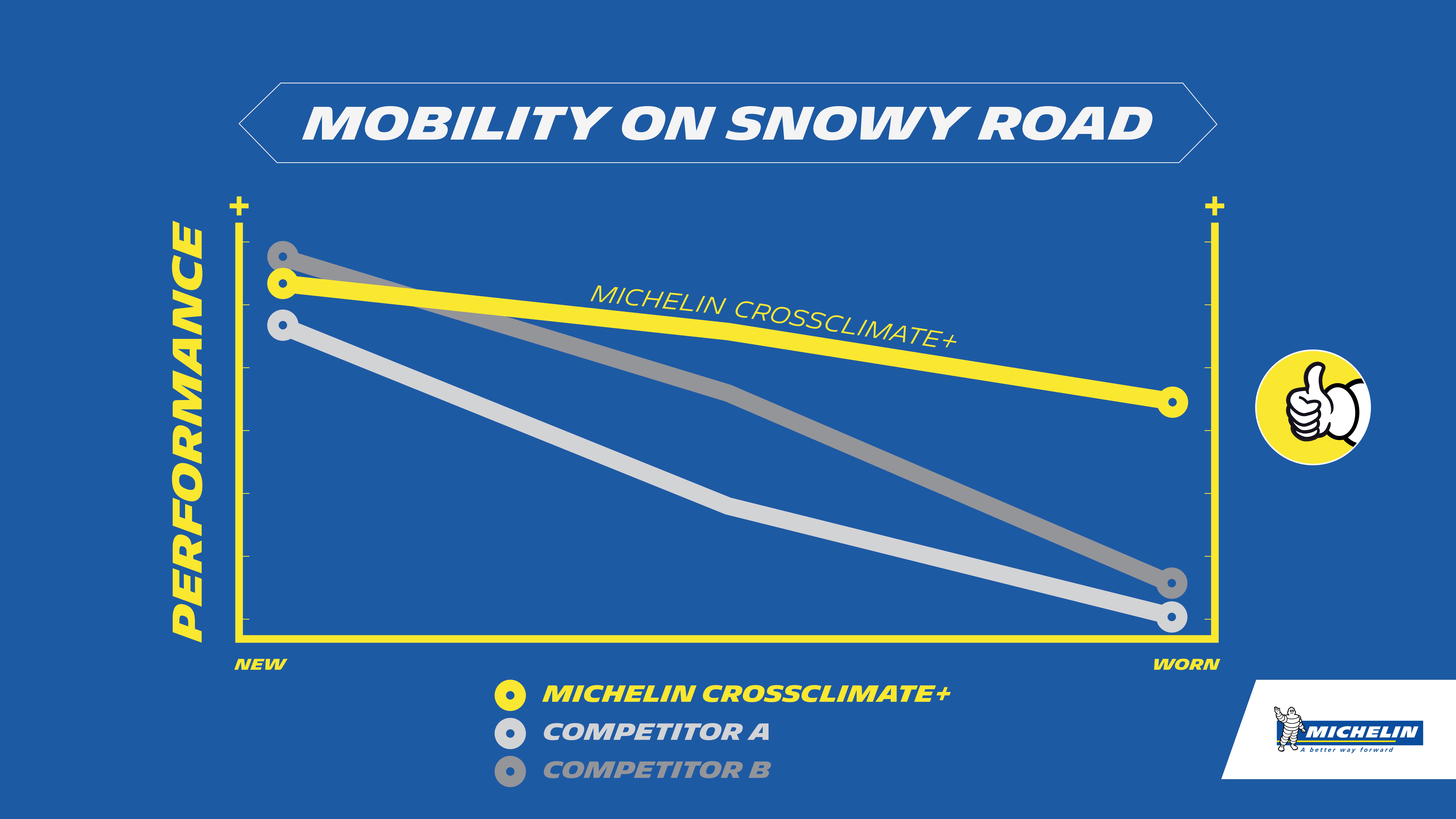 Hot on the heels of the news that Michelin's year-round summer tyre (the CrossClimate) has beaten all-season tyres at their own game in a magazine tyre test (see "Summer tyre wins all-season test", which reports on the ADAC test originally published on 22 September), Michelin previewed the next generation of its category-defying product – the CrossClimate+ at the Paris Motor Show at the start of October. In addition to the original product's unique summer-tyre-with-a-three-peaks-mountain-snowflake qualification, the latest version is said to improve winter performance and consistent whole tread life performance. This latter point picks up on what appears to be an increasingly important theme to Michelin – that tyres should performs consistently well through right up to the 1.6mm legal tread depth limit (see "Michelin reaffirms opposition to 3mm replacement" for more on this).
Michelin reports that its CrossClimate tyres are able to retain their properties in summer heatwaves when the air temperature hits the 25°C mark as well as in temperatures below 7°C because the rubber optimises the grip in all of these conditions. In developing this compound, Michelin test engineers reportedly covered over 5 million kilometres in temperatures ranging from –30°C to +40°C.
CrossClimate+ set for February 2017 launch
According to the company, the updated CrossClimate+ will be available in February 2017. It will initially be produced for 15 to 18-inch wheels and will replace the current gene- ration of Michelin CrossClimate tyres.
While all tyres' performance levels change the more miles they cover. Michelin representatives are emphasising the consistency of its products during their lifetime compared to other premium tyre makers, but of course this trend is even more pronounced with low cost competitors, saying: "The Michelin CrossClimate+ confirms its performance on dry surfaces and its positioning as a premium summer tyre. But it goes even further by guaranteeing optimum traction on snow-covered roads from the first mile to the last…Brand new CrossClimate+ tyres offer the same level of traction (on snow) as their main competitors and their performance changes very little, mile after mile, while a significant drop is seen on rival premium A/S models" (see graph).
"Perfect for the UK"
Speaking to Tyres & Accessories during the course of the Paris Show, Michelin chief operating officer – the senior global executive responsible for product and core business – described the CrossClimate range as "perfect for the UK". But even outside our temperate climes many car owners do not have the organisational capacity, or indeed the inclination, to switch their car's tyres twice a year. Rather, Michelin reports that 65 per cent of European motorists use summer tyres all year round and are "not necessarily aware of the added safety that fitting tyres suited to the winter season represents".
That's where the CrossClimate+ comes in – a tyre that is designed to offer performance all year round. As well as a pitching to consumers, the tyre is also aimed at fleets, which look for much the same thing on far greater scales than private car owners.
In addition, Michelin's whole-life thinking means the manufacturer is making a stand against "the planned obsolescence called for by manufacturers who plead in favour of replacing tyres at 4 mm of remaining tread depth" (again, see "Michelin reaffirms opposition to 3mm replacement" for more on this).