Hamilton victorious, Pirelli investigates Vettel tyre issue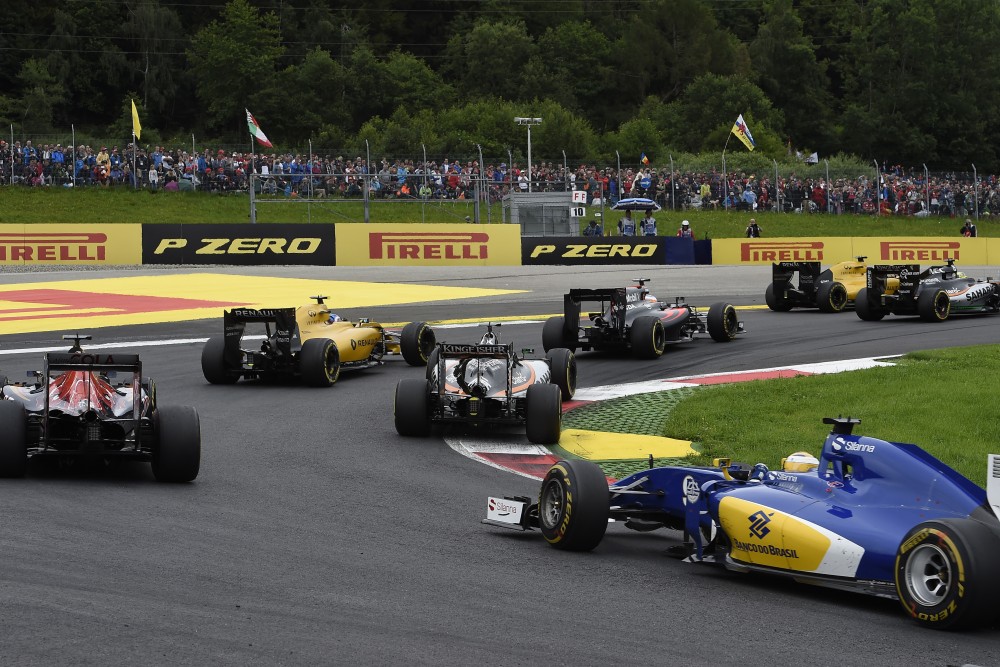 Mercedes' Lewis Hamilton was victorious in Austria, winning the Austrian Grand Prix from pole position using a two-stop strategy. Teammate Nico Rosberg collided with Hamilton as the Briton passed him on the final lap of an action-packed grand prix, having used the timing of his pit stop tyre strategy to boost his position, "undercutting" a number of drivers including his team mate (who started from pole) to lead the race. Following contact with Hamilton, Rosberg's car sustained front wing damage, leading to his fourth place finish. More worryingly for tyre supplier Pirelli was the blowout that ended Sebastian Vettel's grand prix, the causes of which the manufacturer said it was investigating with the constructor, Ferrari.
Compared to the previous sessions in Austria, ambient and track temperatures were considerably cooler, with 16 and 24 degrees respectively at the start of the race. This had the effect of containing wear and degradation, although the strategy was affected by a safety car that teams used to take a 'free' pit stop without significant loss of track position.
Ferrari and Red Bull adopted a different strategy to the majority of frontrunners, beginning the race on the supersoft tyre rather than the ultrasoft, which was the default choice for the other top 10 drivers – being just over half a second quicker. However, during a long first stint on the P Zero Red supersoft, Ferrari's Vettel experienced a tyre blowout. The exact circumstances are still being investigated, though Pirelli stated it appears to be an isolated incident as no other drivers experienced similar problems.
After the final pit stops, there was a three-way battle for the lead between the Mercedes drivers and Red Bull's Max Verstappen, who made one less pit stop than Rosberg and Hamilton. Rosberg and Hamilton were separated by less than a second all the way to the chequered flag, making this one of those memorable races of the season.
Paul Hembery, Pirelli motorsport director: "With Ferrari we're fully investigating the incident on Sebastian Vettel's car, in order to finalize a cause. Tyre strategy proved to be crucial to the Austrian Grand Prix, with a close battle to the finish that went all the way to the final lap, using a number of different strategies. The teams headed into the weekend with little information on the tyres following the mixed conditions in free practice and qualifying, as a result of which strategy was a question of thinking on their feet and extracting the maximum advantage from the changing race circumstances."