Dmack 'delighted' after securing first WRC podium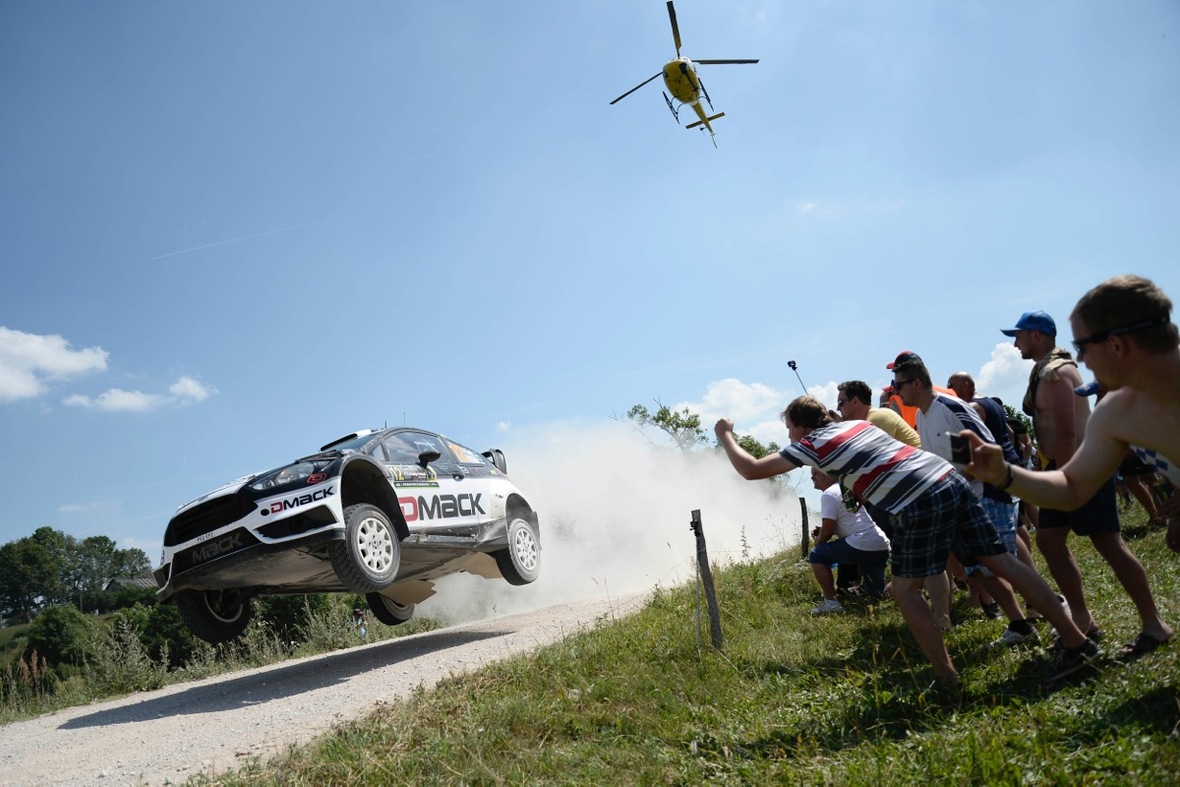 World Rally Championship tyre supplier Dmack secured its best ever FIA World Rally Championship result and first podium at Rally Poland. The Carlisle based brand's Drive Dmack team lead for the majority of its 70th WRC event; Estonian driver Ott Tänak and co-driver Raigo Mõlder finished second after a dramatic final day. Dick Cormack, Dmack managing director, said: "It's certainly been a weekend to remember for everyone at DMACK. We've been striving to compete at this level and this event marks a real turning point for us. Ott and Raigo have stunned everyone this weekend with their pace and the result has driven our enthusiasm to reach the top."
In their M-Sport-run Ford Fiesta RS WRC, Tänak and Mõlder set nine fastest stage times after dominating the time-sheets against the world's top drivers and teams. The team dropped time in the penultimate test in difficult Sunday conditions, ultimately overturning its 21-second overnight lead. After setting five fastest stage times on Friday's opening day, the pair held a slender 4.2 second overnight lead. Then on Saturday morning, they blitzed the opening loop of stages, setting fastest times on all three high-speed tests, and extending the gap at the top to 21.3 seconds. Tänak was one of a number of drivers to drop time after hitting a rock on the rough, muddy tracks, damaging his wheel and tyre.
Tänak ran on Dmack's new range of British-built rally tyres, produced in partnership with the Avon Motorsport arm of Cooper Tire & Rubber Co Europe. Following an intense development programme the brand introduced upgraded gravel tyres in May, targeting Rally Poland as a potential event to challenge the top manufacturer teams on some of the season's fastest and most-challenging roads. The Dmack team's pace surprised many of the hundreds of thousands of passionate rally fans attending the event.
Rally Poland was once again based in Mikołajki – a small town set in the middle of the picturesque Masurian Lake District in the north-east of the country. The route comprised 21 fast special stages covering 306.10km of spectacular action.
Ott Tänak said: "It was an event of mixed emotions, we were really disappointed at losing the battle for a debut victory so close to the end after fighting so hard all weekend. But the performance proves what we are capable of and the improvements DMACK has made with the tyres. Driving on these high-speed stages is an incredible feeling, so much fun."
Armstrong clinches maiden Dmack victory
In the Drive Dmack Fiesta Trophy, rookie Jon Armstrong from Northern Ireland triumphed in fine style after an enthralling see-saw weekend battle with fellow Brit Osian Pryce. Welshman Pryce, winner of the opening 2016 round in Portugal, had led the fast and furious rally in the Polish Lake District going into a dramatic final day. Heavy overnight rain brought hugely challenging closing stage conditions for the nine Trophy competitors, as Pryce surrendered a 43.8-second overnight lead. This allowed 21-year-old Armstrong, last year's Vatanen Touch champion, to pounce and finish on top of the podium along with co-pilot Noel O'Sullivan.
Seven out of the nine crews lost time after running into problems along the same section today after the deluge had opened up holes in the gravel roads and exposed rocks. However, there was some consolation for deposed leader and eventual race runner-up Pryce. The 23-year-old pocketed two 2017 WRC 2 prize drives as the top points-scorer in the first two rallies of the year.
Experienced Bernardo Sousa, who crashed out on the final stage in Portugal while leading his home event six weeks ago, took third place overall today. Teenager Gus Greensmith of England finished fourth, showing great maturity to shrug off technical issues earlier in the weekend. Max Vatanen, second overall at the season-opener in May, arrived in Poland with a new co-driver, Maxime Vilmot. However, the pair were a little off the pace on super-speedy soft and sandy tracks which were lined by massive amounts of enthusiastic spectators in and around Mikolajki.
Local boy Jakub Brzezinski, spurred on by the home supporters, performed well in only his second WRC outing, while Oscar Solberg of Norway gave a steady display. Nicolas Ciamin, at 18 the youngest driver in this year's Trophy field, suffered a slight roll in his car on Saturday during stage 13. However, the damaged was limited and Ciamin was able to get back on track.
Karan Patel, representing Kenya, also continued to gain vital experience in what was only his second WRC race.
Poland proved to be a particularly difficult event. On ultra-fast gravel roads, drivers needed to have plenty of confidence in their precise pace-notes. Their identical M-Sport-prepared Ford Fiesta R2 cars were equipped with DMACK's latest G42 gravel rally tyres, which stood up magnificently to the tough conditions.
The crews will now set their sights on Finland and round three of the Trophy campaign later this month. That rally will be paired with Poland as the second set of WRC 2 prize drives goes up for grabs. For the asphalt aces, Rally Deutschland in August is then grouped with the season-ending Rally de Espana.
Dick Cormack said: "It's been another ding-dong battle on a really high-speed event. These conditions are difficult for young drivers but Jon performed exceptionally well all weekend. Congratulations go to Osian for securing the first prize drives next season."
Malcolm Wilson, M-Sport managing director, said: "For the first time all Trophy competitors have completed the event so well done to everyone. Jon has come to this rally for the first time and shown a fantastic pace, which has really impressed me. Osian's consistency sees him secure the first prize, taking a little pressure off his shoulders."
Jon Armstrong from Northern Ireland added: "The first day started off well and we had a pretty good pace with our notes working really well. On Saturday we lost time, but today we've been quick in the wet and unfortunately Osian had some problems, which meant we took the win back. I think overall we were one of the quickest this weekend so it's well deserved and I'm very happy. We've worked hard for it."
Osian Pryce from Wales said: "I'm over the moon to have won the prize drives, a bit disappointed to have finished second in the end, but points mean prizes. It's great that we have something secured for next year and we're really looking forward to stepping into an R5 car in WRC 2."