Toyo extends football sponsorship programme with German, Japanese deals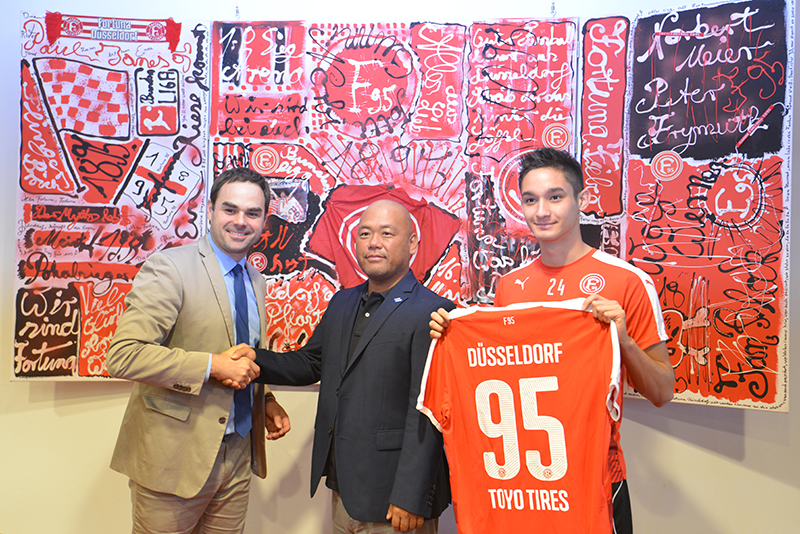 Toyo Tires has become a premium partner to Fortuna Düsseldorf after entering into a two-year agreement with the German second division (2. Bundesliga) football club. This deal was announced the day the Bundesliga announced its schedule for the 2016/17 season and only a short time after Toyo Tire & Rubber shared news of its new two-year sponsorship of Japanese club Gamba Osaka.
The Fortuna Düsseldorf contract, brokered by Fortuna Düsseldorf's marketing partner Infront Sports & Media, places the tyre maker in the club's "second-highest sponsorship level" and provides an advertising presence in its home stadium, including on LED display boards visible to television audiences, along with other promotional and hospitality options.
"Toyo Tires established itself in Düsseldorf for more than 40 years," shares Kenta Kuribayashi, president of Toyo Tires Europe. "Today, we have the opportunity to partner with Fortuna to challenge the established brands in our market. Linking with such a well-loved football club who are also challengers in their field, will help our strategy of becoming one of the biggest tyre brands in Europe."
Düsseldorf is renown in Germany for its large Japanese community, which behind London and Paris is the third-largest in Europe. The city is also the centre for Japanese business activity within Germany. "With Toyo Tires we are very glad to welcome the next Japanese company in the partner family of Fortuna Düsseldorf," comments club CEO Robert Schäfer. "The new partnership is not just the successful conclusion of agreements, but also reflects the enormous initiatives of our club to engage in the Japan desk of our club. We're proud that Toyo Tires has now joined Hitachi has the second established Japanese company we've won as a premium partner."
Osaka Gamba deal offers premier league exposure
In its home market, Toyo Tires is now sponsoring the club that finished second place in the J1 League, which is the Japan Professional Football League's top division. This two-year platinum agreement with Gamba Osaka is considered a step in Toyo Tires' new global philosophy, "Surprising the World" – the tyre maker states that "the ability to go beyond the expected with technical capabilities, creativity and innovation, made the decision to sponsor Gamba Osaka a good fit for the brand."
The contract runs from 1 July 2016 to 31 January 2018 and gives Toyo advertising billboard space in Suita City Stadium, which as of this year is home ground of Gamba Osaka, along with logo branding on players' uniform shorts at all games in both the J1 League and the J3 League.