Pirelli-equipped British GT to take on Rockingham challenge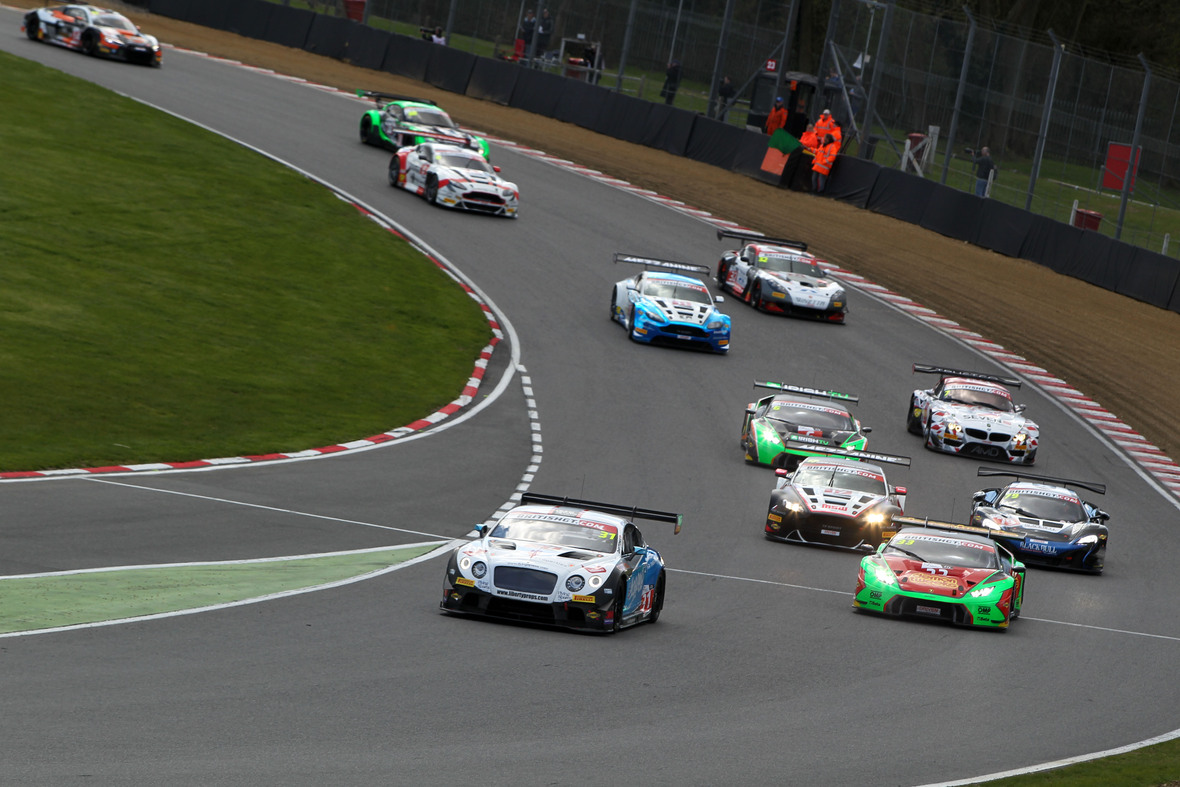 Pirelli's exclusive supply deal with the British GT Championship enters its second round on the high-speed banked oval and twisty infield of Northamptonshire's Rockingham circuit on 30-31 April. Record-breaking lap times were set on the new P Zero rubber at the season's curtain-raiser at Brands Hatch, with Derek Johnston and Jonny Adam claiming victory and an early GT3 championship lead in their TF Sport Aston Martin Vantage GT3. Competition was fiercer, with Bentley, Lamborghini and BMW making it four different manufacturers in the top four in the race.
Driving Team Parker Racing's Bentley Continental GT3, GT newcomer Seb Morris set the fastest ever lap of Brands Hatch in a GT car in qualifying following his switch from the Pirelli-backed GP3 Series. Race versions of road-going supercars from premium manufacturers populate the GT3 and GT4 classes that make up the British GT field. Pirelli supplies the DHC tyre for GT3 and the DH for GT4, with the Cinturato WH wet tyre available for all if required.
Rockingham is characterised by its banked oval, a portion of which forms the pit straight and first corner of the 3.12-kilometre International Super Sportscar Circuit used by British GT. A heavy braking zone for the Deene hairpin leads the cars off the oval and onto the technical infield section.
In contrast to Brands Hatch, this is made up mostly of slow-to-medium-speed corners where tyres have to withstand continual braking and traction energy, although Turns 5, 6 and 7 put high lateral energy into the right-hand-side tyres. Through there and in Turn 1, which is banked up to seven degrees, the downforce of the GT3 cars will deliver the speed, but the rest of the lap demands good mechanical grip from the tyres. With little time for the tyres to rest, wear is expected to be fairly high.
Matthew Corby, Pirelli Motorsport operations manager, said: "Rockingham offers a very different challenge to Brands Hatch. While the fast banked oval is spectacular, the rest of the lap is much more technical and is demanding on the tyres. However, after our successful British GT debut at Brands Hatch where lap records were broken, the drivers can be confident in the grip available. We're looking forward to more close competition between the different cars, all fitted with Pirelli tyres."